If you're looking for a versatile and affordable patio paving option, Kandla Grey Sandstone is one to consider!
The Natural Indian Sandstone will suit a range of modern and traditional designs. Available with a natural riven surface, or in a smooth, sawn & honed option. There is always a style of Kandla Grey Sandstone Paving that will suit your patio design.
Let's take a closer look at its features and the options available.
Featuring a palette of light and dark grey tones, with the occasional splash of blue, Kandla Grey Paving Slabs offer light veins that run across the natural riven surface. Often with patches resembling puddles, along with the occasional, sandy yellow tones.
The riven surface of the sandstone will provide grip underfoot, whilst also displaying the natural charm and character of each slab.
Kandla Grey is a durable Sandstone which is hard-wearing and suited to the UK climate. Naturally, it will weather over several years of use, adding to the charm of the stone and complimenting the riven surface. But with just a little treating, it will stay looking its best all year round! Once sealed against any long-term weather damage and staining, this is a stone which will only get better with age.
See our range of sealing products here.
If the natural, riven surface isn't for you, we also stock a Sawn & Honed Kandla Grey Sandstone.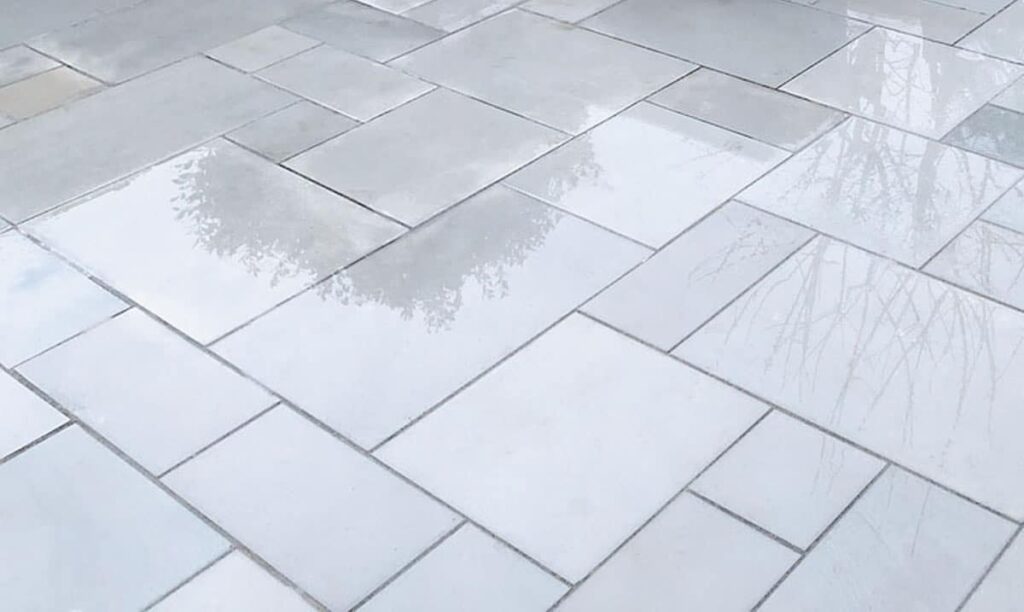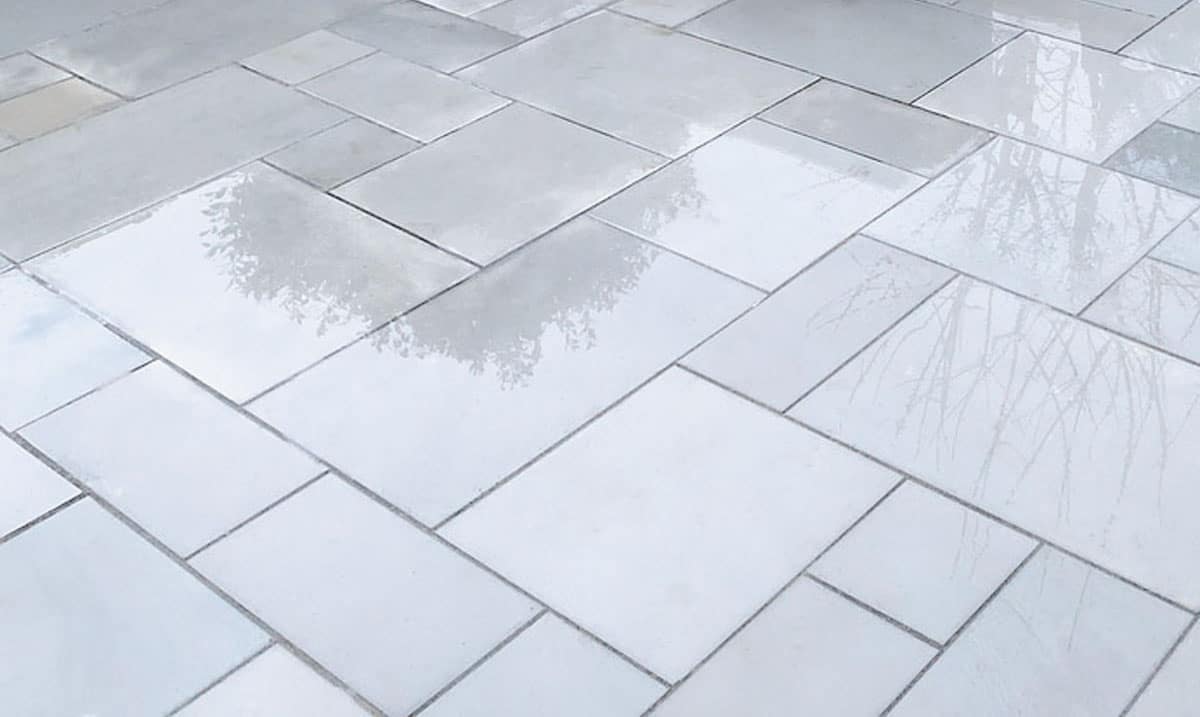 Our Sawn & Honed Kandla Grey Sandstone pavers are smoothed to give a flat surface to the slabs, offering a different design option for your patio. When complimented by contrasting tones, Kandla Grey will fit seamlessly into a modern patio design. Modern, monochrome design often features grey patio paving, such as this, or Blue-Black Granite Paving.
See our blog on Exterior Design Trends for 2019 for more info on design.
Our Sawn & Honed Kandla Grey is also available 600×900 and 600×600 paving slabs, as well as the 18m² Patio Kit. Offering further design options when considering the Sawn & Honed option.
Suited to a more modern style, the large format pavers can provide a great option for bigger patios to create a bold statement on a larger scale.
When designing a traditional patio, the natural riven Kandla Grey Patio Kit will add charm and character to the design with it's riven surface.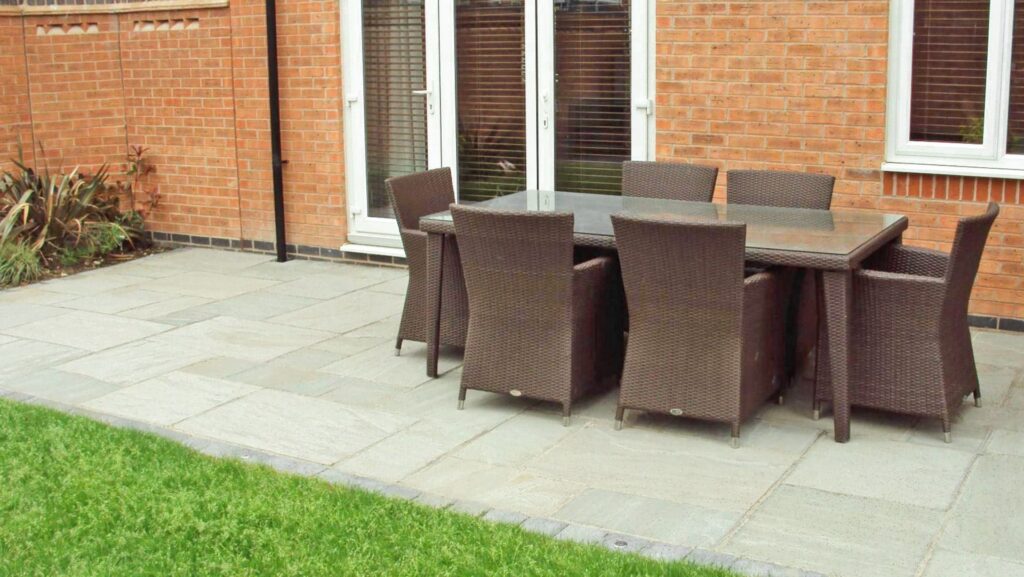 The light colour will help to brighten up any dark and dingy areas of your garden which may not see much natural light. This will help to create a spacious feel to your exterior space and make the most of your garden.
The Kandla Grey Riven Patio Kit is prepped with a total of 57 pieces in four different sizes, calibrated to 22mm thick and covering a surface area of 18m². Perfect for random laying to create a unique and interesting lay pattern.
As with our full Natural Stone Paving range, we recommend sealing the product before laying. This will help to protect the stone from any algae or mould growth which can be caused due to a build-up of rainwater.
Conclusion
Kandla Grey Sandstone is one of our most popular and best selling patio paving options. It is easy on the eye and the option of natural riven or sawn & honed slabs offer a wealth of design opportunities.
Still not sure which style of Kandla Grey to choose? Order a FREE sample!
Our free sample service allows you to see and feel your paving options before committing to a decision.
If you have any further questions about any of our products, just get in touch with us and we will be happy to provide any advice that you may need. You can contact us by email at [email protected], or call on 01206 700 599.