Raj Green Sandstone is one of our most affordable Natural Stone Paving options. An ideal choice whatever your budget!
A stunning and stylish paving option for any exterior patio space, the Natural Sandstone paving features a blend of green and brown tones with the occasional splash of plum and grey. These striking tones will suit a range of traditional patio designs and, with just some simple treatment, will last a lifetime!
Due to its durability and frost resistance, Raj Green paving is suited to the British climate and its range of subtle, classy tones makes it one of the most popular choices of Indian Sandstone Paving on the market.
The wealth of design opportunities that it offers will allow you to create a timeless, chic setting for your patio.

Like all Natural Stone Paving, no slab is the same.
The unique patterns and tonal variations are part of the natural charm that Indian Sandstone Paving offers. These tones are what gives the paving its unique look and makes it such a desirable choice. It promises an outdoor area filled with character with its mixture of green, brown, plum and grey tones.
Our Raj Green Sandstone Patio Kits offer a natural riven surface which is achieved by the splitting of the stone. This gives the surface a rich, unique texture and will help to provide grip to the surface. The individual texture of the paving slabs will compliment each other perfectly, allowing you to accomplish a natural and rustic finish to your exterior space.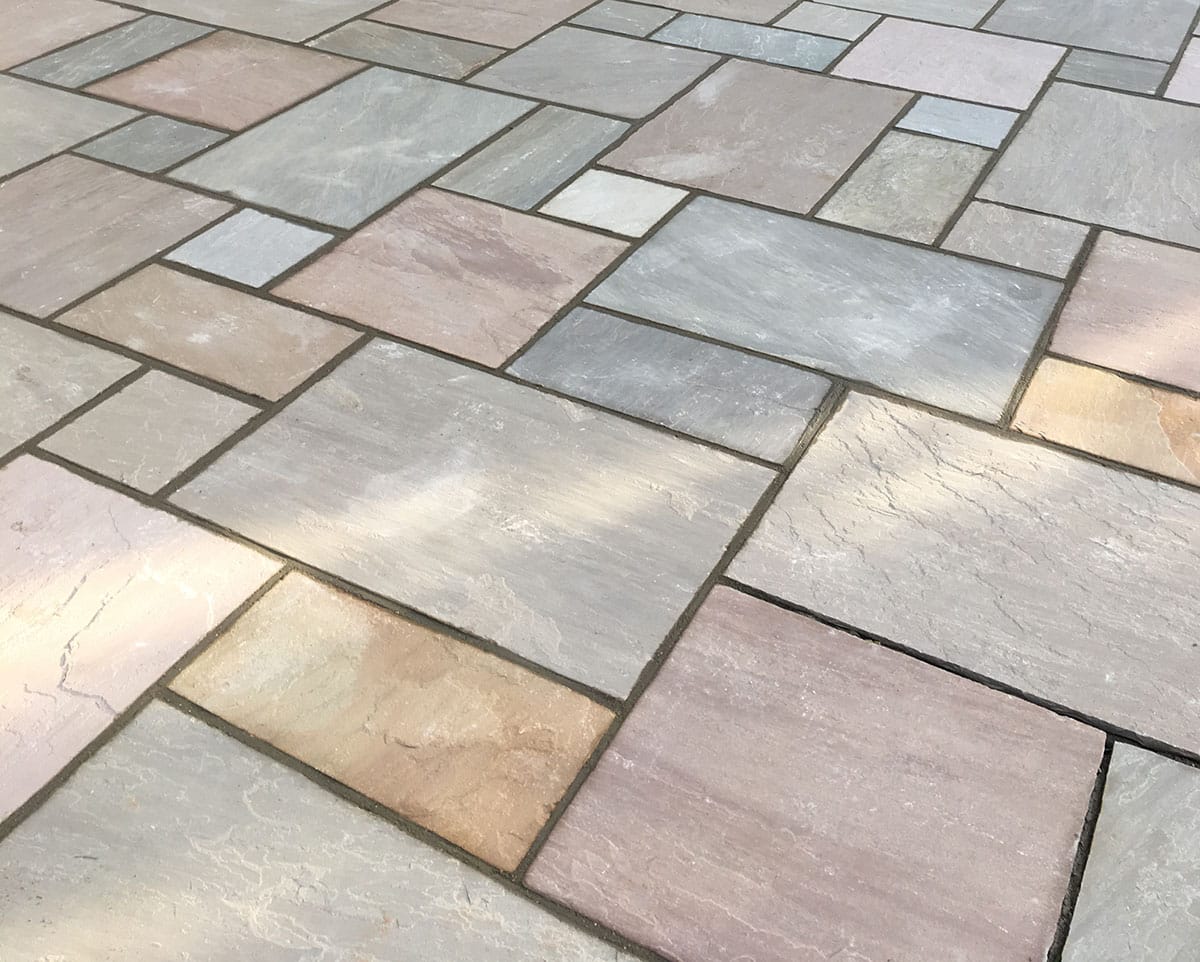 If riven slabs aren't what you're looking for, we also stock a Raj Green Sawn Patio Kit. This smooth paving option offers the same range of colours and tone variations as the riven patio kits, but with a smooth finish.
These Patio Kits are made up of 4 different sizes of pavers which will allow you to create a random lay pattern for an interesting and unique patio design. These are available with a varied thickness in our Raj Green Sandstone Patio Kit. These pavers will range from 20-30mm in thickness due to the natural riven surface. If you're looking for something a little more consistent without a variation in thickness, we also offer a Calibrated Raj Green Sandstone Patio Kit, in which, all of the slabs are cut with a thickness of 22mm.
Raj Green Sandstone is a long-lasting paving solution, making it one of the most popular types of paving slabs.
Its similarity to Yorkstone is what made Raj Green popular when Indian Sandstone was first introduced to the market. However, Indian Sandstone is a more affordable option per square metre. making it the perfect alternative.
The structure of the stone makes it a strong and durable option which will weather naturally to create an attractive, timeless and chic look to your patio space.
As with all types of Natural Stone Paving, we recommend sealing your slabs to help to protect them against harsh weather. Sealing your paving will prevent the stone from taking on too much water and also help to prevent the growth of mould and algae.
See our range of cleaning, sealing and maintenance products here.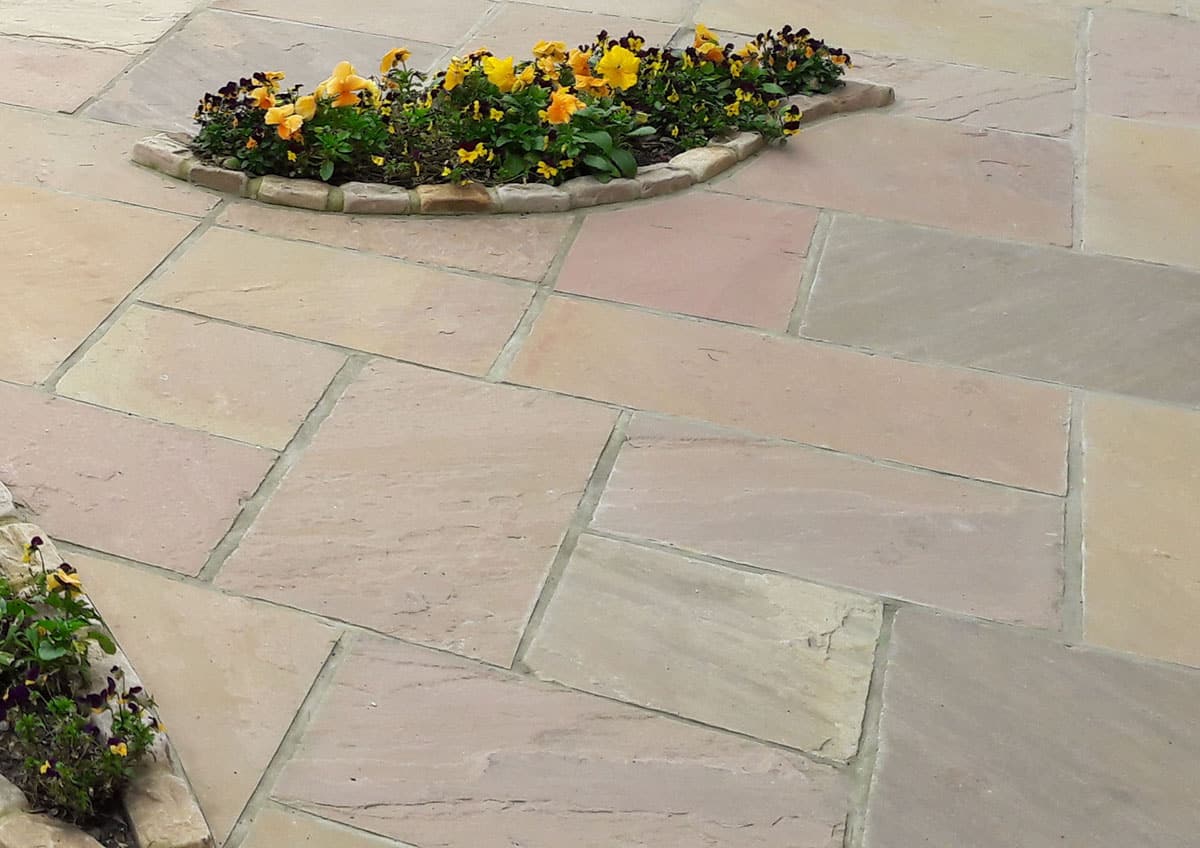 Conclusion
The range of unique colours and tones throughout the stone are what makes it one of the most eye-catching and popular choices of Sandstone Paving on the market. Whilst its strength, durability and frost resistance make it a practical choice.
Raj Green Sandstone will weather naturally to blend with your exterior space and, once sealed, will surely last a lifetime!
If you have any further questions about Raj Green Sandstone or any of our other Natural Stone Paving products, you can speak to a member of our team on 01206 700 599. Alternatively, you can contact us via email at [email protected] or by using the Live Chat feature on our website!