Sawn Mint Sandstone is a smooth paving option which features a range of yellow, beige, ivory and cream tones, as well as unique veining details which run through each slab. The paving is available in a range of sizes to suit your needs and with simple treatment, it will stay looking its best all year round!
If you're looking for the perfect paving for a contemporary patio, then Sawn Mint Sandstone will provide a beautiful finish to your exterior space. The range of yellow, beige, ivory and cream tones and subtle veining makes our Sawn Mint Paving popular choice for home projects and elegant patio spaces which require a sophisticated finish.
These colours and tones will vary from slab to slab to create a beautiful and unique look to your paving. A feature of Indian Sandstone Paving which provides natural charm and individual characteristic to each paver.
The elegant and tasteful Sawn Mint Sandstone will brighten up any area of your patio which doesn't see much natural light. This will add a feeling of spaciousness to your garden by making the most of all available space!
Once treated with a Natural Stone Sealer, Indian Sandstone Paving will stay resistant to any harsh weather conditions and prevent the stone from taking on too much water. This will help to prevent any problems during the winter months when an un-treated stone can become more susceptible to damage from frost and a build-up of rainwater.
Treating the stone before laying will also prevent any staining during the laying process. The last thing you want for your brand new patio is staining and marks on your stone!
See our range of Natural Stone Treatment Products here to keep your patio looking top notch!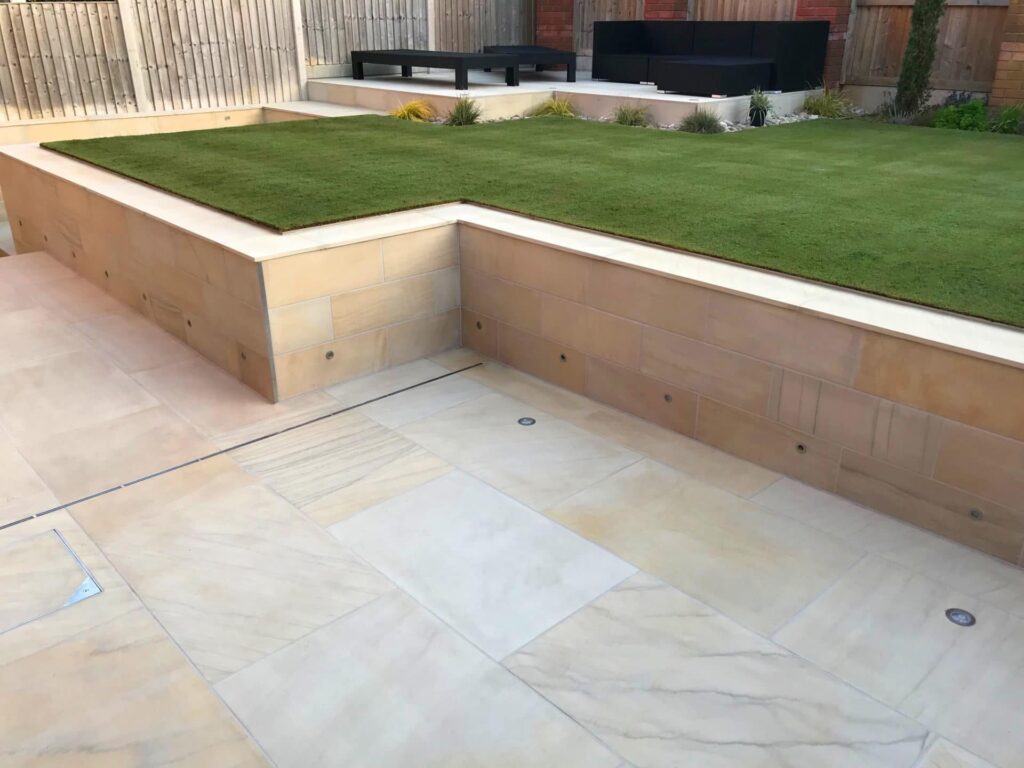 The smooth, sawn and honed surfaces of our Sawn Mint Paving leave a matt appearance which will sparkle in the sun and also look great when wet! These clean lines will suit any modern designs for a precise finish.
Sawn Mint Sandstone is available in 600×900, 600×600 or 800×200 paving slabs. As well as a Patio Kit which is prepped with a range of 4 different sizes of slabs. Perfect for creating a random paving layout for a truly unique finish to your exterior space.
Conclusion
Sawn Mint Sandstone is a beautiful and elegant patio paving option which features a range of buff, cream and yellow tones. As well as subtle veining details which run through each slab. The sawn and honed finish gives each slab a smooth, matt surface and provides the stone with clean lines, making the pavers perfect for any modern application.
If you have any further questions about any of our products, you can get in touch with our team via [email protected] or give us a call on 01206 700 599. We also have a Live Chat feature on our website where you can speak directly to a member of our team!