It is usual for Natural Stone Paving to attract algae, moss and other similar growths, including lichen, black spot and a build-up of grime. This is due to the porosity of the stone. Natural Stone will absorb water which can attract these growths over time. It's essential that you get to work removing algae from Paving surfaces as soon as it appears to prevent any lasting damage.
Even though moss, for instance, can look attractive in a rural garden, it can damage the surface of your stone. Also, in wet weather, such growths become slippery and slimy, which then makes the surface dangerous.
Identifying Algae and Other Growths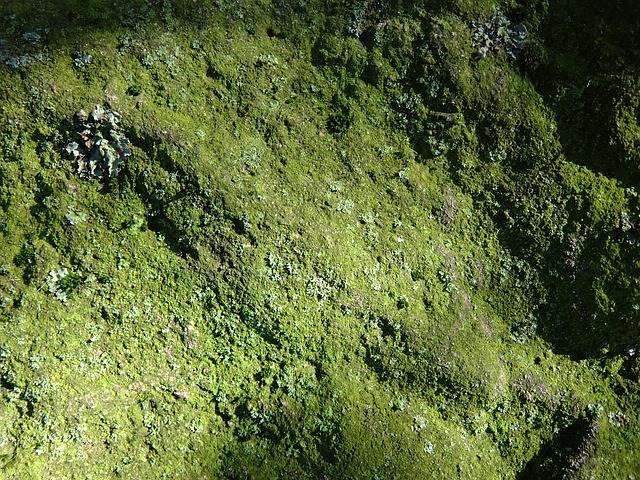 Typically, algae appear as a green film or powdery deposit – it will leave residue on your hands if touched.
Lichen is the grey, yellow and orange patches you often see on benches and sheds. Typically, they are crust-like.
Moss, the most favoured but still damaging of these growths, appears as a thick, soft green cushion on hard surfaces.
What Causes Algae Growth?
Before we guide you through the process of removing algae from stone, it's important to know what causes it in the first place.
You'll find algae and algae-like growths in damp places as they thrive on moisture. For example, if you have wet furniture that you've covered and put away in the shed for the winter, it may develop algae or similar growths over a matter of months.
Moss and lichens are more common in sheltered areas, such as wood stores, as well as on garden paths – especially at joints.
Dark, damp areas of your garden are where you should be most concerned about algae and algae-like growths. To decrease the likelihood of such growths, ensure your garden furniture is entirely dry before storing it. You should also pressure wash your patio, pathway, driveway, and furniture frequently to prevent the build-up of grime, algae, and other growths.
Removing Algae From Stone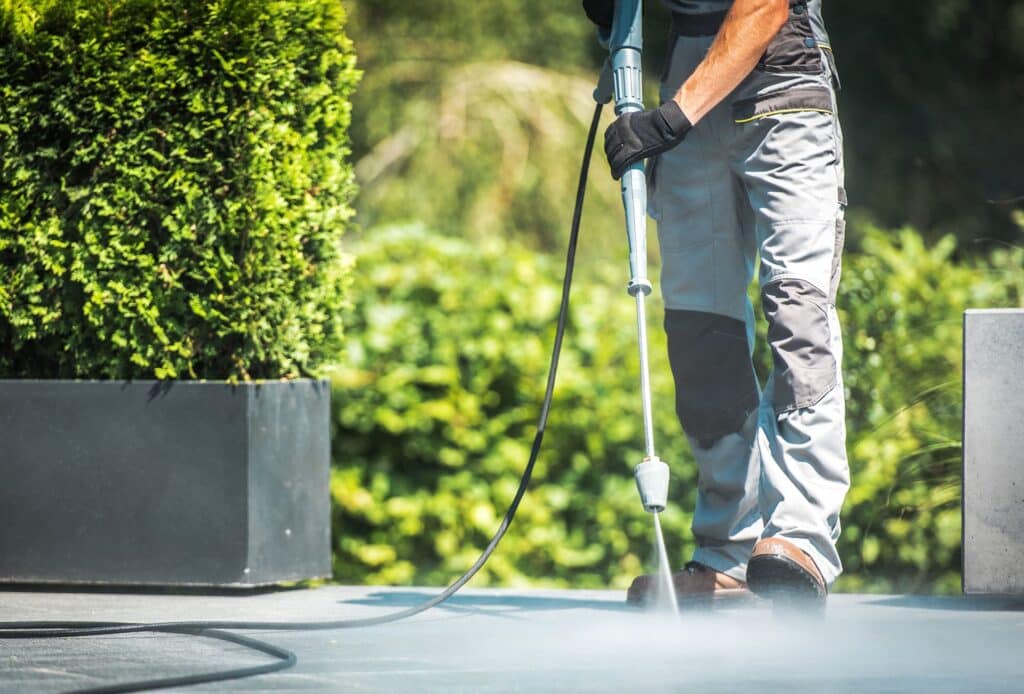 There are a variety of methods you can use to remove algae and similar growths from your Natural Stone Paving.
Non-Chemical Algae Removal
One of the best ways to prevent damage caused by algae and other growths is to dislodge the growth as soon as possible. With moss, for instance, you can run a knife along the edges of your path's slabs to remove the growth. Do this very carefully to avoid scratching the surface of your stone. Alternatively, you can use a hard-bristle brush; however, it may take a little longer. For loose surfaces such as gravel, regularly rake to prevent algae growth.
Using a pressure washer is another excellent solution to removing algae. However, you should be careful about where you use it as if the drainage is poor you could increase the dampness of the area which will, in turn, lead to further growths appearing.
If you use a pressure washer to remove algae from garden furniture, always treat the wood after.
Long-term fixes for removing alae from stone include:
Improving drainage around the area to ensure water drains away and the area eventually dries out.
Using permeable paving when laying new paths and hard surfaces to encourage drainage.
Construct hard surfaces so they slope slightly to prevent standing water and algae growth.
If none of the above work for you, you may need to consider ways to remove algae from stone using some specialist Paving Cleaners.
Chemical Algae Removal
There are a variety of algae removal products and Natural Stone Cleaners out there that will help you with removing algae from stone patios, pathways and driveways,  other surfaces prone to algae and other unwanted build-ups.
We stock a range of specialist  cleaning products by LTP and Azpects that will help to remove algae, mould, lichen, black-spot & fungus.
Once your paving is clean, you have the option to seal your stone.
Sealing your patio will help to prevent the build-up of mould and algae by creating a protective layer across the surface which will stop the stone from absorbing excess moisture. With less moisture present in the stone, there is a reduced chance that any unwanted growths will begin to build-up!
There are a wide range of Natural Stone Sealers available which are designed to suit different needs. We offer Colour Intensifying Sealers, Stainblock, Blackstone sealer which is designed specifically bring dark stones back to life, and even products specifically suited to Porcelain Paving!
When buying Natural Stone Cleaner or an algae removal product, always consider the following:
Avoid products with hydrochloric acid or bleach if you're applying the product near grass or plants as they may discolour.
Always check the label for what types of stone the product is suitable for as acidic products may etch the stone's surface.
Always follow the manufacturers instructions regarding the applicaton and use of the product.
If you have any further questions about any of our products or the aftercare and maintenance of your stone, reach out to a member of our team!
You can reach us on 01206 700 599 or via email at [email protected].