Any paving will start to build up dirt and require a good clean over time and there are so many natural stone cleaning products out there that it can be difficult to know exactly which one to use!
That's why we've put together a quick guide to which products work best for your natural stone paving.
Azpects and LTP are two of the UK's leading suppliers of Natural Stone Cleaning Products; we've tried and tested their products and picked the best all-rounder's that will help to get your paving looking new again!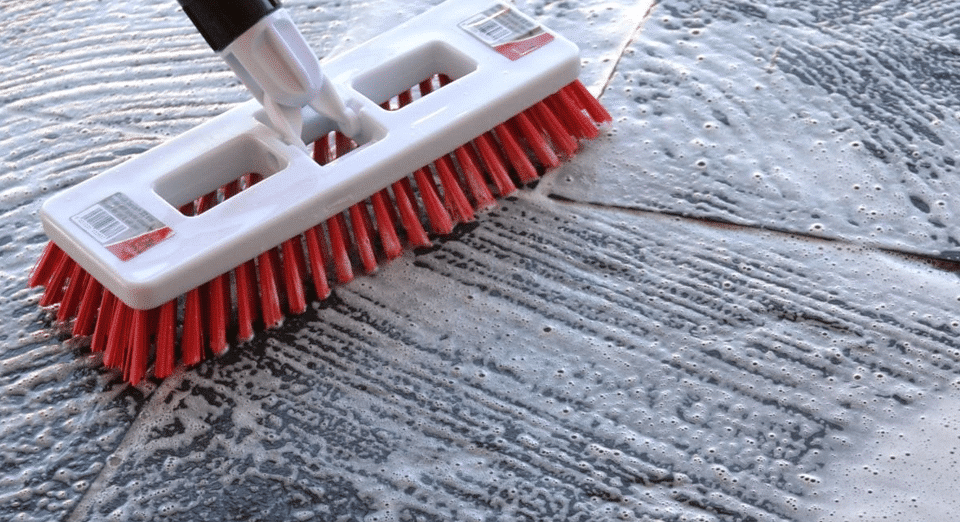 Before You Apply Natural Stone Cleaner
Before applying a Natural Stone Cleaner to your paving, whether they're interior or exterior, it's vital that you use a soft brush or broom to sweep away any loose dirt and debris. If you don't brush away any debris before applying the product, you risk scratching the surface.
It's also, essential to check the product's packaging to ensure that it doesn't contain anything that could etch the surface of your stone. For example; Limestone may be damaged if there is too much acid in the cleaning products you're using. If in doubt, we recommend that you contact the manufacturer, just to be sure!
Before distributing the cleaner over the entire surface of your patio, test it in a small, inconspicuous area – a single slab in the corner, for instance – to check that it yields the desired results. If you're happy, proceed to apply the cleaner to the rest of the area!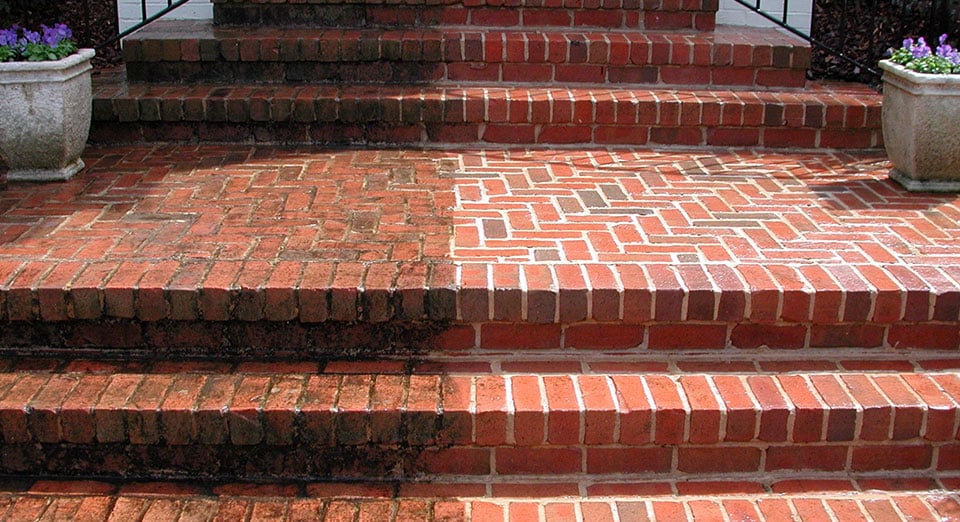 General Natural Stone Cleaning Products
Just like if you were caring for a wooden or carpeted floor, Natural Stone should be cleaned regularly to ensure that they continue to look their best for longer!
When it comes to exterior paving, over time, your slabs will weather which may see them change in appearance. The colour may become darker, for instance. However, inside, especially in areas with not much foot traffic, there's no reason that any Natural Stone shouldn't stay looking the same as when you laid them!
Azpects Patio & Deck Cleaner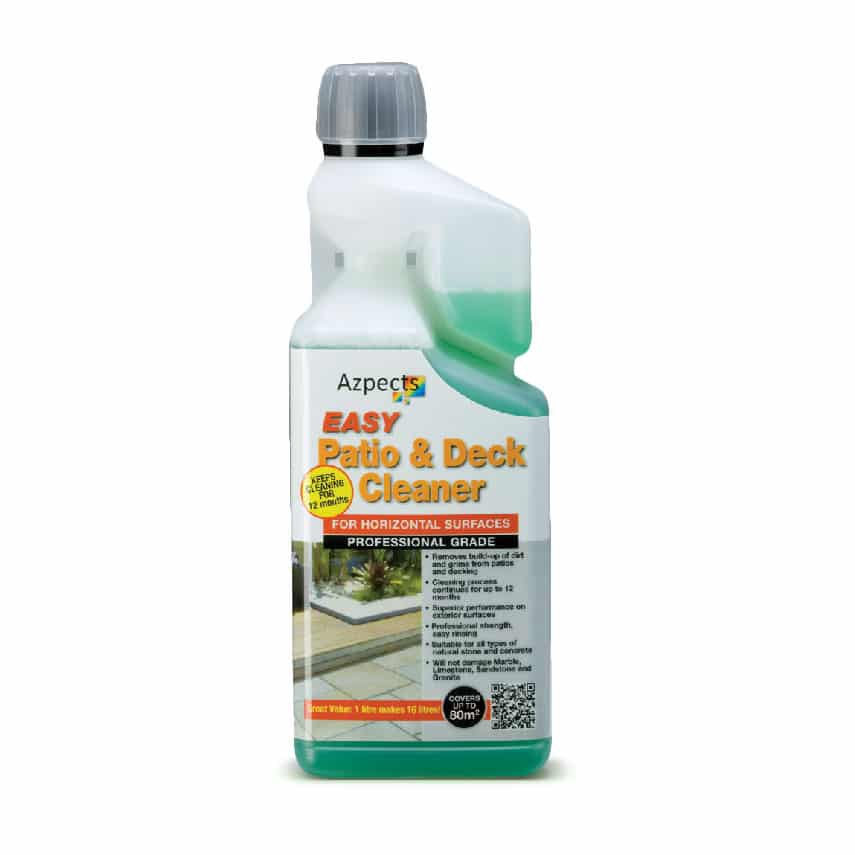 During the duller months of the year, wind and rain will spread dirt and debris all over your garden, including your patio or decking. In which case, you can use Azpects' Patio and Deck Cleaner to get it looking its best again.
Despite the name, this Natural Stone Cleaner is not only suitable for your Patio Paving or interior tiles, but it can also be used to effectively clean fences, sheds, and other concrete, stone, and wood surface, including garden ornaments and garden structures!
You can use this product directly or as an additive cleaner for use with a pressure washer. Over a period of weeks, the product continues to work away at the dirt on the surface of your patio, deck or otherwise, so you can expect to continue to notice improvements for some time.
LTP Heavy Duty Grime Remover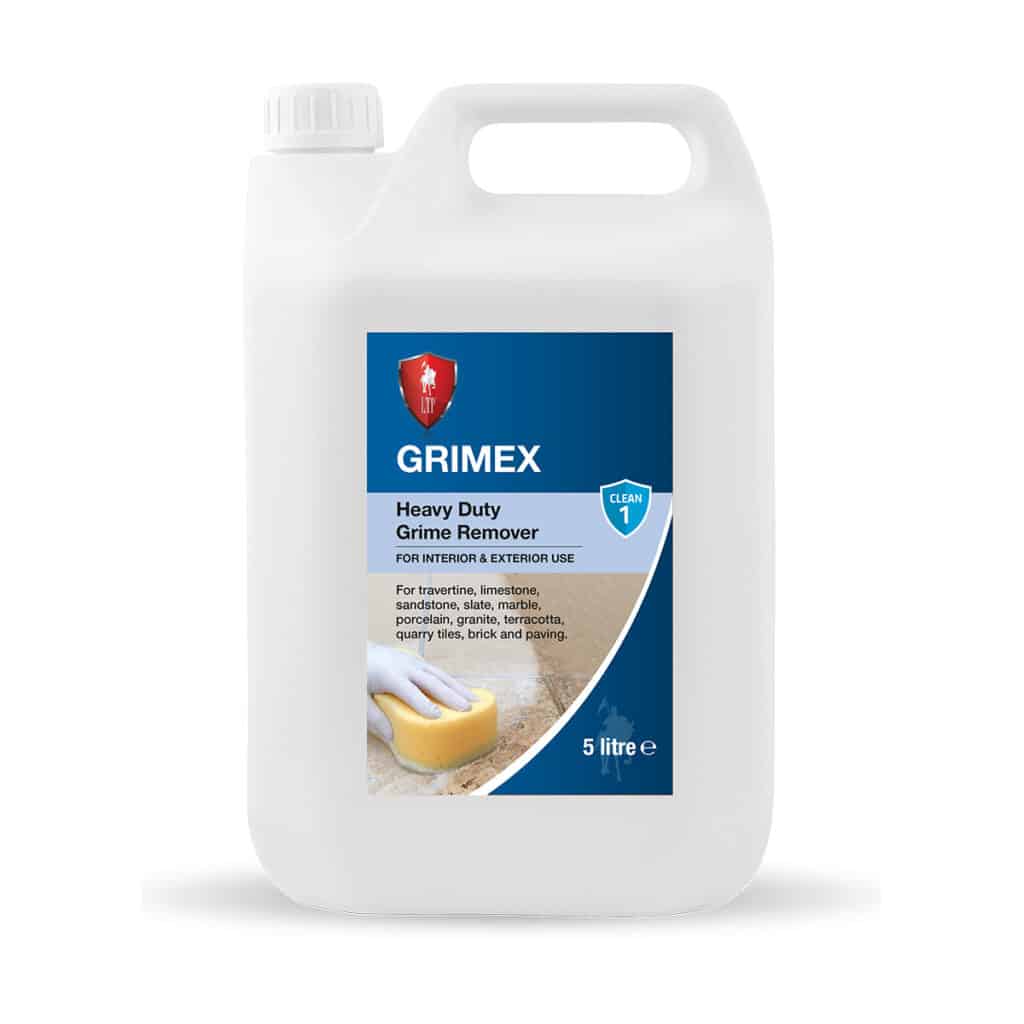 LTP's professional-grade Heavy Duty Grime Remover, Grimex is suitable for both interior and exterior use. It will improve the look of your slabs by removing any ingrained dirt, wax, oil, and grease, which makes it ideal for driveways!
This Natural Stone Cleaner is suitable for almost every type of stone, including Sandstone, Granite, Slate and even man-made stone such as Porcelain. You can even use it to clean brick!
Before applying the product, test it in an inconspicuous area using clean water and a sponge.
Specialist Patio Cleaning Products
In addition to these, we also stock a range of specialist products that are formulated to remove specific types of ingrained dirt and stains!
Azpects Grease & Oil Away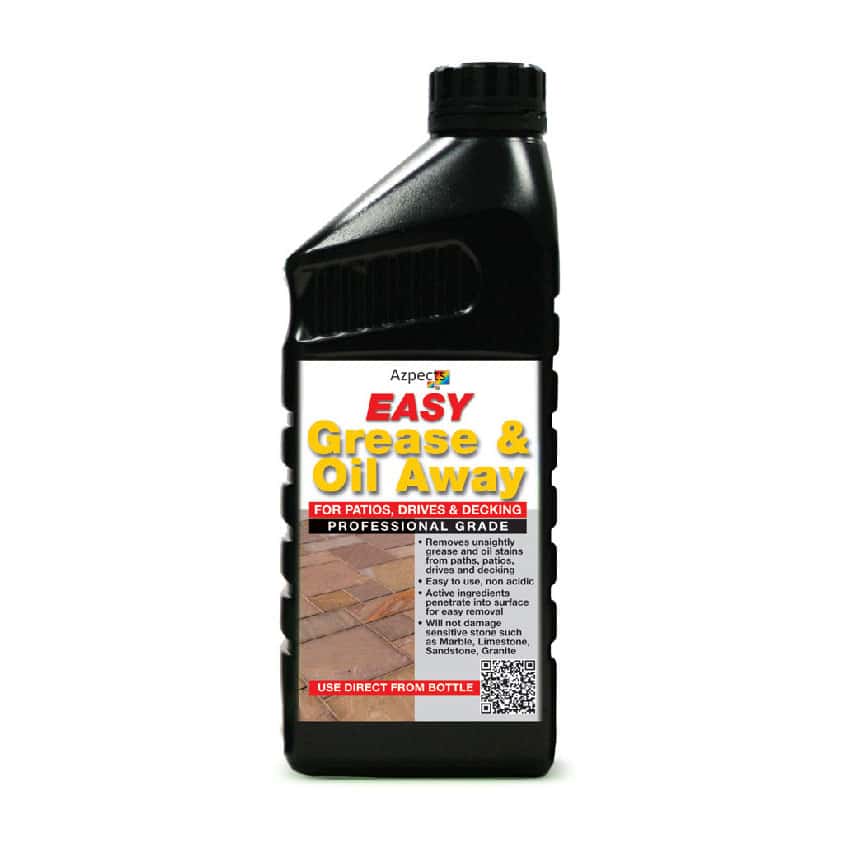 If you have a Natural Stone driveway, you'll know only too well how quickly oil and grease can litter the surface of the stone, causing it to look dated and damaged. However, you can now remove such hard-wearing stains with Azpects Grease & Oil Away!
This Natural Stone Cleaner is of professional grade and suitable for use on drives, patios, and decking. It penetrates the dirt and stains to soften and removes them with little effort, aside from some scrubbing!
Azpects Grease & Oil Away can be used directly from the bottle and also makes an excellent barbecue cleaner, helping to loosen and remove stubborn oil, grease or fat deposits!
LTP Cement, Grout & Salt Residue Remover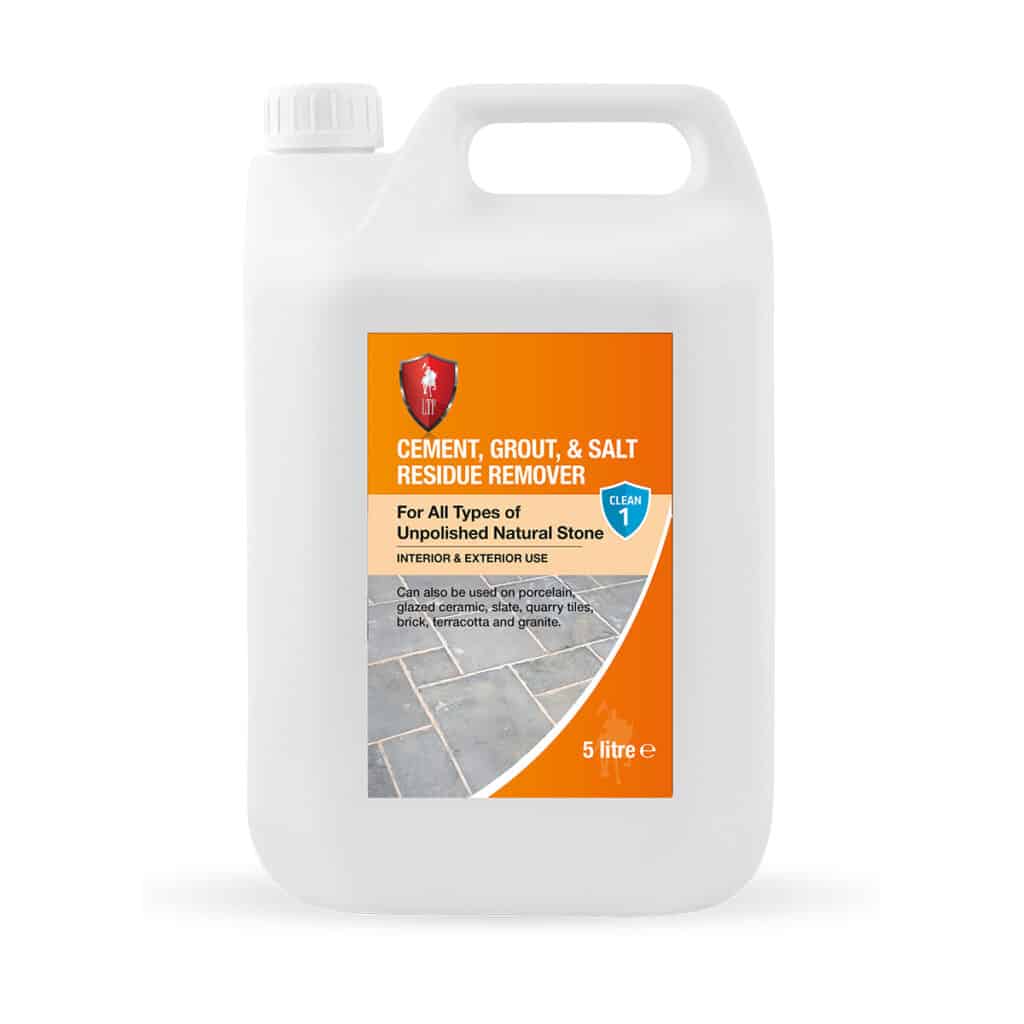 LTP Cement, Grout & Salt Remover is a rapid action cleaning agent for Natural Stone Paving. The patio paving cleaner and grout stain remover can be used in dilute or concentrated form. For all types of unpolished Natural Stone, such as Slate or Granite, and is also suitable for Porcelain Paving.
Azpects Efflorescence Remover+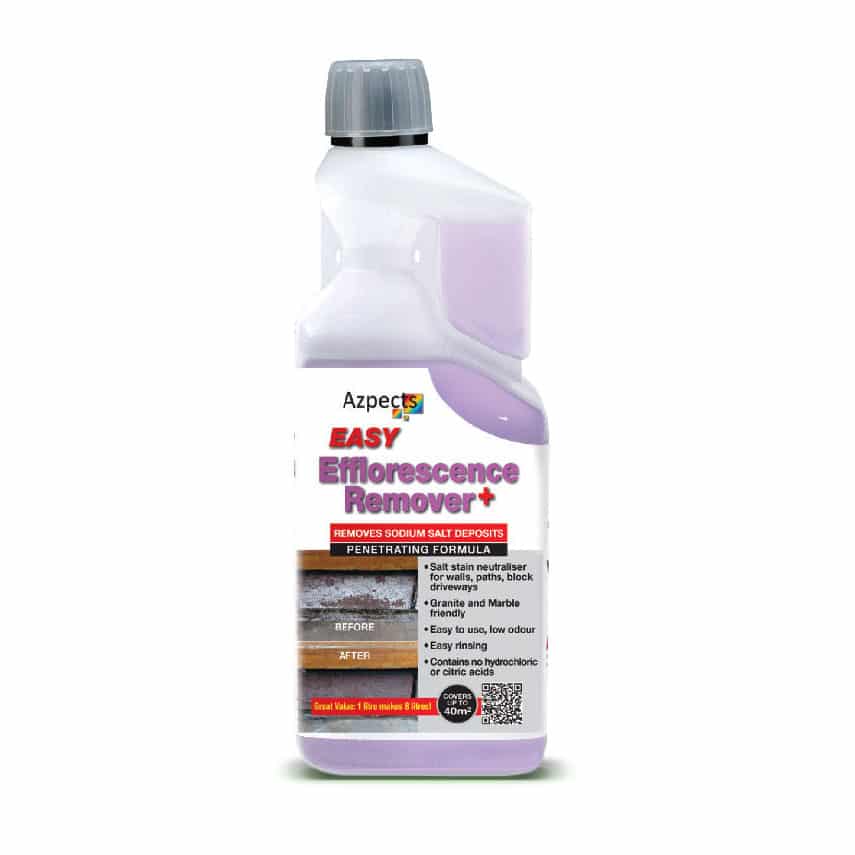 Occasionally, you will see salt deposits rise to the surface of a Natural Stone, causing unsightly white salt stains to appear. These stains occur in all types of stone but are more prominent on darker surfaces, such as Slate or Blue-Black Granite.
If you spot efflorescence on the surface of your stone, remove the stains using Azpects Efflorescence Remover+. It is a concentrate that effectively neutralises the salt within your stone, which not only cleans but decreases the likelihood of fresh efflorescence stains appearing in the future!
Apply Efflorescence Remover+ using a spray bottle, watering can or brush. You must leave it for two hours once applied and then wash away any residue.
If stains appear again in the future, you will need to repeat the process.
Azpects Algae Remover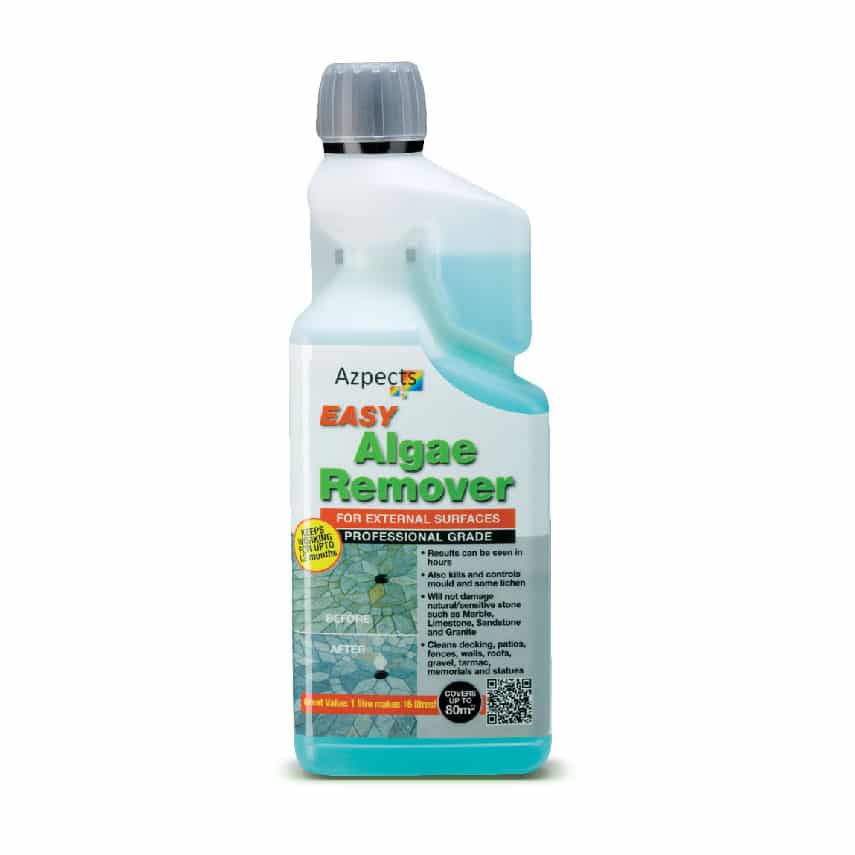 If your slabs have suffered a build-up of algae or mould, you can remove it using Azpects' Algae Remover, which you can dilute in warm water and then apply to the surface of your stone.
This Natural Stone Cleaner does not contain solvents, acids or caustic soda, which makes it ideal for use on almost any type of Natural Stone. It's also suitable for use on decking, walls, fences, roofs, garden furniture, and ornaments.
Before applying any Natural Stone Cleaning Products to your slabs, always ensure the product is suitable for the type of stone you are cleaning. Also, be sure to brush away any debris and dirt beforehand, and always follow the safety instructions specified.
If you have any questions about any of the products featured in this article or would like any further advice on the aftercare and maintenance of your stone, feel free to contact us! We would be happy to help!
You can speak to a member of the team on 01206 700 599 or email us at [email protected]