Should you seal your paving? If so, when should you seal and which sealant is best?
When researching whether to seal your slabs, the advice can often be conflicting depending on who you ask, so we've listed some important information to help you make a decision.
Most professional landscapers will have their own tried and tested methods when it comes to sealing paving slabs and there is no right or wrong answer as the sealing method and products you'll need will depend on the results you are looking for.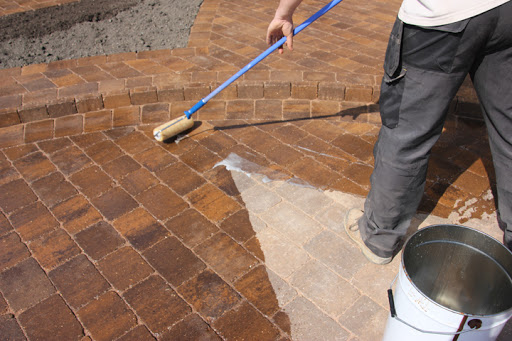 Should I Seal My Slabs?
We always advise sealing your paving, whether it's Natural Stone or Porcelain.
The main reason that we advise sealing the slabs is to help to protect your stone against staining. Natural stone is porous and will absorb liquid from anything left on the surface. This may not seem like much of an issue when considering rainwater, but keep in mind that this goes for anything. The last thing you want is a patio stained with muddy footprints or BBQ grease!
Organic matter can also leave marks behind. Things like wet leaves, bird droppings and moss can all leave stains and once anything is drawn into the surface of your stone, removing it can be very tricky.
Sealing will also prevent excess moisture from building up within natural stone which will help to prevent frost damage as well as the growth of moss, mould and algae.
Below, you can see the difference between a dry, unsealed stone and that same project once sealed.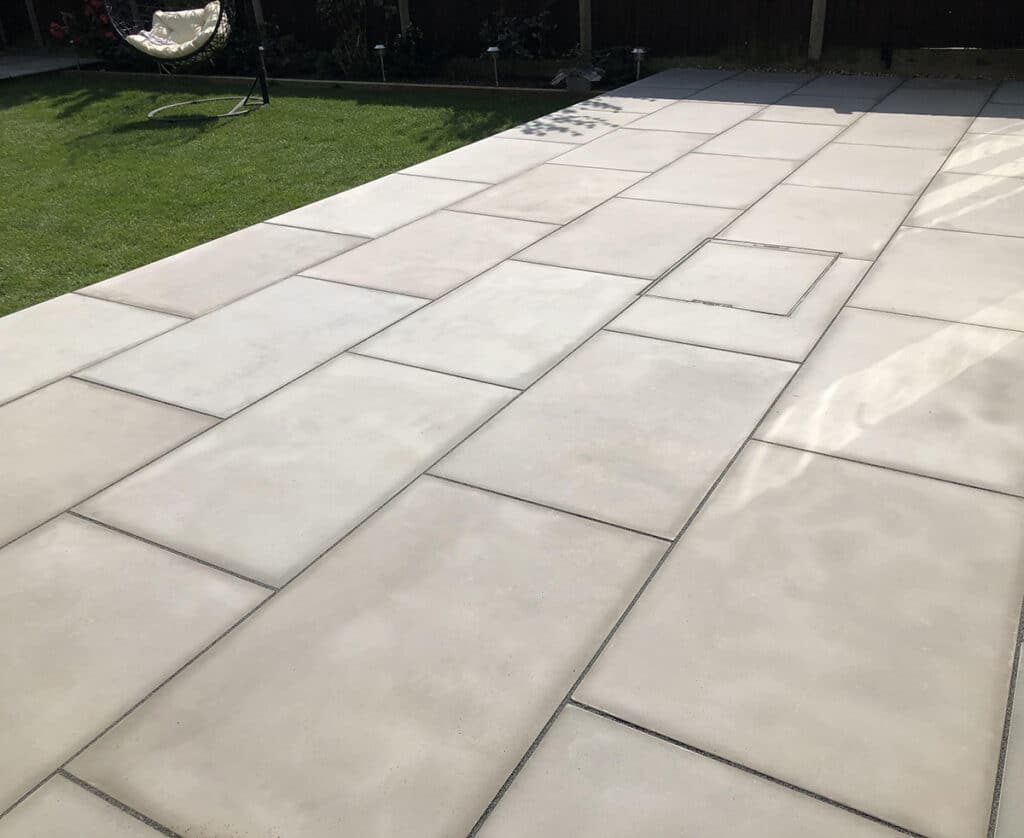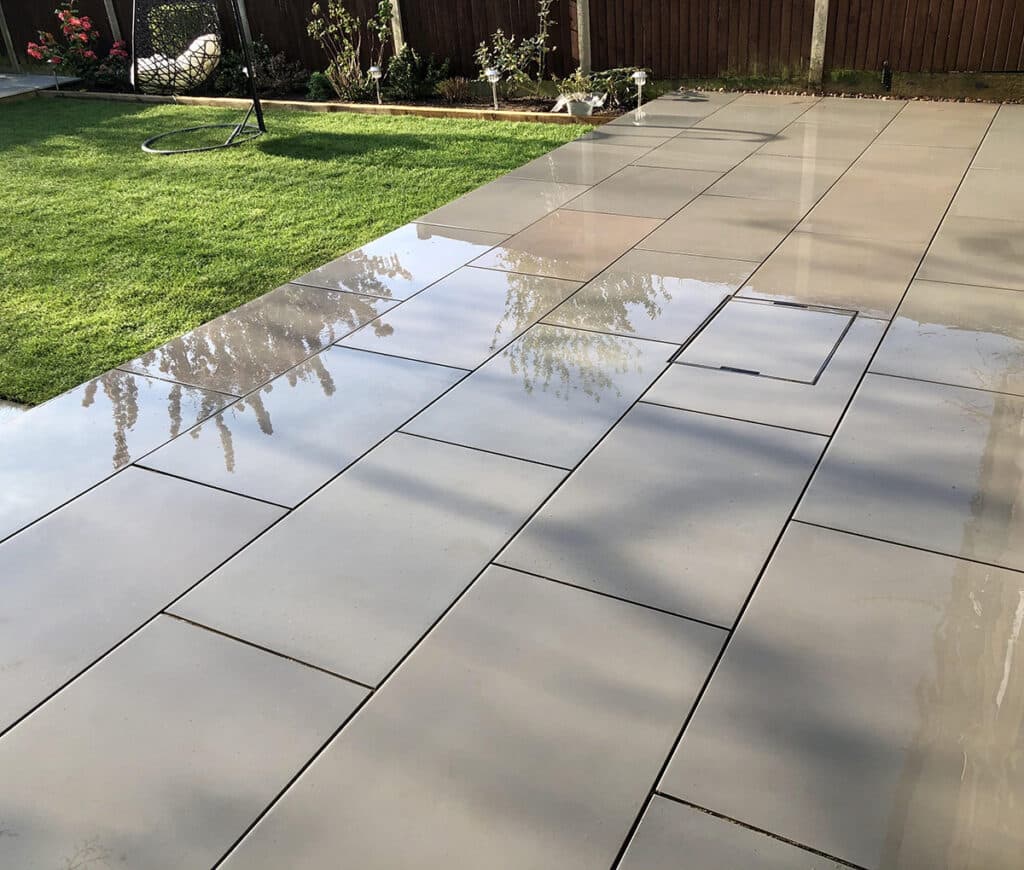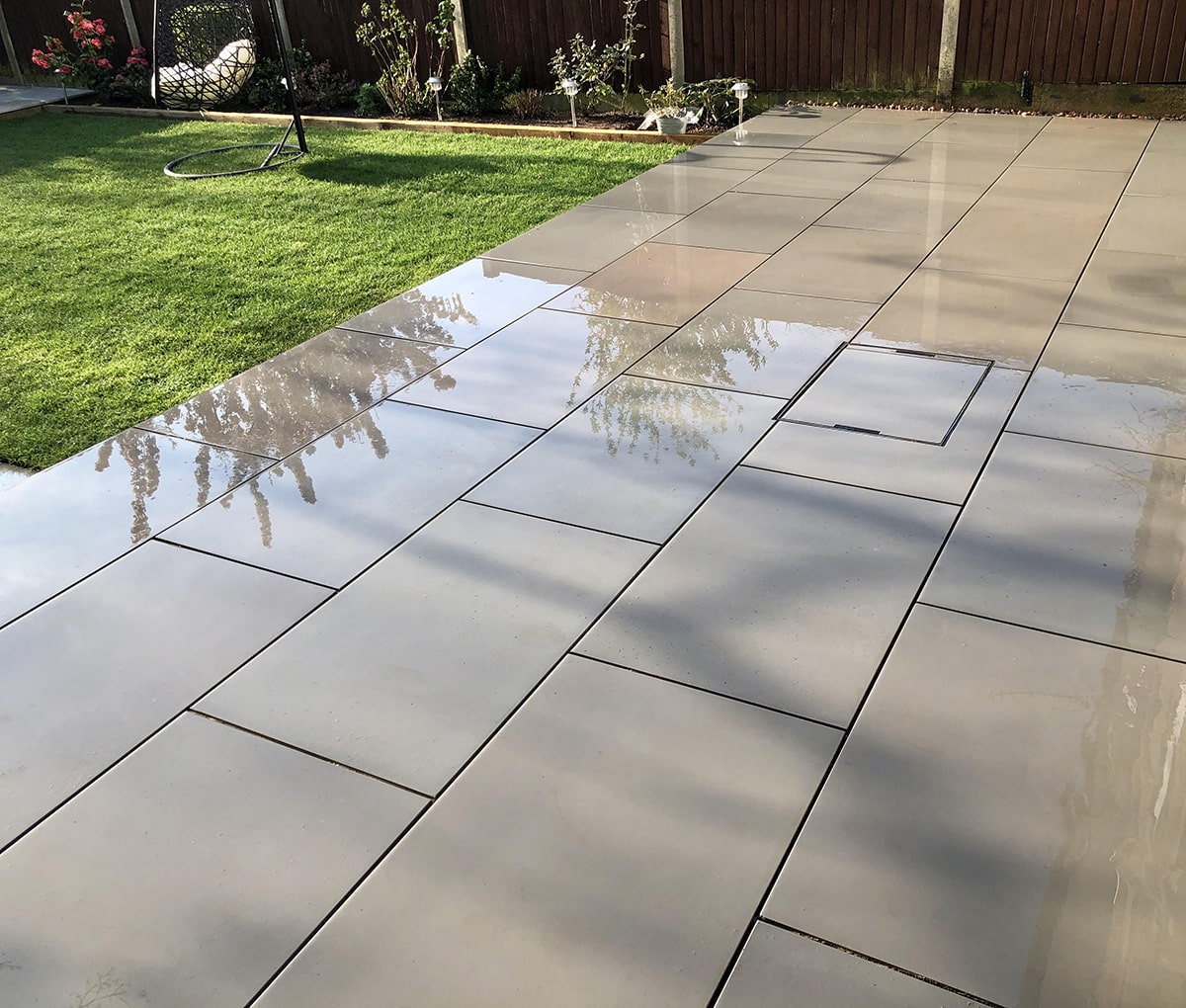 When Should I Seal My Slabs?
The best time to seal your slabs will vary depending on the results that you are looking for and the decision on when to seal is really a balancing act between allowing the stone to weather and the level of protection that you're looking for.
Sealing your slabs before laying will always help to protect against staining during installation. This can sometimes be a little more work as sealing individual slabs will naturally take longer than sealing the full patio once laid, but can be worth the time and effort to prevent any staining during installation from cement, dirt or grout. Although man-made tiles like Porcelain Paving are non-porous, cement can still dry onto the surface of the slabs and will be tough to remove. Sealing the tiles before-hand will help with removing anything which has dried on the surface.
The most common method is to seal the slabs once laid. Some people choose to allow the stone to weather for a few weeks or months before applying a sealer and the specific needs of your project will also need to be taken into consideration here. You may want to allow a few weeks to see if any efflorescence appears so you can allow this to work its way out of the stone first. Be sure to keep in mind that whilst the stone is unsealed, it's more prone to staining.
Whether you choose to seal before or after laying, most sealants require a period of at least three dry days with a temperature of 10°C or higher so the slabs have had plenty of time to thoroughly dry out, as any moisture on or within the slabs can sometimes cause unpredictable results. However, this can differ depending on the specific product that you are using and always be sure to follow the manufacturer's guidelines when using any sealing or cleaning products.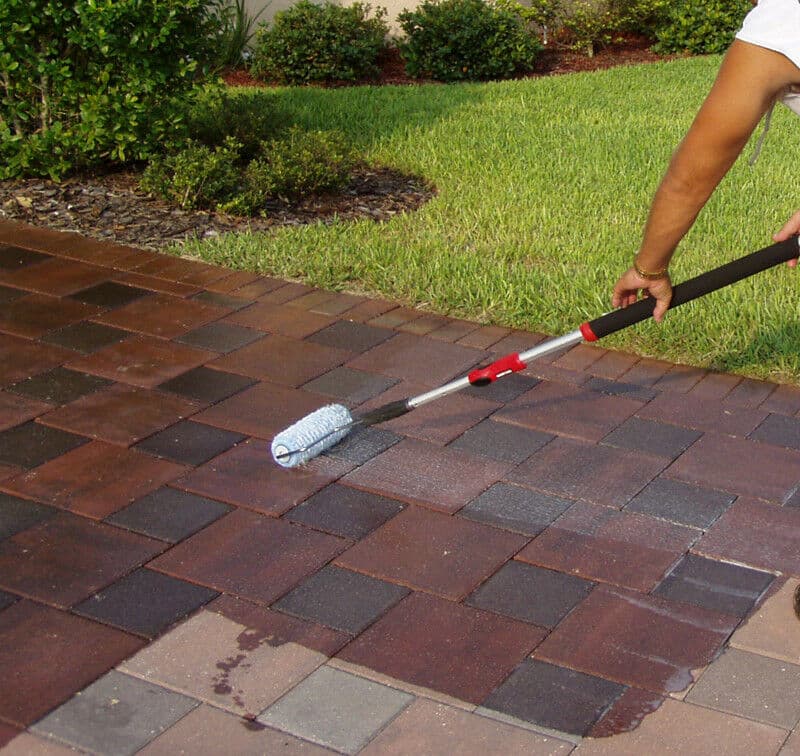 What Should I Use To Seal My Slabs?
There is a wide range of sealing products on the market which will provide various results. Some sealants will simply seal and protect, whereas others can be used to enhance the colour of your slabs.
Always be sure to consider the results that you're expecting from sealing your paving, as your choice of sealer is key in making sure that you get the outcome you're looking for! There is a range of Invisible, Damp-look, Matt/Low-Sheen and Wet-look sealants available but as well as the appearance, it's vital to consider the performance of the sealer.
Sealers are widely available online or from builders merchants and always be sure to do your research on whether the particular sealer you are choosing is suitable for your stone type. We always recommend using the LTP Product Selector to help make your decision.
You'll be able to choose the specific type of stone that you have and see recommendations for sealing, cleaning and aftercare. Each product page will give you all the necessary information you'll need to make an informed decision on your choice of sealer, as well as a technical data sheet for further information on the contents of the product, as well as application advice. LTP also have a handy Coverage Calculator which you can use to work out how much of the product you will need.
We stock a range of LTP products and you'll find out best-sellers below. See our full range here.
What To Avoid
It is strongly recommended that you avoid using anything with a high acid content to treat your paving.
Anything with a high acid content can cause staining to your slabs when the acid aggravates the natural iron particles in the stone, causing them to oxidise and turn orange.
Some builders will recommend brick acid to clean up your paving, and whilst the acid will typically work wonders on brick, you will be doing more damage than good when using acid on a natural stone. Acid can also react with jointing compounds for some unsightly results and will also burn skin and clothing which can cause a serious hazard to children, pets, plants and plants.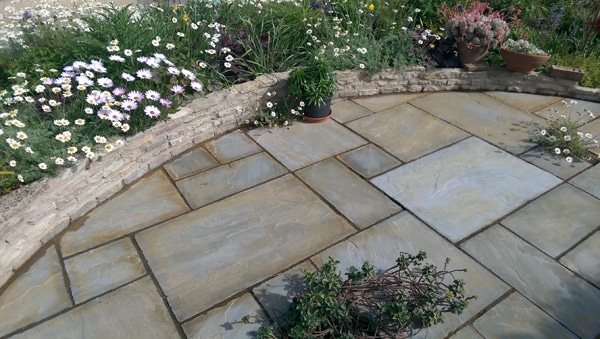 How Should I Seal My Slabs?
This will depend on the specific sealer you choose and it's vital that you read and follow the manufacturer's instructions carefully.
Instructions for use will differ from product to product and the amount that you will need to apply will usually depend on the type of stone you have, as well as the results you are looking for.
Always remove loose dirt, moss & other debris from the surface of the slabs first and check that any marks are cleaned off before sealing to avoid them being sealed into the surface of the stone. Test the sealer on an inconspicuous area or off-cut first, to be sure that it will provide the results you need before treating the full area.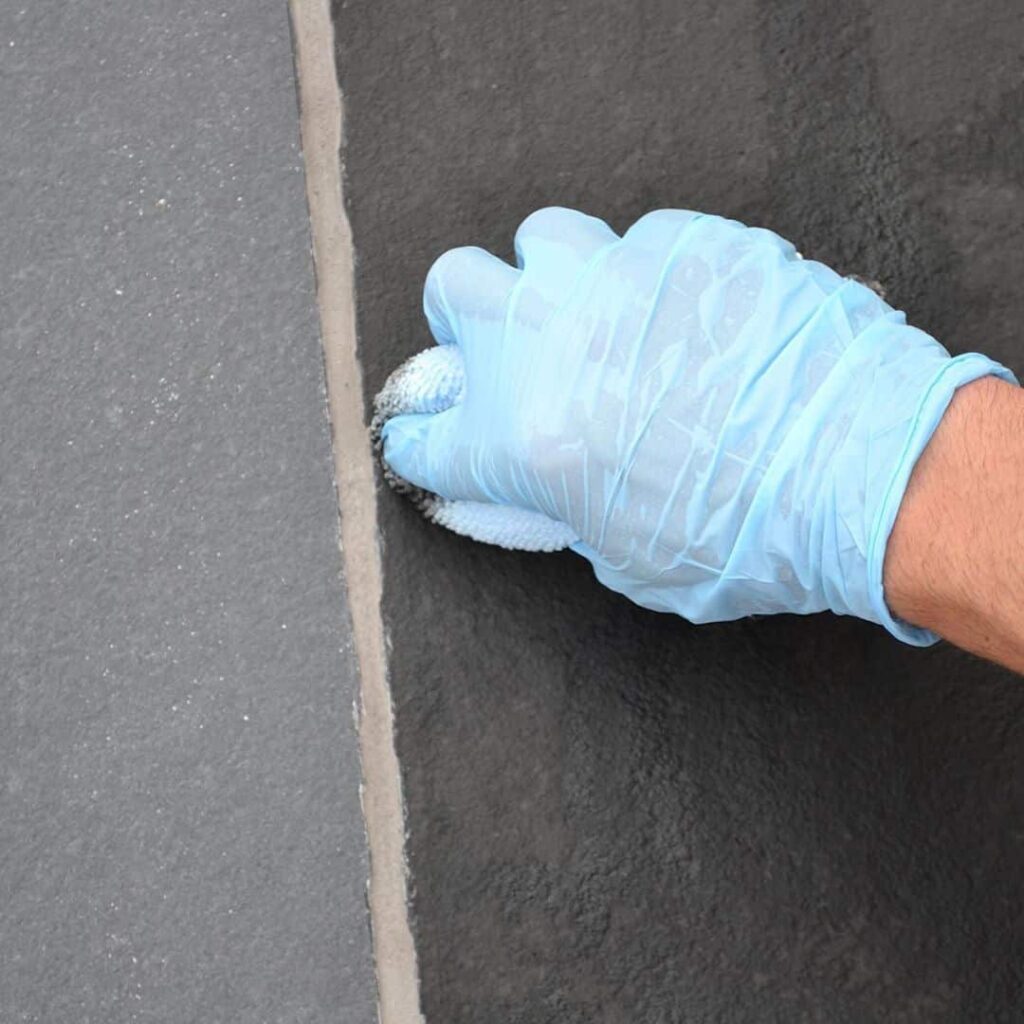 Further Advice
Due to the many variables from project to project, there isn't one go-to method for how and when to seal your paving but following the above advice will see you well on your way to making the right decision to keep your slabs protected and looking their best all year round!
For further advice on sealing your patio, we recommend PavingExpert.com
PavingExpert.com offer a huge amount of comprehensive advice for all aspects of your project and is well worth a look to get some more in-depth information on each step of the process, or for any specific requirements that your project may have.

There are also some great resources listed below if you're still looking to dive deeper into the ins and outs of sealing your paving. Any reputable sealant manufacturer will be able to point you in the right direction and provide some further specific advice for your needs. Most landscapers will also be able to provide further advice on sealing based on their experience and will have tried and tested methods that they use regularly.
If there is anything you are unsure about regarding the laying process, always be sure to contact an industry professional for some advice.
You can contact a member of our team on 01206 700 599 or via email at [email protected].