(2 min, 30 sec. read)
Porcelain Paving is an incredibly durable man-made material and one of the most popular types of paving available!
When we think of Porcelain, we don't usually think about with strength and durability, but when it comes to paving, any preconceptions we have are turned on their head!
Read the 6 Things You Should Know About Porcelain Paving if you're thinking of using it as a part of your home..
The Strength of Porcelain

Porcelain is one of the strongest types of paving currently available on the market.
It's the go-to for home and business owners that want a clean-cut finish with longevity and easy maintenance!
Porcelain is so easy to maintain that all it needs is a quick sweep and a wipe with some warm soapy water! Simple!
Because of the state-of-the-art manufacturing process, porcelain is incredibly strong. It can easily take vehicles and heavy loads, making it a great option for a modern and high-end looking driveway!
Its stain resistance will also prevent any dirty looking oil or grease marks.
Super Easy Maintenance

Thanks to the pressure and high temperatures used in the production of Porcelain Paving, the slabs have a low porosity, which means they absorb little to no water.  The lack of moisture will prevent the growth of algae and mould, giving the Porcelain its low-maintenance benefits. This will also prevent any cracks and the need to treat and seal the paving. Something which natural stone will need regularly.
The Safety Benefits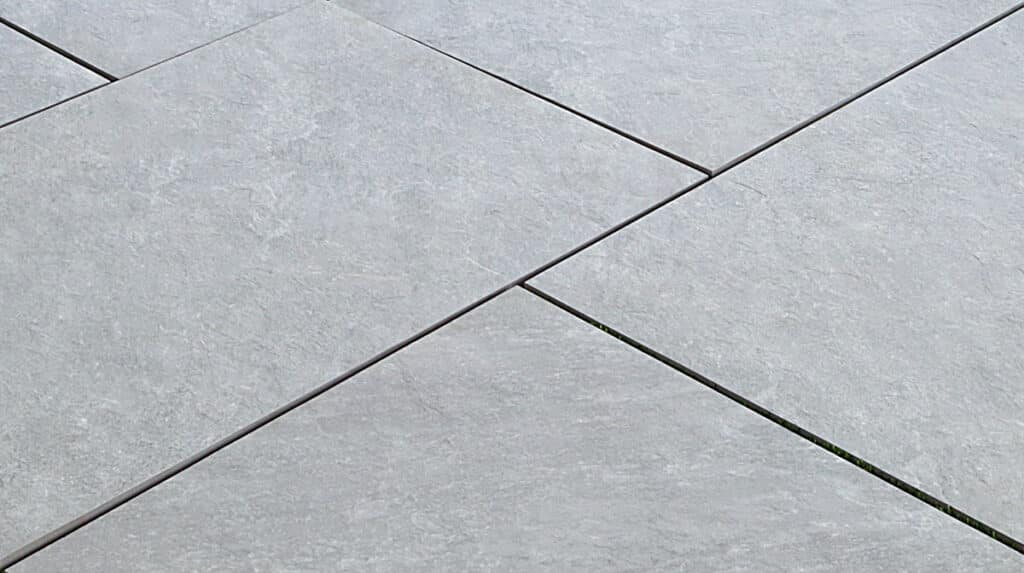 Our range of Porcelain Paving has a slip-resistance rating of R11, making it ideal for commercial environments, households with children or paving where public safety is a concern. It's also frost resistant which offers an added level of safety for the winter months!
Consistency is Key

Porcelain slabs are man-made, and all slabs are cut to a consistent size. This consistency makes laying Porcelain slabs very simple, as you needn't worry about variations thickness.  The tiles can also be cut straight, which will give your floor a seamless finish.
We stock a wide range of sizes of accurately cut Porcelain Pavers, all with a thickness of 20mm.
How Porcelain Paving is Made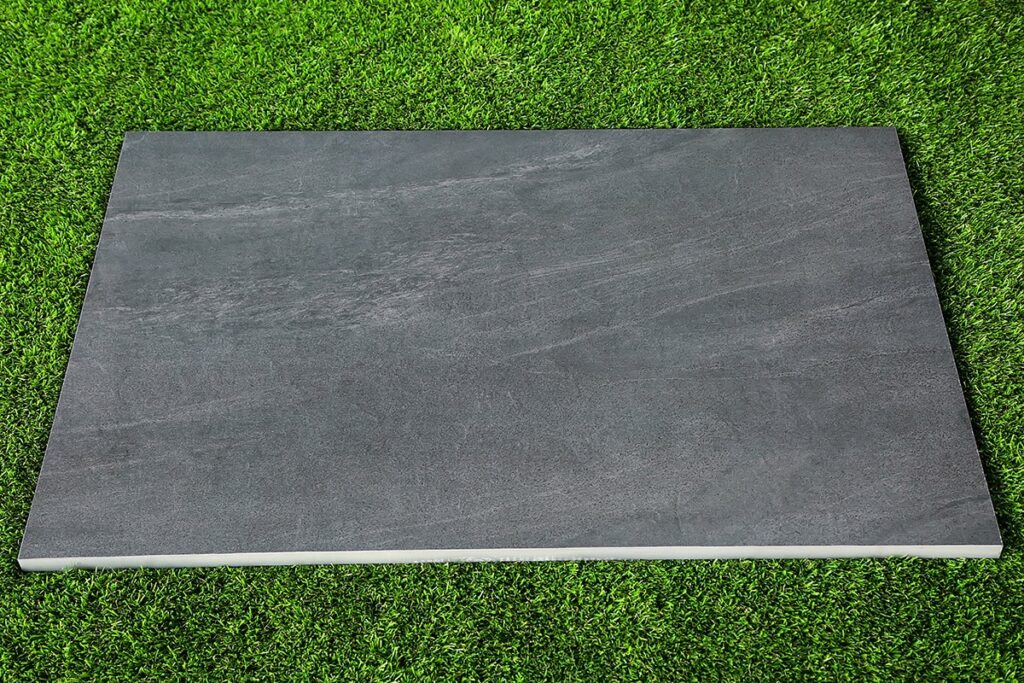 Porcelain is made in almost the same way as ceramic tiles. The clay is powdered and then shaped before being pressed and fired in a kiln. Typically, porcelain is fired in temperatures of up to 1400°C. This process removes all the moisture from the material, leaving a solid finish that's tough to crack.
The Wide Range of Finishes

Porcelain usually features printed designs which come in every style and colour imaginable. Our Porcelain Paving range features finishes which are designed to emulate the look of Natural Stone such as Sandstone & Slate Paving.
If you have any further questions about our Porcelain Paving range, we would be happy to answer them for you!
You can speak to a member of the team on 01206 700 599 or reach out to us via email at [email protected]