(3 min 30 sec. read)
When renovating your home, it's crucial that you invest in materials wisely to ensure you get the best quality for your money.
However, choosing floor tiles or patio paving can be tricky due to the variety of options on the market. But that shouldn't mean you can't find the perfect materials to suit your project!
When making a choice between natural stone and porcelain, take note of:
Strength
Granite is considered one of the strongest types of natural stone for outdoor use, particularly for driveways and paths. But research suggests that the strength of porcelain exceeds that of granite, meaning that its ability to withstand the weight of vehicles and heavy loads could make it a strong contender for your driveway, or even a garage.
Longevity and Maintenance
Porcelain is scratch and stain resistant, which means it can easily take high levels of foot traffic – ideal for large families, businesses and anywhere that vehicles are likely to leave any dirt, grease or oil stains.
Generally, any stains that occur to natural stone can be treated with specialist products. But these types of spillages will come off of porcelain quickly and easily with some warm soapy water!
Finish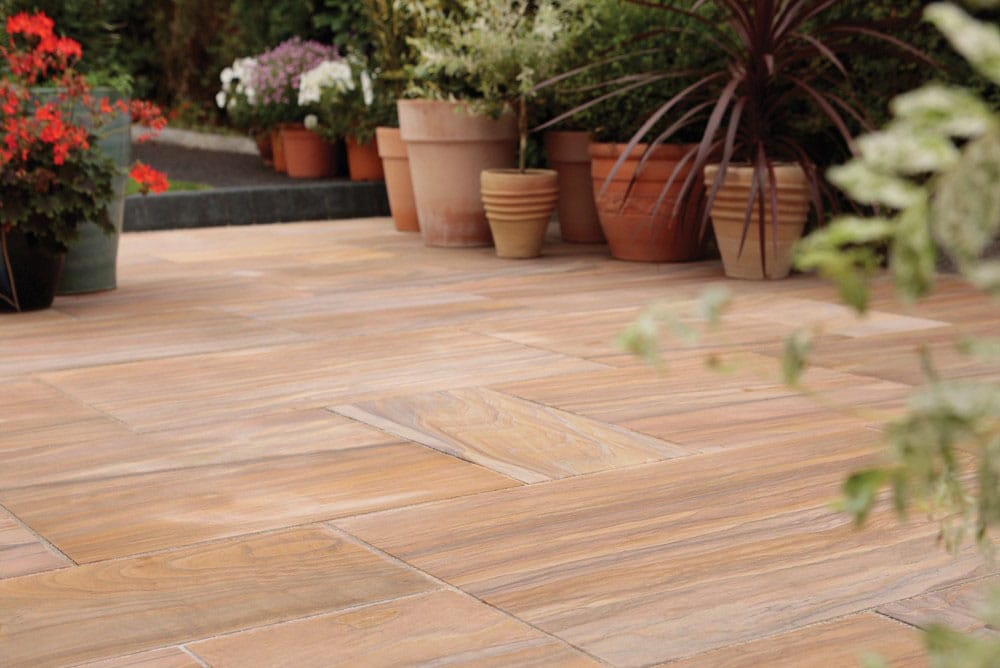 Despite the strength of porcelain, remember that natural stone is an entirely organic product quarried from the earth and, therefore, delivers an authentic, raw finish that porcelain can only try to achieve with its printed finishes.
Rainbow Sandstone, for example, is one of the boldest, of all our paving types. Each slab has its own unique qualities of intense swirls and veins, and bright purple and orange colouring to help your home to stand out!
Likewise, Kandla Grey Sandstone slabs feature a palette of light and dark grey tones and are complete with light veins that run across the natural surface, with the occasional splash of blue.
Porcelain, being man-made, has a printed finish which can emulate a range of patterns.
Take a look at our range of porcelain paving to see how the range of wood-grain, concrete, slate and Belgian bluestone finishes.
Stone Density
Thanks to its density, porcelain won't allow water to seep through its surface – unlike natural stone, which must be sealed every few years to prevent this.
If water seeps into the surface of natural stone paving, it can cause mould, algae and moss to develop. It also makes the stone more susceptible to cracking.
This is something that you can solve quickly with natural stone by regular sealing. We sell a range of stone sealers which will help to prevent any damage caused by the stone taking on water, but this isn't necessary with porcelain.
Safety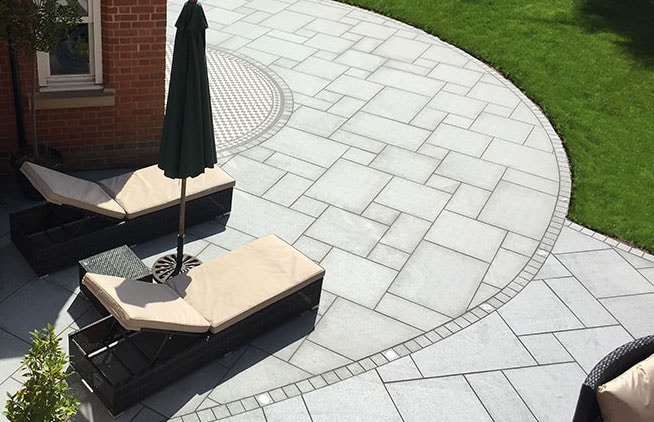 Both porcelain and some types of natural stone paving are frost resistant. Making either a good choice for your patio or garden space if your location is likely to see a lot of cold weather!
Details on frost resistance are available on each product page within our natural stone range.
Porcelain and granite are also slip resistant.
The flamed surface of our granite gives it a textured finish which will naturally aid grip. This might be something to consider depending on the needs of your project.
The Conclusion
There's no right or wrong answer to the question, 'Which is best?' when it comes to natural stone vs man-made porcelain paving.
Overall, porcelain is stronger than natural stone.
Not only is it denser, but it can also withstand higher heats and is not susceptible to cracking, mould and other growths. It requires little maintenance, has anti-slip finishes, and is scratch-resistant, so it'll stay looking its best for years.
Natural stone, on the other hand, offers a range of unique and eye-catching finishes, some ranges offer the same frost and slip resistance, and although it needs regular sealing and treating, this is something that is quick and easy to do, and only needs to be done around once a year.
When choosing your stone, take the time to consider the look you'd like to achieve, as well as the use that your space will see.
If you need any assistance in making a decision on the type of stone to use for your garden or patio, our customer service team would be happy to help!
You can call Nustone 9am-6pm, Monday to Friday on 01206 700 599 to speak to a member of the team, or use the live chat feature on our website!