When renovating your outside space, there are multiple Indian Sandstone colours to choose from; from rich brown and buff tones to neutral hues of grey and sandy yellow – or a medley of them all.
The benefit of natural stone paving is that every slab is unique, which gives your home what we all look to achieve in creating a family-friendly outside space: personality.
While you can choose Indian stone paving for use anywhere in the garden, some colours are better suited to different areas.
This Indian sandstone paving is a best-seller with traditional charm. It blends green and brown, dappled with plum and grey tones. When dry, the slabs have an apparent sandy quality; however, when wet, their vibrancy goes through the roof, revealing a rich, earthy palette.
Because of its timeless appeal, Raj Green Indian stone paving is a popular choice for pathways and patios. At the front of your home, create a path with a slate border for a refined finish. In your back garden, use it to create an expansive entertainment area.
Our Raj Green Patio Kit includes 57 calibrated paving slabs, which covers an area of 18m² – ideal for a small outside dining space.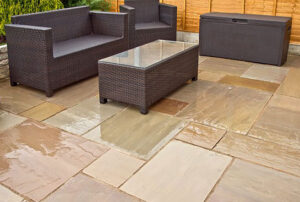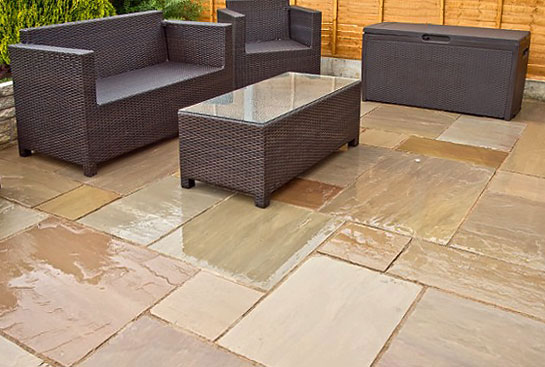 As its name suggests, Autumn Brown Indian Sandstone Paving is a rich variety of sandstone that nods to the deep, earthy hues present throughout the autumn months, when the leaves fall, and the fields are left bear. Its surface is a blend of brown and grey tones with distinct puddles that disperse like watercolour – especially when wet.
Of all Indian Sandstone colours, Autumn Brown is ideally suited to sizeable outside seating areas, steps, and pathways – use it as a foundation for Rattan furniture surrounded by tall green shrubbery for contemporary appeal.
Our Indian Stone Paving Autumn Brown Patio Kit includes enough slabs to cover an 18m² space.
This Indian sandstone paving is ideal for urban outside spaces, especially if you're seeking a clean-cut and contemporary finish. It gives added neutrality to even small areas and defined with a border – Black Granite Setts are an excellent choice.
Kandla Grey is a medley of light and dark grey hues with intricate light grey veins across the surface. Most of our customers use grey grout to complement the slabs; however, buff-coloured grout is also a popular choice and nicely frames the natural stone.
Our Kandla Grey sandstone patio kit comes in two variations: Calibrated, which has a natural surface, and Sawn and Honed, which has a smooth finish. Both kits come with 57 slabs, which is enough to cover 18m².
Rainbow Indian Sandstone Paving has a smooth, sawn finish that boasts defined, colourful veins and intense swirls of brown, buff, yellow, orange, grey, plum, and even hints of purple.
If you want to create a vibrant outside dining area, look no further. Open your French doors to reveal a jungle of plants set atop this artful natural stone paving.
Our Rainbow Sandstone Patio Kit consists of 57 slabs, which is enough to cover an 18m² space.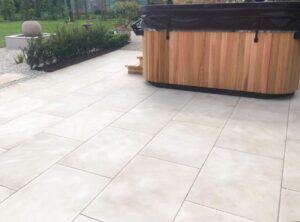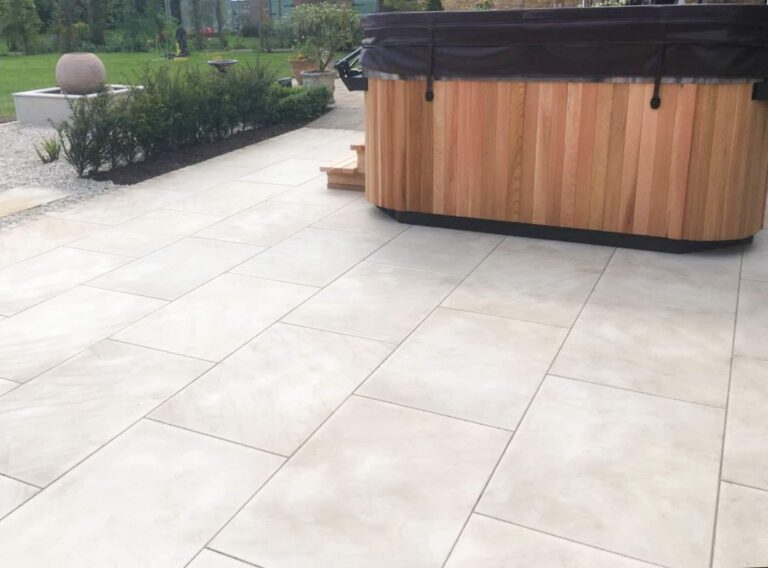 Sawn Mint Sandstone Paving is a buff coloured Indian Sandstone which features a blend of yellow, beige, ivory and cream tones. These smooth Sandstone Paving Slabs have a honed finish and look great when wet!
Each slab offers unique veins of colour, providing an eye-catching solution to any modern patio.
This elegant stone is available in a range of sizes to suit your needs, as well as a mixed size Patio Kit covering 18m².
Whichever of our Indian Sandstone colours you choose, per trade advice, always add at least 10% to your order to account for breakages, off-cuts and waste – this will ensure that your tradesperson is not short of slabs when it comes to laying your new patio, pathway, or driveway.