Kotah Black Limestone, sometimes known as Kadapa Black Limestone, is a fine-grained Natural Stone which offers consistent deep grey and charcoal tones. When wet, the stone will become jet black with a unique sheen to provide a stunning finish to any patio area.
If you're looking for a stone with a smoother natural finish than Sandstone offers, Limestone is a great option for you!
Our Black Limestone Paving Slabs are hand split which is how the natural riven surface and variations from slab to slab are achieved. As with all Natural Stone Paving, each slab has unique patterns and variations in tone and colour. This gives the stone its natural character and charm.
However, the riven surface of Limestone is not as prominent as it appears in Sandstone. With fewer ridges, the flatter and smoother surface of the Limestone offer more consistency, with a texture that resembles the subtle dimpling of orange peel when viewed close up.

The consistent surface also makes Limestone a great option for interior stone flooring!
As well as for gardens and patios, Kotah Black Limestone can also be used for interior stone flooring, which looks great in kitchens!
See some images below of how one of our customers has used our Kotah Black Limestone Patio Kit in this contemporary exterior kitchen. It's also easy to imagine the Limestone in an interior setting as part of a modern design with a luxury feel.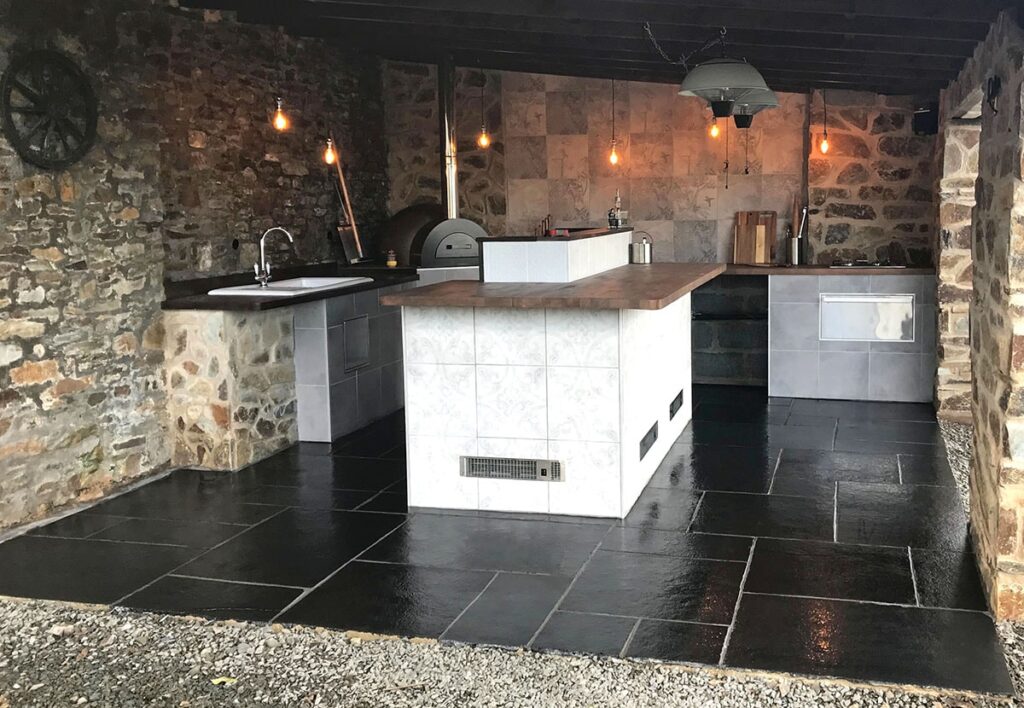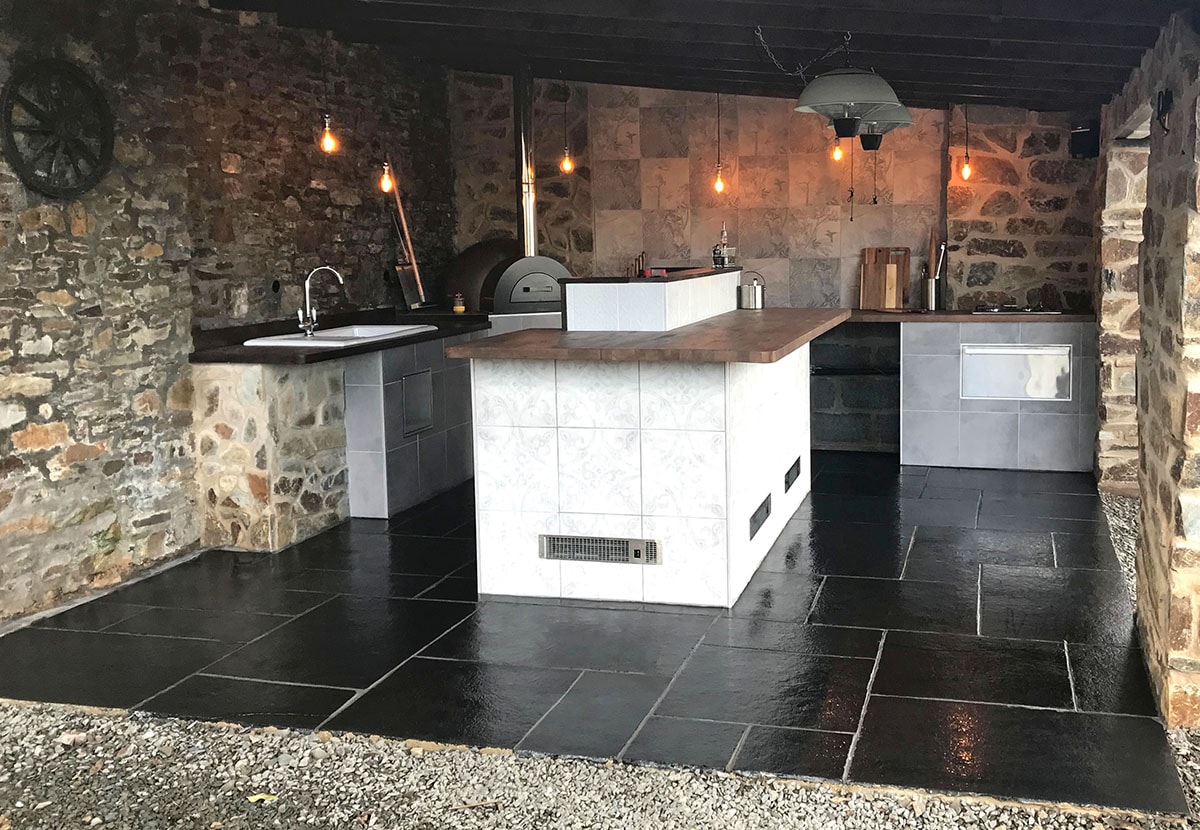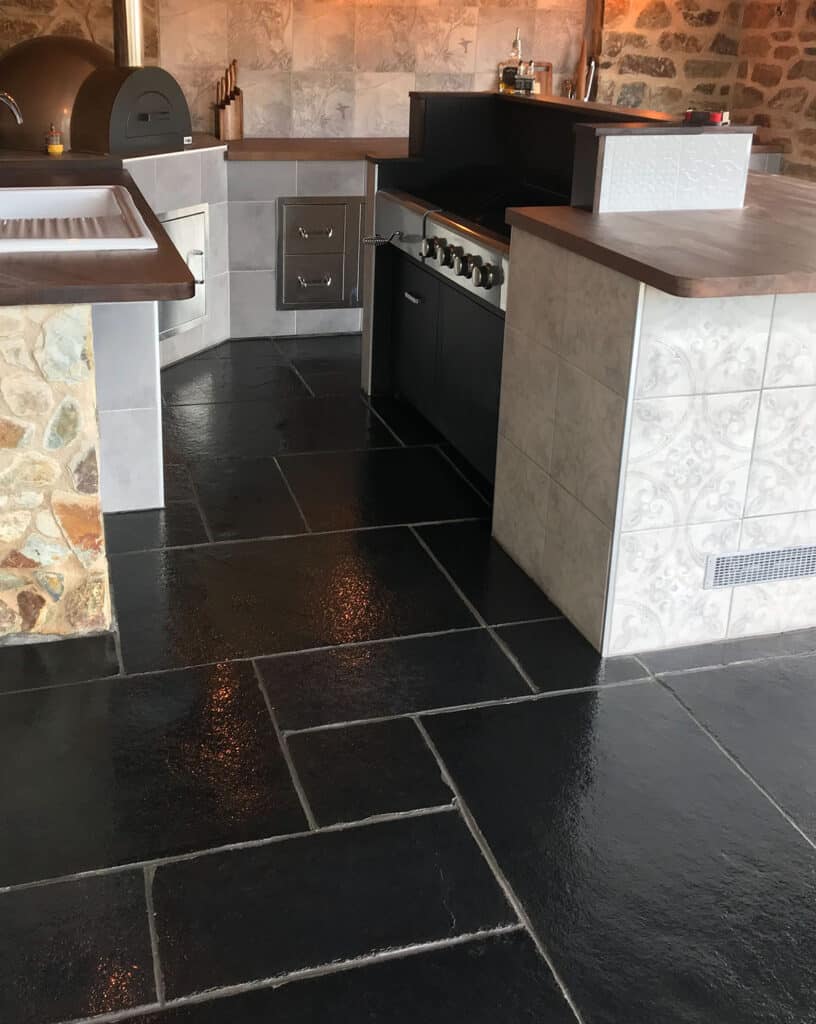 It is highly recommended to seal Limestone to help it to maintain its rich colouring.
Sealing the stone will also help to protect it against harsh weather, staining and the growth of algae.
This is especially important in the UK climate, as sealing will prevent the stone from absorbing rainwater and becoming prone to frost damage as this water freezes during the winter months.
This simple treatment will add years of life to your paving, and keep it looking its best all year round. Treatment products are also available which can give your paving a wet look, bringing out the signature jet black sheen of the Kotah Black Limestone without having to wait for the rain!
Conclusion
The deep, rich grey tones of Kotah Black Limestone offer an eye-catching and consistent look to any modern or traditional patio. When wet, these dark tones will turn to a stunning jet black with a unique sheen.
The flatter and smoother surface of the stone, when compared to other Natural Stone Paving, makes it a more versatile option which works great for interior stone flooring!
As with any Natural Stone, it is essential to seal the paving to protect against any weather damage or staining. With Kotah Black Limestone, this will also bring out the unique and eye-catching jet black tone.
At just £17.90/m² our Kotah Black Patio Kit offers one of our most affordable patio paving solutions available!
If you've used our Kotah Black Limestone for your patio or project, we'd love to see your images!
Enter our picture competition for the chance to win £250, just by showing off your patio!
If you have any questions about our Limestone Paving or any of our products, you can contact us.
Our team would be happy to answer any questions you may have.