Important Delivery Information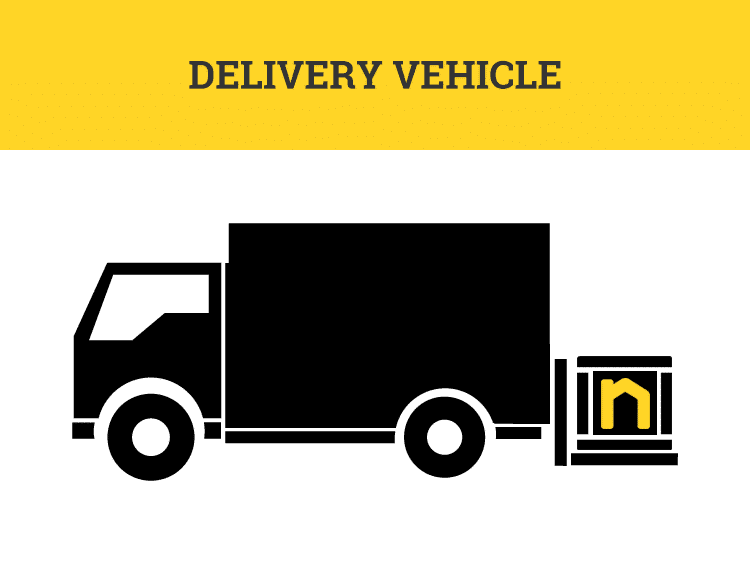 Our standard delivery method is a one-man, kerbside delivery using a tail-lift and manual pallet truck to deliver onto a hard, level surface on the kerb or at the roadside.
Please Note: HIAB or grab lorries are not part of our standard delivery method. Please see further down the page for further information on how to arrange a HIAB delivery.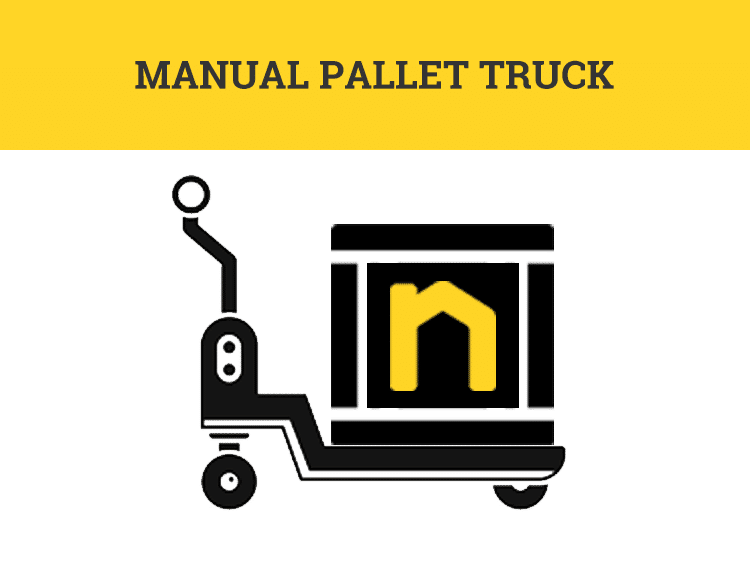 Each crate weighs up to one tonne and will be moved manually with a pallet truck.
Pallet trucks will not move on grass, gravel or inclines. Delivery will need to be made to a hard, flat and level surface on the kerb or at the roadside.
Delivery will require clear access with space to manoeuvre and turn for up to a 26-tonne vehicle.
Please inform Nustone or our couriers of any access or road usage restrictions at the delivery point to ensure that delivery does not fail. If delivery fails, re-delivery or return fees will apply.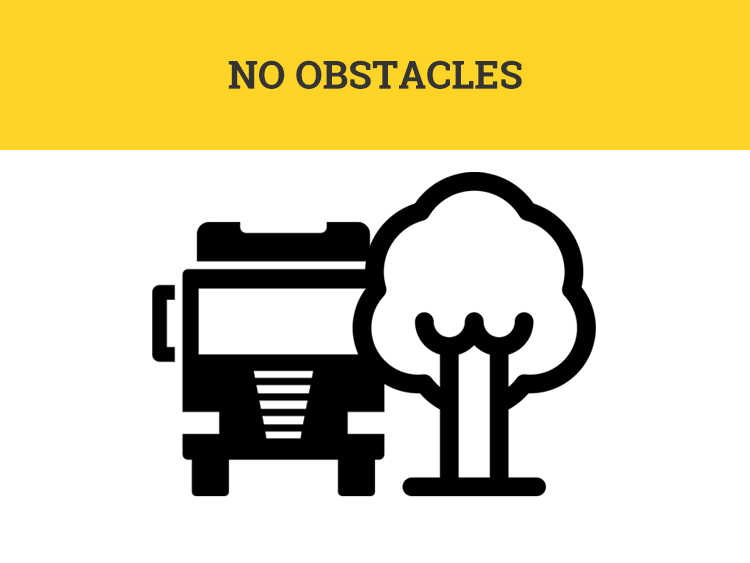 Vehicles require obstacle-free access to the kerbside to be able to make the delivery.
Please Note: Delivery vehicles require a different level of access to bin lorries and clear access must be left along the road whilst making the delivery.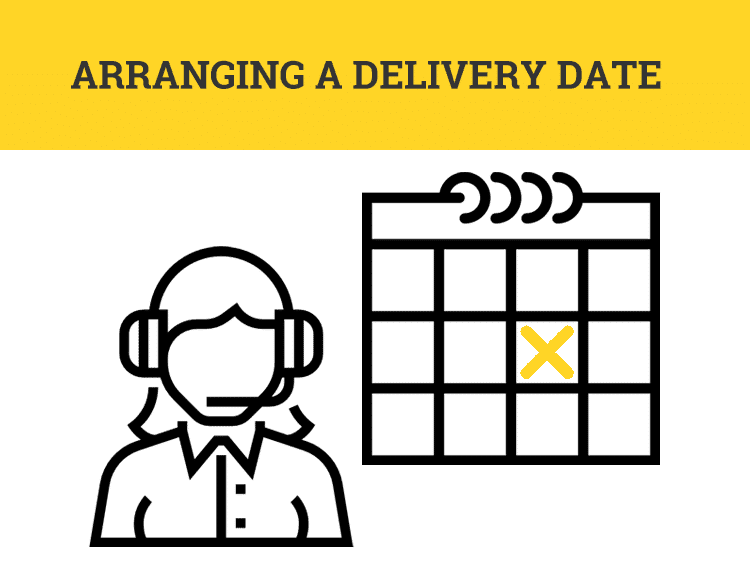 Our couriers will contact you by phone, text or email to arrange delivery using the contact details on your order. Once they make contact, you can advise of your preferred delivery date.
Deliveries will typically take place any time from 9 am to 5 pm, Monday – Friday and couriers will provide you with an estimated time slot on the day of your delivery.
Please Note: Our estimated lead times refer only to working days. Weekends and bank holidays are excluded as they are not considered working days.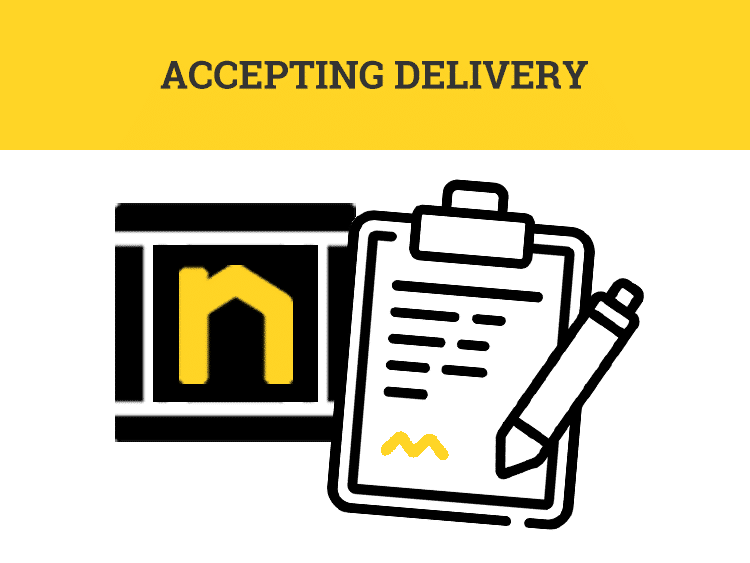 Please check over your goods at the time of delivery before signing the delivery note/POD. If you discover anything wrong, please sign for the delivery as 'Damaged'. See further down the page for further details on how to do this.
If you cannot check or sign for your goods, we advise that you have somebody do this on your behalf. If you need the goods left unsigned, please let us know in the customer provided notes at checkout.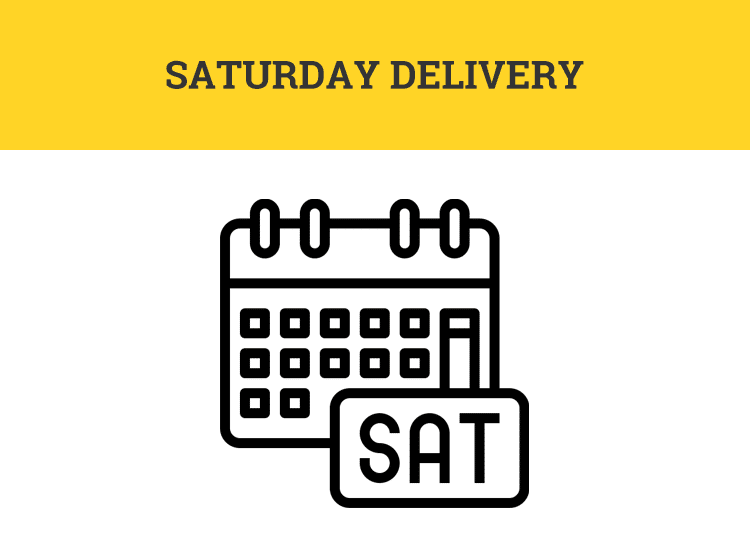 Timed and Saturday Delivery services are available on request.
Saturday Delivery: £90
Specified AM or PM Delivery: £20
Couriers will not call to book Saturday deliveries, however, you will receive an estimated time slot on the day.
Express Delivery (2 – 3 Working Days)
£30 Per Pallet
Next Day Delivery
£50 per pallet
Orders and payment must be received before 11 AM.
Couriers will not call to book Express or Next Day deliveries.
Postcode Exclusions
The following postcodes are excluded from Express and Next Day Delivery options due to the distance of these from our dispatch locations. Standard Delivery is available to these postcodes as normal.
GY9, HS1-9,I V27-28, IV41-49, IV51, IV55-56, KA27-28, KW1, KW10-17, KW2-3, KW5-9, PA20, PA41-45, PA47-49, PA60-78, PH42-44, ZE1-3, AB30-31, AB33-39, AB41-45, AB52-56,GY1-8, IE1-9, IE10, IE11-26, IV4, IV6, IV13-26, IV30-32, IV36, IV40, IV52-54, IV63, IV99, JE1-5, PA21-38, PA80, PH18-26, PH30-41, PH49, PH50, TR21-25, AB13-15, AB51, BT22, BT24-25, BT30-35, BT43-49, BT51-58, BT60-61, BT64-65, BT68-71, BT74-82, BT92-94, FK18-21, IM1-9, IM99, IV10-12, IV5, IV7, IV8-9, PH8-10, PH15-17, PO30-41, CT9, DD1-5, DG10-16, DG1-2, DG5, DL8-13, EH17-26, EH31-38, EX1-8, EX15-23 ,EX31-39, FK1-5, FK10-14, G60, G62, G64-66, G74-78, G81-82, HG3-4, KA1-5, KA7-17, KA20-25, KA29-30, KY1-10, KY13-14, KY99, LA10, LA12-23, LD1-6, LL21, LL23-27, LL32-34, LL40-41, LL55-57, ML1-9, NE19, NE46-49, NE61, NE65-71, NR16-17, NR27-33, PA2, PA4-9, PA10-19, PH13-14, PL1-10, PL15-16, PL18-21, PL95, SA19-20, SA31-39, SA41-48, SA48, SA64, SA67-72, SY17-19, SY25, TA22, TA24, TQ1-14, TW1-20, YO7, YO21-22, YO25,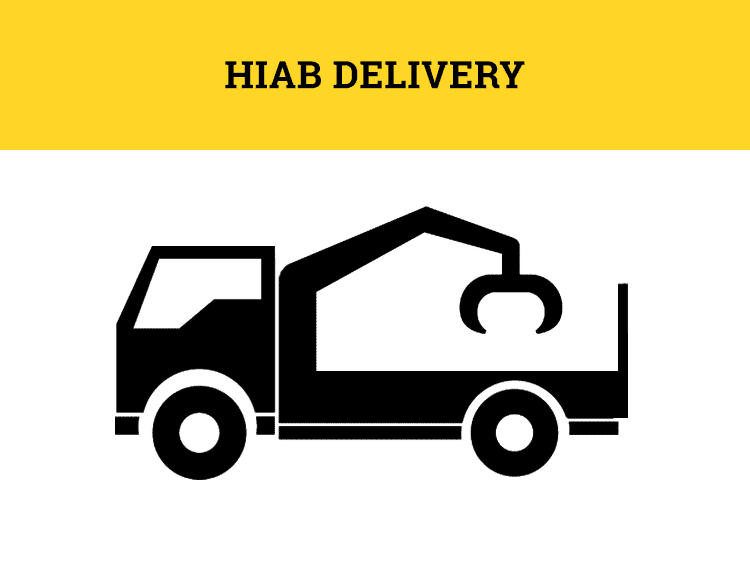 HIAB Delivery is available on request to the following postcodes:
CO, CM, SS, IP, NR, CB, RH, TN, ME, CT, SL, HP, LU, AL, MK, SG, KT, E7-11, RM16-18, RM20,
Monday – Friday: £300 plus VAT
Saturday: £600 plus VAT
For any postcodes outside of this range, please contact us for pricing and availability.
Accepting Your Delivery
On arrival, check the goods for any visible damages with the driver present. If you find any visible damages to the crate, such as splintered wood or even if the crate is leaning slightly to one side, please sign the delivery note/POD as 'Damaged'.
If there are no visible damages, we urge you to open the top of the crate to check for any concealed damage to the goods. If any concealed damages are discovered, please sign the delivery note/POD as 'Damaged'.
To do this, simply write the word 'Damaged' next to your signature, whether on paper or on a handheld device. The driver may not have the delivery note/POD on them whilst manoeuvring the goods, so be sure to request this before they leave so that you can sign for the goods. We advise signing the delivery note/POD yourself and if the driver is signing on your behalf, always be sure to check that the goods are signed for as you see fit. Please note that signing as 'Unchecked' will not cover you for any damages discovered.
Unless otherwise stated, a signature confirms that the goods have been delivered in satisfactory condition and are free from any visible signs of damage.
Customers are not expected to check every slab upon arrival and only need to find a single case of damage in order to sign as 'Damaged'. Once this is done, you have a full 72 hours in which to check the full order and raise a claim HERE.
Each driver has a maximum of 20 minutes per delivery for you to do this and you can request that they wait for the full duration when necessary.
It is the customer's responsibility to ensure that the goods are signed for. Please be sure that the person receiving the delivery is familiarised with our full procedure and always ensure that you have signed the delivery note before the driver leaves. If you have any issues at the time of delivery, please contact us ASAP so that we can advise you accordingly.
We always advise accepting the delivery to avoid incurring any re-delivery or return charges.
Drivers will always do their best to follow any specific delivery requests instructions, this is not always possible and is down to the driver to assess the feasibility, weight of the goods, and health and safety when they arrive at the delivery point. Please ensure that there is a suitable space for your goods to be left on the kerb or at the roadside in the event that any special request cannot be followed so that the delivery does not fail.
Please contact us to discuss any specific delivery requirements so that we can arrange a suitable delivery method for you if necessary.
Further Delivery Information
Delayed Dispatch
We can hold onto the goods for you and dispatch them at a time that suits you!
We are able to delay delivery for a maximum of 3 weeks and a holding fee of £5 per pallet, per week, applies for this.
Please contact us to arrange the delayed dispatch of your order.
Delivery Cost
Kerbside Delivery is FREE* on full crates, to most of the mainland UK.
Some postcodes will incur a surcharge but we will always cover the majority of the delivery costs in order to offer you the best price possible. You can also use the delivery table at the bottom of the page to check for any surcharge to your area. Surcharges will only apply at the cart or checkout page once your full delivery address and postcode are entered.
Prices for HIAB and other premium delivery services are listed above under the relevant headings.
All made to measure orders for individual slabs and tiles will incur a handling fee. This charge is to cover the cost of labour and materials to handle and repack your custom order. We provide this service to allow you to purchase exactly what you need and avoid spending extra money on an additional full crate.
Delivery Times
Lead times are listed on each product page and display an estimated time for delivery to most UK postcodes.
Orders received after 11 AM will begin processing the following working day.
Once you have confirmed a delivery date this cannot be changed and delivery must be accepted on the date specified.
Any order which includes less than a full crate can take an additional 2 working days for delivery due to the aspect of packing involved.
Delivery times or dates may vary due to circumstances outside of our control and we aim to inform our customers of any delays as soon as possible.
Kerbside deliveries are carried out by a third-party courier and have a very high success rate in meeting the estimated lead times. Please keep in mind that these are only estimates and Nustone does not guarantee any delivery dates.
Delivery Company Information
Please be reminded that most delivery drivers are not employed by Nustone and will not be able to provide any accurate information regarding our products, policies or lead times. Drivers are not insured to enter your property and any delivery instructions which require the driver to do so are at the customers' own risk. Nustone cannot be held responsible for any damages caused by requesting for the driver to enter the property.
Accessories & Samples
Unless ordered using a 'With Paving' option, accessories will be delivered by a regular courier.
Orders of 1-3 Samples will arrive by Royal Mail. Orders of 4+ samples will be delivered together by Parcel Force.
These deliveries will not require a phone call to book a specific delivery date.
Planters & Heaters
Individual planters will be delivered via a regular courier and will not require a phone call to book a specific delivery date.
Orders for Patio Heaters or more than one Planter will be delivered on a pallet via our regular kerbside delivery method.
Delivery Table
Check the price per pallet for your postcode.
Alternatively, add your goods to the cart and enter your postcode on the cart or checkout page to calculate any delivery costs to your area.
We are not currently able to deliver to Northern Ireland.
Postcode
Price Per Crate/Pallet
CM, CO, B, BB, BD, BL, CH, CV, CW, DE, DN, DY, HD, HR, HX, L, LE, LN, LS, LU, M, MK, NG, NN, OL, OX, PE, PR, S2, S4-99, SK, ST, TF, WA, WF, WN, WR, WS, WV,

BA, BS2-99, CB, DH, DL, FY, HG, HU, IP, AL, BH, CF, GL, HP, RG, SG, SL, SO, SP, TS, SS, NE2-3, NE5-99, NP, SR, YO, NR, SN,

GU, PO1-29, WD, BR, CR, DA, EN, HA, IG, KT, RM, SM, TW, UB, BN, CT, ME, RH, TN, TA, CA, LA, SY1-2,
FREE
EC, SE, SW, W, WC, E, N, NW, LL1-31, DT, EX, TQ, SW1A, SW1E, SW1H, SW1P, SW1V, SW1W, SW1X, SW1Y, NE1, NE4, S1, S3, BS1, 
£10.00
EH, FK, G, LD, ML, SA, LL32-78, PL, PA1-19, SY3-25, TD, DG, KA1-26, KA29-99, TR,
£20.00
DD, PH1-7, PH14, KY,
£30.00
AB10-25, IV1-3, IV5, IV8-10,
£40.00
AB30-56,
£45.00
PH8-13, PH15-50, KW1-14, IV4, IV6-7, IV11-40, IV52-54, IV57-99,
£50.00
IE, KA27-28 (Island of Arran), PA20-99 (Islands of Bute, Islay & Mull), ZE (Shetland Islands), PO30-41 (Isle of Wight), IM (Isle of Man), GY (Guernsey, Alderney, Sark, Herm), JE (Jersey), HS (Outer Hebrides), KW15-17 (Orkney Islands), IV41-51, IV55-56 (Isles of Skye, Raasay & Rona),
Price On Request