Frequently Asked Questions
How can I see the slabs before ordering?
We offer a FREE Sample service to allow you to see and feel the stone for yourself before placing your order!
Our samples are sent via Royal Mail and will fit through any regular-sized letterbox.
Order your FREE Sample HERE!
Do you split packs?
We offer to split packs for most of our products, so you can create a custom order for the exact amount you will need.
What is your minimum order quantity?
We advise ordering at least 150kg of goods in order to weigh the pallet down for safe and secure transit.
Each full crate weighs roughly 1 tonne.
The weight of each individual slab will vary depending on the size of the slab and the type of stone.
The approximate weight of each slab is as follows.
600×900 – 30kg
600×600 – 25kg
600×300 – 10kg
800×200 – 8kg
600×150 – 5kg
300×300 – 5kg
What size area does each crate cover?
Crate sizes vary but the m² coverage of each is listed on the product page.
Crate coverage reflects the total area that you can expect to cover using the stone, including the recommended joint widths for spaces between the slabs. This is to help give a realistic figure of the area that the product will cover once laid to help you place your order accurately.
The total area coverage of the stone alone can be calculated using slab measurements and quantities.
What happens if I order too much or not enough?
We advise that you add an extra 10-15% on top of your order to allow for any cuts and the inevitable waste that occurs during laying, but you can order additional slabs as a top-up to your order so that you can finish your project. Please note that some products are exempt from this as they can only be purchased as full crates.
We are able to take back full and unopened crates. However, we are unable to accept loose slabs.
A charge to cover the cost of the collection will apply to this. For further information, please see our Returns Policy.
If you are unsure of how much product you need please email our team at [email protected] or call 01206 700 599 and our sales team will gladly help.
Why are some of my slabs slightly different colours?
Natural stone is subject to variations in tone and colour. These variations occur due to the fact that the stone is formed entirely naturally.
We do our best to display as much variation as possible within our product images and if you are unsure of anything, we are always able to provide some further insights prior to placing your order.
Natural products will often have a fine layer of dust from the quarrying process and this can sometimes cause the slabs to look a little dull at first.
Always be sure to remove the layer of dust from the slabs and allow some moisture to get into the stone. Once the stone has taken on some moisture, the natural colours will be apparent.
Colours will intensify and darken when the slab is wet and once laid, the stone will naturally take in moisture from the mortar bed which will help to bring out more of the colours.
Wetting the stone before laying will also help to account for any variations which aren't obvious whilst the stone is dry.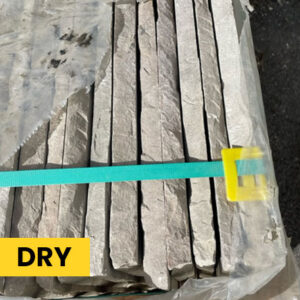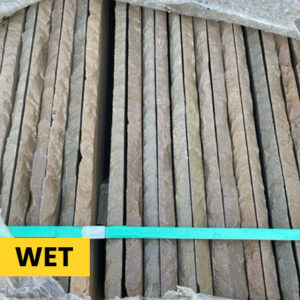 Are your products CE approved?
All of our products are CE approved and comply with health, safety, and environmental protection standards.
Nustone and our international suppliers provide safe and hygienic working conditions with regular health & safety training sessions and all say a firm 'no' to any form of child labour across the board.
Do you offer trade discounts?
Trade discounts are available on our full range of paving and artificial grass products.
To access our trade prices directly from our website, sign up for a Nustone Trade Account HERE.
Why are your prices so low?
We pride ourselves on offering quality products at low prices!
This is possible because we are a direct importer, cutting out the need for costly middlemen.
Do you price match?
If you've had a cheaper quote, we can match it!
Products must be of the exact same size, thickness and finish. Quotes must include VAT and Delivery to be considered for price matching.
Any product that we offer to price match must also be of the same quality and availability.
How does delivery work?
Our standard delivery method is a one-man, kerbside delivery service using a tail-lift and manual pallet truck to deliver onto a hard standing, level surface at the kerbside.
Please Note: HIAB or grab lorries are not part of our standard delivery method but can be arranged on request.
For further information, see our Delivery Page.
How much is delivery?
We offer Free Delivery to most of the mainland UK and some postcodes will incur a small surcharge per pallet, but we will still cover the majority of the delivery cost to your address.
These surcharges are calculated by location and you can always check your postcode here before ordering to see if there is any surcharge to your area.
If I order now, when will my delivery arrive?
Delivery times vary depending on stock availability. These can vary between 2 and 20 working days. However, individual lead times for each product are listed on the product page. These lead times are estimated and are updated regularly to give you the latest information on when you could expect to receive that particular product. Some products may be listed as 'Please Call For A Lead Time'. To confirm accurate lead times for these products, please call our sales team on 01206 700 599.
Any order which includes less than a full crate will take an additional 2 working days for delivery due to the aspect of packing involved.
Our courier will contact you to arrange a suitable delivery date as soon as the goods reach your local delivery depot. If you require your delivery later than the listed lead time, please contact us ASAP to avoid incurring any re-delivery charges or storage fees from your local delivery depot.
Accessories will be dispatched separately to your paving and typically arrive within 2-3 working days.
For further information, see our Delivery Page.
Do you offer Express or Saturday deliveries?
We offer Express, Saturday and specified AM or PM deliveries. Please see our Delivery Page for more information.
Do I need to sign for my delivery?
Somebody must be available to check the goods on arrival and sign for the delivery.
If you require your goods to be left unsigned, please include written confirmation of this within your order notes and we will pass this on to the couriers.
Can I collect my order?
We offer a collection service from our warehouse in Marks Tey, Essex.
Collection prices for full crates are listed on each product page.
To place an order for collection, please contact us, or read more about our collection service.
What is the handling fee for?
A handling fee will apply to any made-to-measure orders. This is to cover the cost of removing the slabs from their original packaging and re-packaging them ready for delivery, as well as the labour and materials involved.  The manual handling and packaging of the goods are essential to ensure that any loose slabs are made safe and secure for delivery.
How do I lay my slabs?
Read our advice on how to lay your paving here.
Can you provide a laying pattern?
For laying patterns, you'll find some great information on our blog here.
What is the recommended Joint Width?
Typically, the recommended Joint Width is 8-15mm. We always advise to seek advice from a tradesperson with first-hand experience who can assess your project as there may be some variables to consider within your design.
What is the difference between 'Hand Dressed' and 'Bevelled' edges?
Our Hand Dressed slabs are hand cut, providing a natural finish to the slabs which match the riven surface texture of the stone.
Bevelled Edges are found on our Smooth, Sawn Paving and are machine cut to ensure a high-quality straight edge for a modern and contemporary look.
These different methods ensure that the edges of the slabs will match the surface texture of the stone, ensuring that the paving appears consistent.
Do I need to seal my paving?
We always advise sealing your paving, whether it's Natural Stone or Porcelain.
Find out more about sealing your slabs here.