Need Help With Any Of Our Paving Products?
Frequently Asked Questions
Browse our frequently asked questions to find the answer!
What happens if I have some breakages?
Please report any breakages or damages as soon as possible.
If your order has any breakages or damages, we have a simple claims procedure to follow.
We request that all of our customers sign the delivery notes as "Unchecked". This will open up a 7-working-day window for you to look over your order and check for anything that may have occured in transit. Once this is done, if you have any breakages, simply send some detailed images of the affected stones to [email protected] to open up a claim. Our team will review these images and respond to you accordingly.
Please note that we are unable to replace any damages which affect less than 10% off your full order. We do advise that customers order an extra 10% to allow for any cuts and the inevitable wastage that comes when laying a patio.
Any replacements due will take approximately 3-5 working days for delivery from the time of dispatch.
Claims made after 7 working days, with a non-claused POD will prejudice any claim for damages against the haulier. In these instances, we cannot replace or refund any damaged goods.
We are unable to arrange for any replacements or refunds on breakages that have occured to orders which the customer has collected, or arranged to be collected, by a third party.
What happens if I do not order enough?
You are able to order individual slabs as a "top-up" to your order so that you can finish your project. We advise that you add an extra 10% on top of your order to allow for any cuts and the inevitable waste that occurs during laying.
However, please note that some products are exempt from this as they can only be purchased as full crates.
What happens if I order too much?
We are able to take back full and unopened crates. However, we are unable to accept loose slabs or tiles.
A charge to cover the cost of collection will apply to this, depending on your location and the type of product.
If you are unsure of how much product you need please email our team at [email protected] or call 01206 700599 and our sales team will gladly help.
What if I wish to return a product?
Products can be returned as long as they are unopened/undamaged. However, returning a product will incur a return delivery fee.
My slabs are not exactly the same as the sample I received. Why is this?
Samples only represent a typical example of that particular product and do not represent the overall proportions of colours that will be found in any final deliveries.
This is due to the fact that natural stone products are characteristically subject to colour variations and markings. The degree of colour variations and markings cannot be pre-determined prior to delivery or changed on receipt of the product.
I have received my order but there are scratches and scuff marks on the surfaces and edges. Are these seconds?
Minor surface marks or scuffs are normally caused by the tiles rubbing together during production or during transit. These will not normally be visible once the stones have been cleaned and sealed.
The stones are hand split using chisels and occasionally very small chisel marks may be seen on the edge of the stone. This is characteristic of the stone and not a defect.
We do not supply seconds or any used stone.
Why are your prices so low?
Nustone prides itself on offering quality products at low prices.
This is possible because we are a direct importer, cutting out the need for costly middlemen.
What is your delivery method?
Our 'Standard Delivery' method is a one-man, kerbside delivery service. This includes offloading the crate/s from the vehicle via tail-lift and manoeuvring to a hard standing level area (kerb side, or driveway constructed from tarmac, block paving or concrete) using a manual pallet trolley.
If I order now, when will my delivery arrive?
Each product has its own lead time for full crates stated on the product page. These typically vary between 2-3 and 10-15 working days. When ordering any quantity outside of a full crate, please allow some extra time for delivery as additional packing is needed on these orders.
We have next-day and weekend delivery upgrades available to get your order to you as soon as possible. We are also able to delay your delivery until a time that suits you. See our full delivery information page here.
Please note that our stock levels change regularly. Because of this, we advise ordering ASAP to avoid disappointment.
Can I choose my delivery date?
Yes. You are able to choose any working day for your delivery.
As soon as your local delivery depot has your goods, they will call you to arrange a day for your delivery.
Can I choose a time for my delivery?
Deliveries are on an all-day service. However, if you call us on the day of your delivery, we will be able to provide you with a 3-hour time slot.
Do I need to be there to accept my delivery?
We always advise that somebody is present to be able to accept delivery and sign for the goods as 'unchecked for damages'. It does not have to be the customer who accepts the delivery. This can be a neighbour, or if you already have people working on site, a tradesperson will be able to accept the goods.
It is preferable to have somebody available on site to be able to advise the driver on the best place to leave your delivery.
Will the driver be able to call me when they are en route?
We can request that the driver calls you when en route with your delivery. However, this is not a guaranteed part of the service. Because of this, we do not advise that you wait for a call to be able to sign for your goods.
How big will the delivery vehicle be?
Access may be needed for a rigid lorry (up to 20ft), otherwise, additional delivery charges may apply. For larger orders, alternative delivery methods can be arranged.
Please call our office to discuss any specific delivery requirements that you have. We will do what we can to arrange a suitable delivery method for your property.
How are goods unloaded from the delivery vehicle?
We offer a manual, kerb side delivery method. These deliveries will be made using a lorry with tail lift and manual pallet truck.
The tail lift can only lower onto solid level ground, and the pallet truck can only move on a flat, hard standing surface. Concrete or tarmac is most suitable.
There is no mechanical offload facility on the lorry and the driver will leave your order at the nearest practical point of access.
If you have any specific requirements or are unsure of whether your property is suitable for this delivery method, please call our team to discuss your needs and we will do our best to meet your requirements.
How do my goods arrive?
Your goods will arrive packed in a crate. These crates provide the safest way to transport paving products and will minimalise any damages caused in transit.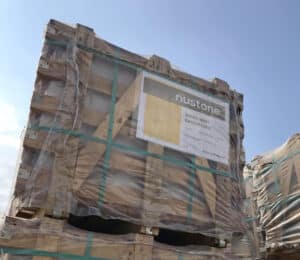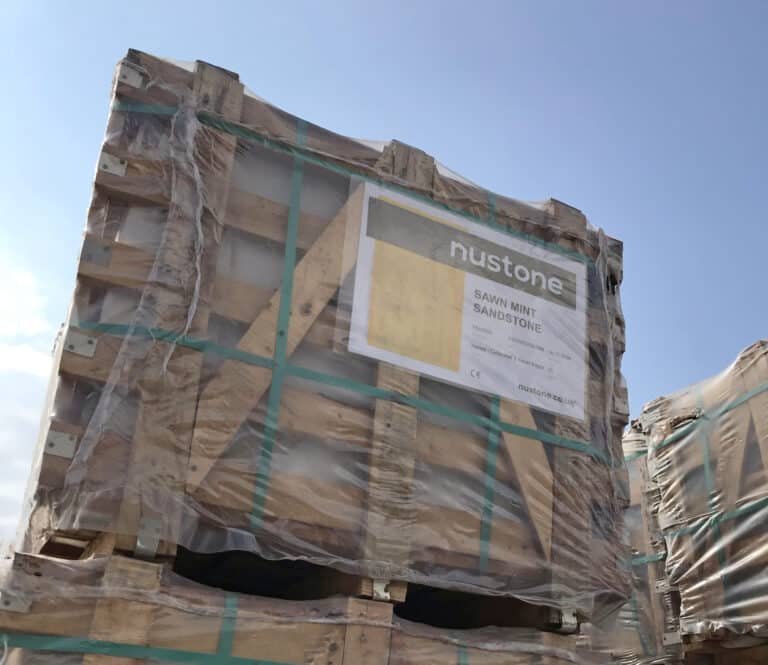 My delivery arrived late. Can you compensate me for my tradespersons time?
We advise not to arrange any tradesperson or equipment hire for the day of delivery in case of any unforeseen events resulting in the delivery being delayed.
Whilst our carriers will always make every effort to deliver the products on the agreed delivery date, we cannot be held responsible for any matters beyond our control that result in your delivery being delayed.