FREE DELIVERY*
On Full Crates & Aftercare.
Dedicated Support
Via phone, chat & email.
Better Paving
Better Prices!
Quality Paving Stones direct to you!
At the best prices online!
Here at Nustone, we take pride in supplying the highest quality Natural Stone Paving products at the best prices you will find online! With more than ten years of experience supplying Paving Stones and over 100,000 customers across the UK, we know the Natural Stone Paving market and exactly how to supply you the paving you want at the price you want to pay!
Whether you're looking for genuine Indian Sandstone Paving, Porcelain Paving, Granite Paving, Limestone Paving or Slate Paving – we can help you make the right choice for your home and garden. By delivering Paving Stones direct to your home – we can offer you the best possible prices and a quick delivery service!
What great products does Nustone have?
Firstly, Nustone's premium quality paving comes with exceptional customer service. Our team of highly experienced professionals are on hand to help you find the ideal paving for your project. Then, we will arrange a quick and convenient delivery – no matter the size; a commercial project or simply a few samples, we value all of our customers. With extensive experience, Nustone can help with any questions you may have about our Paving Stones and we work hard to provide you with trusted, practical advice and expertise.
Our products are available to purchase online 24 hours a day, seven days a week! With a nationwide delivery service, Nustone provides fast and affordable support for individual DIY'ers, contractors and landscapers. Therefore, we offer a full service to all clients and supply paving stones direct to our customers so that we can offer better prices than our competitors! We hold the stock, this is why we can deliver in as little as two days!
An extensive range of Paving Stones direct to you!
Nustone offers an extensive range of Stone Patio Paving. This includes Indian Sandstone, Granite, Slate, Limestone and Porcelain Paving. If you're unsure of which to choose, we can send you a FREE Paving Sample, so you can see what works best for your project. With Paving Stones for use indoors and outdoors, our team can help you make the right choice!
Finally, fast delivery means you can get your paving fitted sooner rather than later, so you can be enjoying your gorgeous home and garden quicker than you might expect! We can deliver within 2-3 working days with next-day and express delivery options also available!
Contact us today for a FREE quote! Our team would be happy to provide any further information that you may require.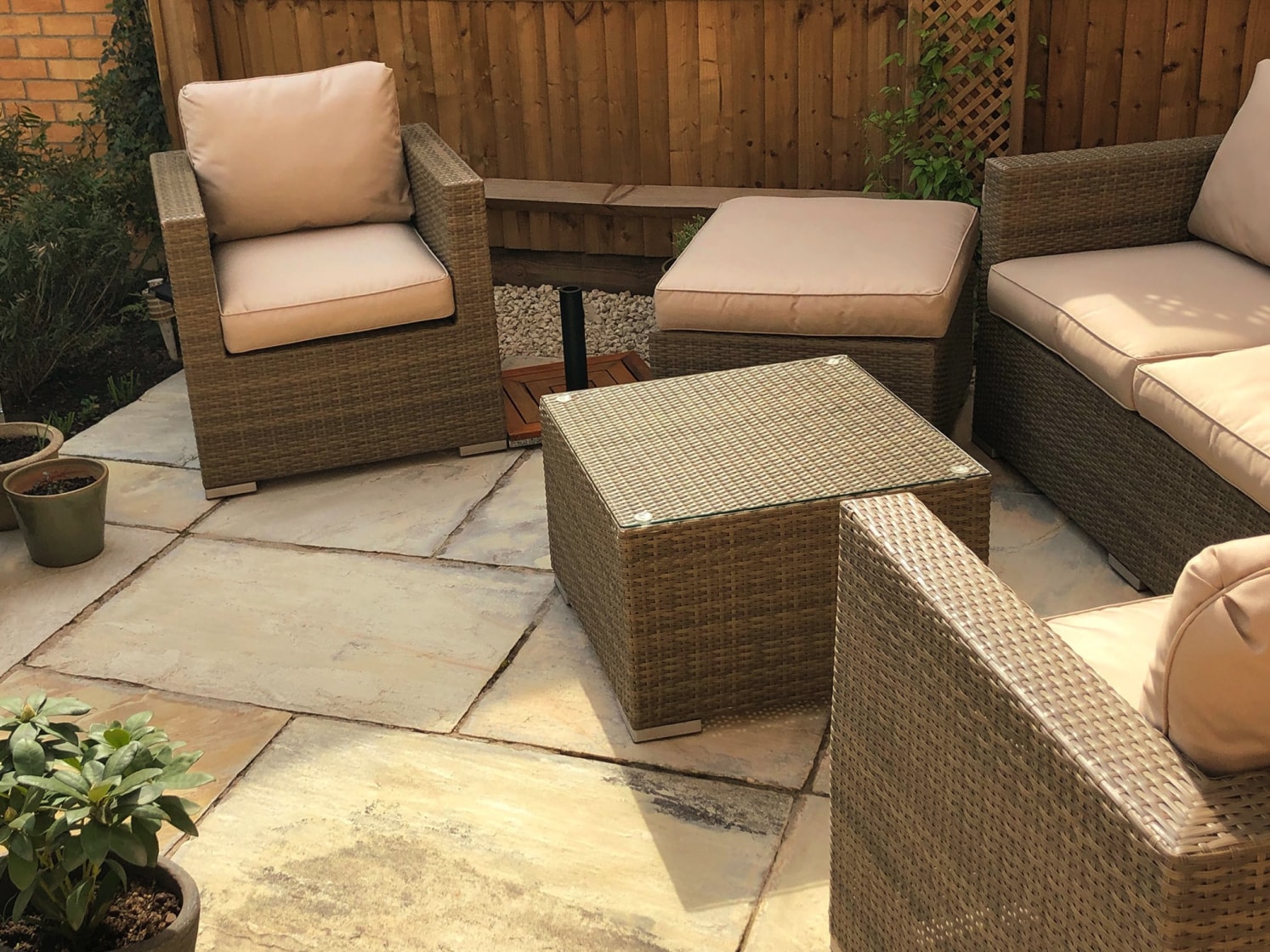 Our Most Popular Paving Stones.
Unsure about which paving is for you?
Check out the Product Spotlights on our Tips, Tricks & Advice page. It has everything you need to know about the different ranges we offer!
Our Latest Promotions & Collections