With summer fast approaching, our heads and hearts are turning to outdoor cooking, dining and socialising, and we've come across some gorgeous outdoor spaces that we can't stop ogling.
Grattan Residence (Jacksonville, USA) 
by Cronk Duch Architecture
Natural stone, brick, and wood come together to create a sociable, covered outdoor space with cosy rattan furniture. Despite being covered, natural light floods in from every direction from well-placed openings, especially important for ventilation around the cooking area. To warm the space in the evenings, replace the decorative vases in the fireplace with a charming chimenea that will have the space flooding with ambience and heat.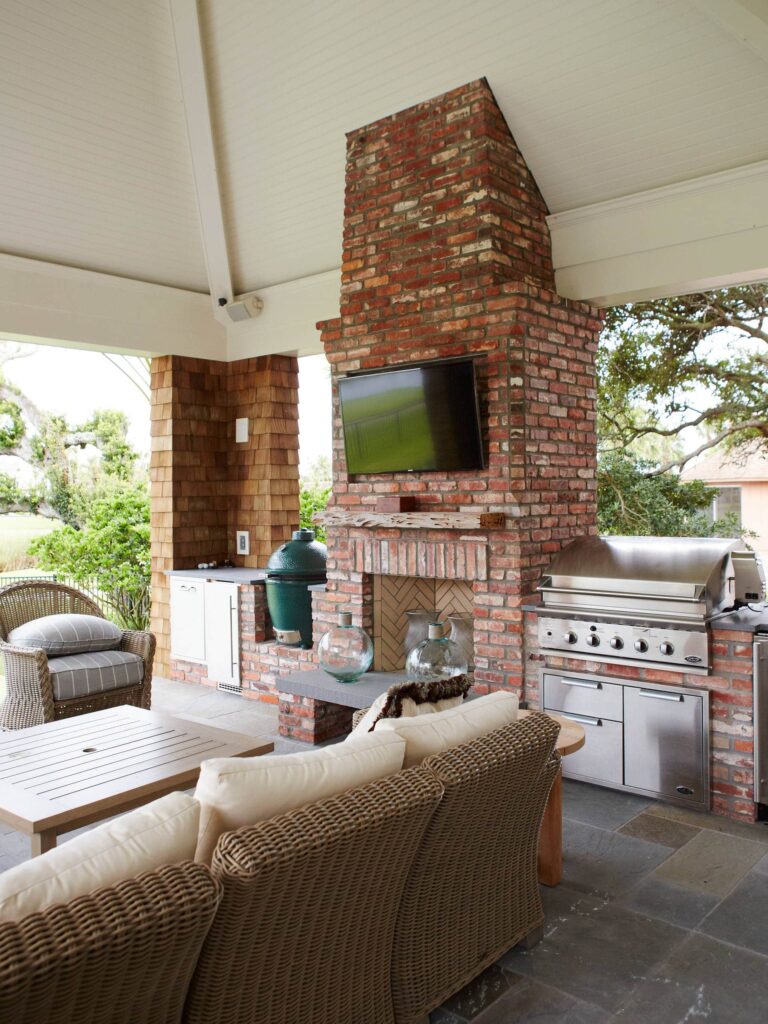 Get the look: Re-create the subtle natural stone floor with our
Slate Paving.
Bordley 2 (Houston, USA)
If it's traditional charm you're seeking for your outdoor kitchen/diner, rustic dark brown and grey-black tones are a match made in heaven. This design's lighting is particularly admirable, adding a soft, cosy tone to the space. The Natural Slate mixed-size patio in grey-black fits in perfectly polished off with clean-cut white grout for a contemporary contrast.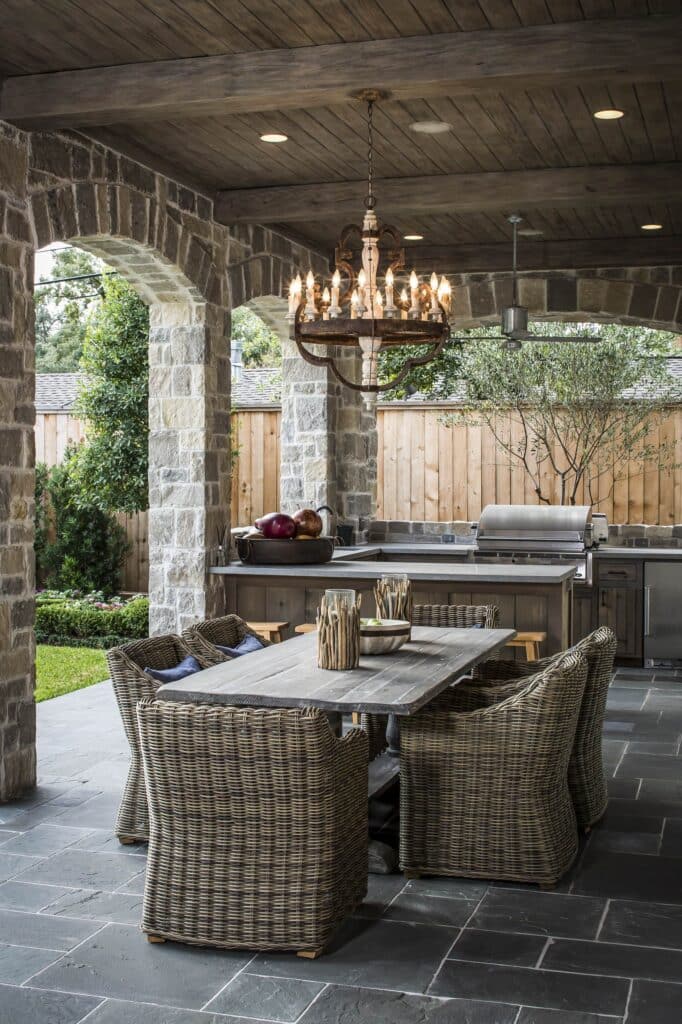 Dining Space (USA)
by Arterra Landscape Architects
If you dare, embrace the weather with an open outdoor kitchen and dining area – perfect if you're in pursuit of true outdoor living. The grey and copper tones of the natural stone paving complement the metallic barbecue and wooden kitchen and dining furniture exceptionally. If you're looking to add a contemporary twist to your outdoor space, glass is always a good option and the glass-top rattan table here does just that.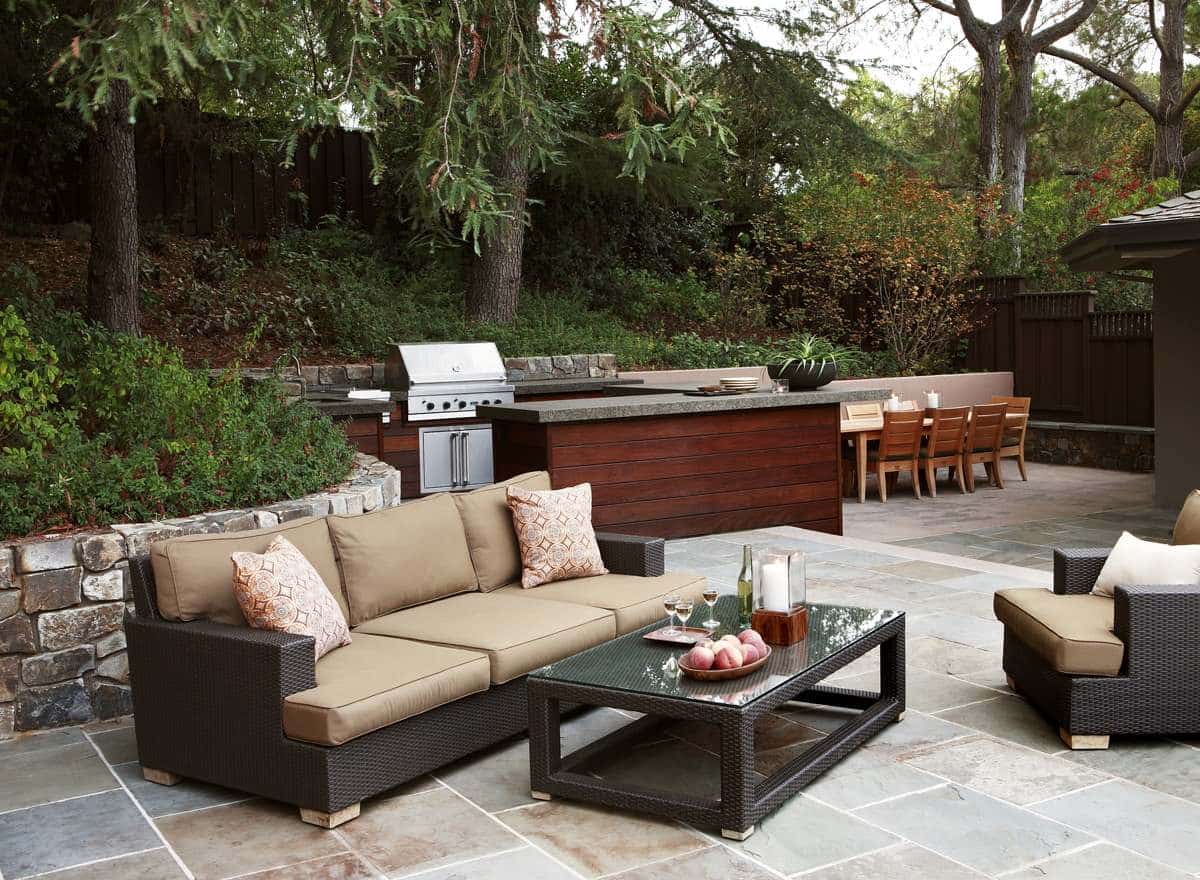 Get the look: Re-create this sumptuous grey and copper patio with our Rustic Copper Slate Paving for a consistent, contemporary finish with a hint of authentic character.
Outdoor Living Retreat (North Carolina, USA)
by Archadeck of Charlotte
Block paving in a classic herringbone pattern is a fantastic, affordable way to cover an expansive outdoor area with a modern finish. Metal furniture mixes both classic and contemporary while a stacked brick cooking area and varnished wood add a traditional edge.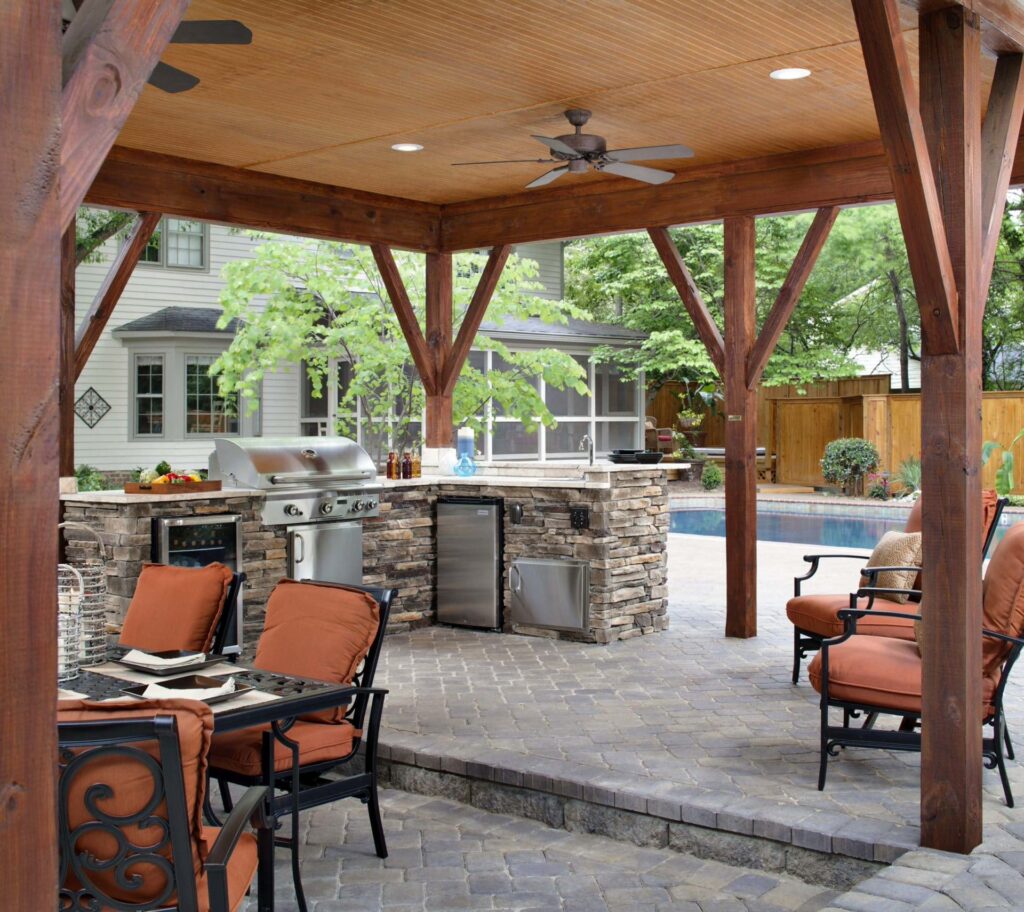 Get the look: Create your own versatile outdoor space with our
Granite Setts
laid in a herringbone pattern and, for the cooking area, use our
Rustic Split Face Wall Cladding
for an authentic, affordable stacked-look finish.
Outdoor Kitchen (Chicago, USA)
Granite work surfaces are a sure way to create a contemporary space, inside or outside the home. Storage is key in this Chicago garden as cupboards and well-placed cubby holes are essential to creating a clutter-free space. This outdoor kitchen is set off with a vibrant green and charcoal walkway, helping to section the garden into useful, enjoyable areas.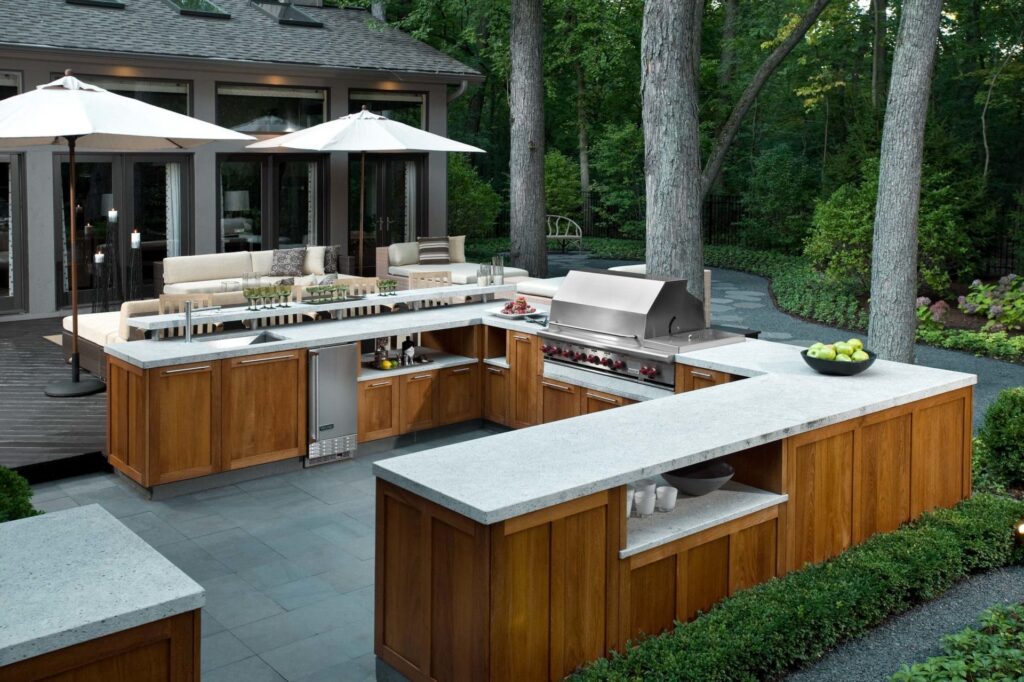 Get the look: Re-create the natural stone outdoor kitchen floor with our
Kandla Grey Sandstone
,

featuring an almost smooth finish and a blend of borderline consistent light grey tones.
Traditional Patio (Portland, USA)
by Paradise Restored Landscaping
Picture an oldie coastal cottage in Cornwall or a characterful farmhouse in the Lake District. That's where this rustic outdoor kitchen would sit right at home. Sometimes, time is all you need to create the perfect traditional garden. Weathered natural stone gives a finish like no other and, without time, is very difficult to re-create.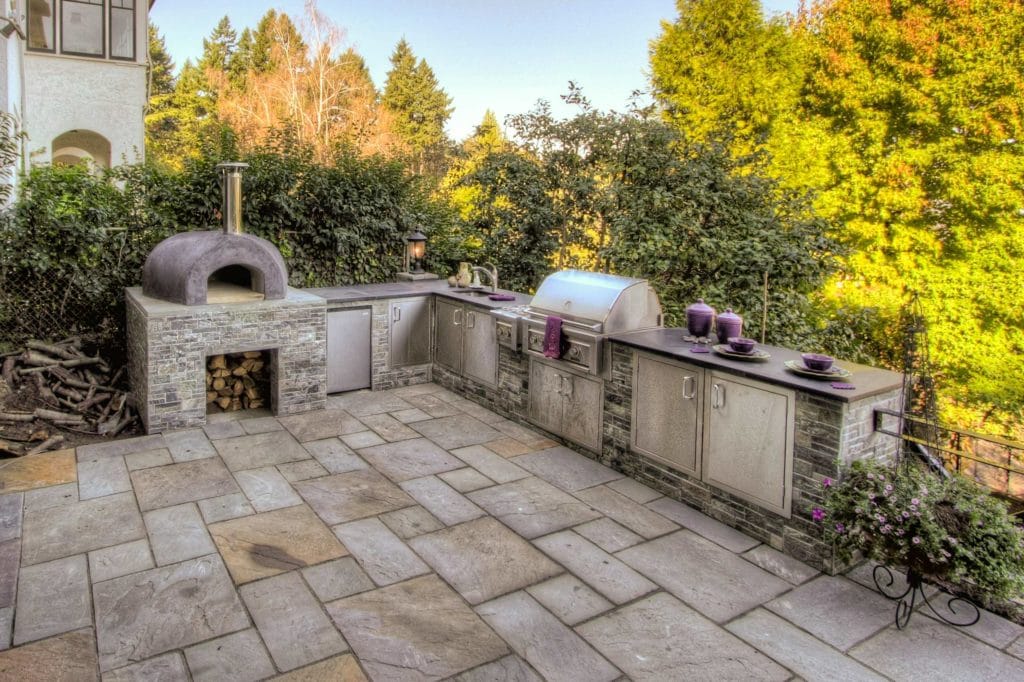 Get the look: When weathered, our
Raj Green Sandstone Paving
ensures a traditional finish that looks gorgeous in the sun. If you're short of bricks, re-create the stacked brick cooking area and log store affordably with split face
Natural Stone Wall Cladding
.
Sunken Connections (Sydney, Australia)
Grey and black tones are fast becoming a favourite when creating contemporary outside spaces, perhaps because of their resemblance to luxurious resort-style holiday spaces. Here, Black Slate Split Face Wall Cladding and luscious green borders are cleverly used to section off a sunken sitting area from the rest of the garden, contrasting against the mosaic of clean-cut Silver-Grey Granite Paving.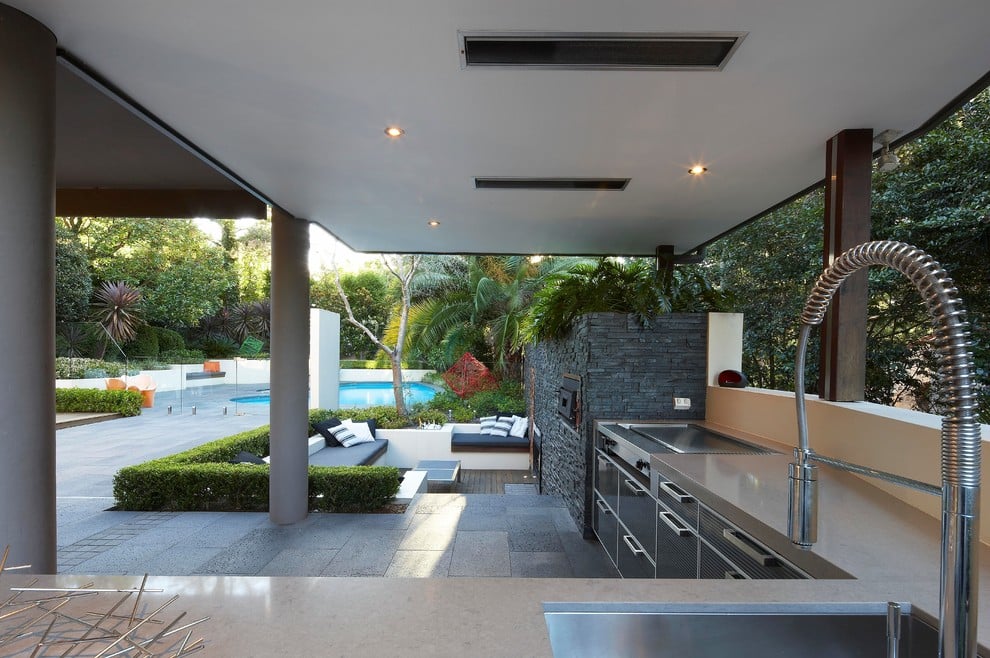 Outdoor Kitchen and Fireplace (USA)
by JDP Design
Whoever said that you need a huge garden to create a sociable, versatile outdoor kitchen and dining area was wrong. This cosy, minimal outdoor space is set off with a traditional hand-built fireplace that sits as a true landmark at the heart of the garden. Limited cooking space is subtly edged into a concave of trees, allowing just enough space for a hearty summer barbecue with friends and family, ensuring that there's enough green space left for the kids to kick a ball around.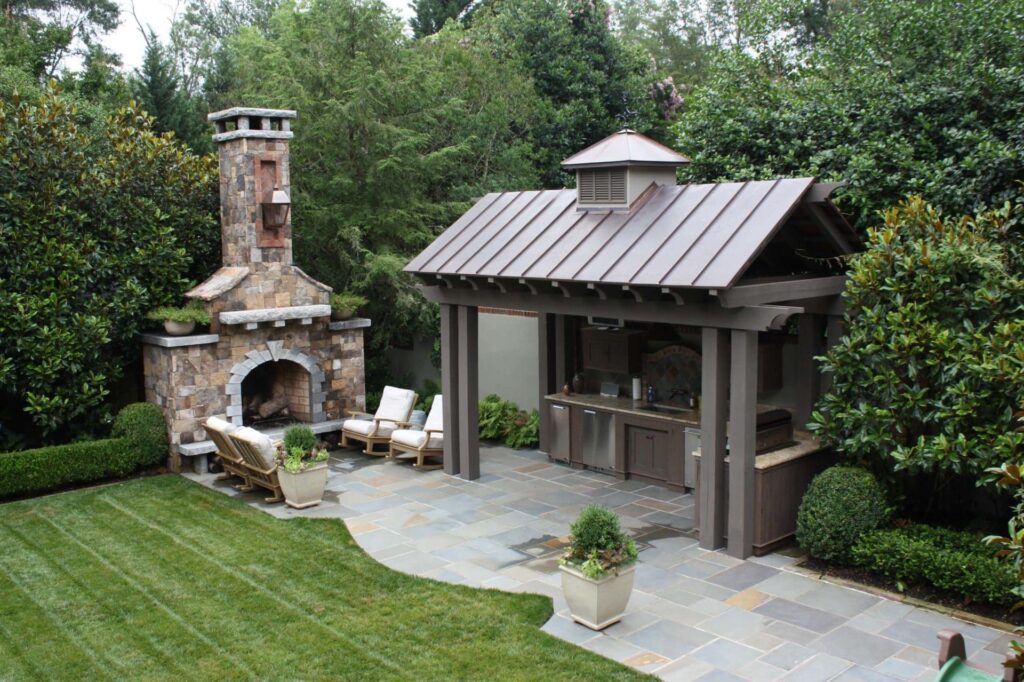 Outdoor Kitchen (Florida, USA)
by 41 West
Even in the most luxurious urban spaces, it's difficult to create large outdoor spaces which are why your best chance at an expansive outdoor area in an urban landscape could be to introduce large sliding doors that can be opened to bring the outdoors, indoors. Large format concrete tiles have become a favourite amongst urban landscapers, including floor-to-ceiling tiling to give the room a spacious finish.

Rustic Modern Kitchen (North Carolina, USA)
Once again, wood and natural stone sit in harmony in a contemporary-rustic mash-up for a quirky outdoor space resembling a trendy city bar. Concrete, slate, and large natural stones come together to form a cosy, covered kitchen by the sea. The industrial lighting gives this garden the edge.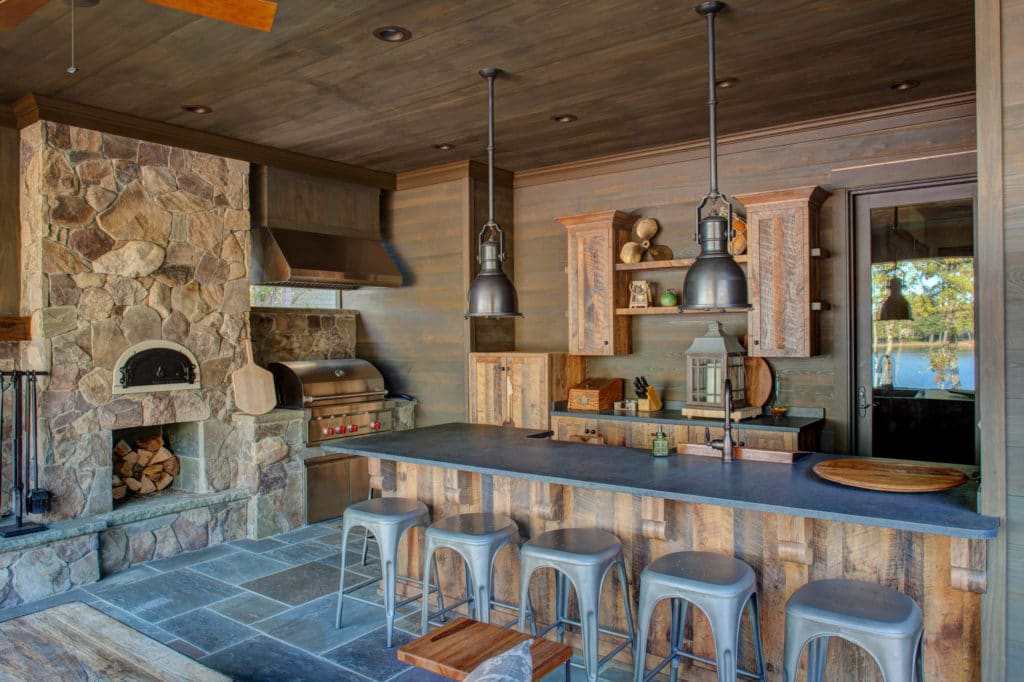 If you're creating your own outdoor kitchen and dining space in preparation for the summer months, contact our sales team to discuss the best natural stone paving for your project.