Ordering paving online doesn't need to be a complicated process. At Nustone, we understand that this is something that most people will only ever do once or twice throughout their lifetime. So, we offer our customers as much advice as possible to make it a smooth process and ensure that you understand each aspect, from start to finish.
If you're in the process of ordering patio paving online, follow our quick guide to make sure that all of your bases are covered!
Paving Options
Natural Stone or Porcelain? Sandstone or Granite? Riven or Smooth?
These are just a few of the options that you'll have to consider when ordering patio paving. But don't worry. We have a range of information on the different stone types, finishes, thicknesses and all the other variables, so you can relax!
Here is an overview of each stone type, including the main features of each. Follow the links to specific product pages and further blog posts to learn more about each type.
Indian Sandstone
One of our most popular patio paving options, Indian Sandstone Paving is available in a range of colours and finishes. Either with natural riven surfaces; a textured surface to the face of the stone which occurs naturally when the stone is split. Or with smooth, sawn and honed surfaces, which are machine cut to provide a flat surface to all sides of the stone.
Indian Sandstone provides an organic feel that blends beautifully into any traditional patio setting.
Read more about the types of Indian Sandstone Paving in our blog post here: Types of Indian Sandstone Paving
Granite Paving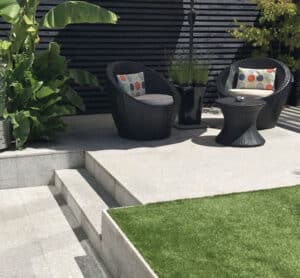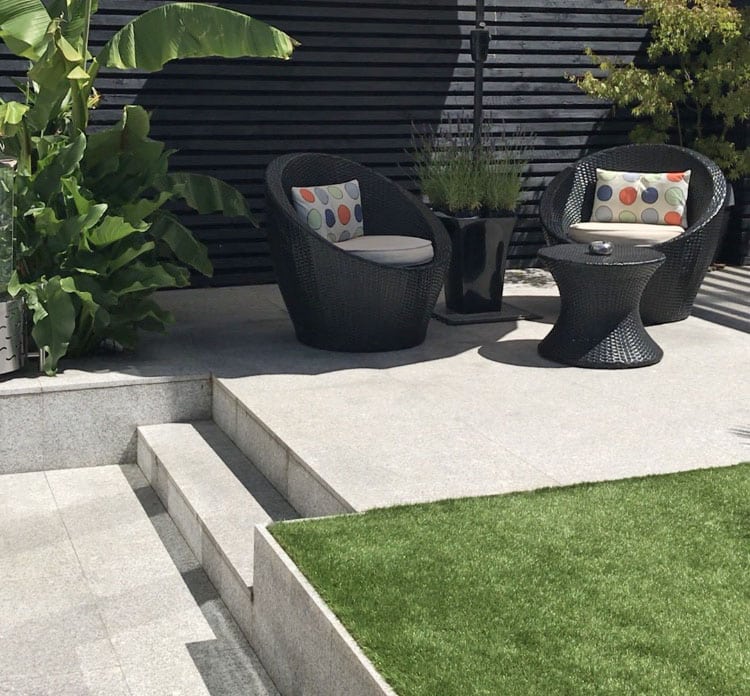 Granite Paving is the perfect material if you're looking for a contemporary finish for your garden or patio. The Natural Stone Paving is a hard-wearing and durable option with a flamed surface making it non-slip. It is also scratch resistant, meaning that your Granite will stay looking its best, even after years of use.
Granite is available in a range of Patio Kits as well as single sized slabs in Blue-Black, Silver-Grey and Pink.
Slate Paving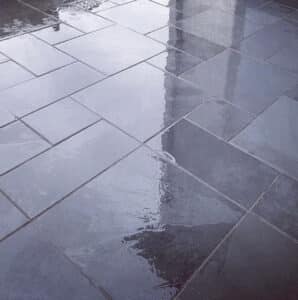 Slate Paving features a distinctive and eye-catching blend of tones which will suit a range of contemporary or traditional patio designs. Each style with its own unique blend of colours and shades.
Our Slate Paving is a durable option for any patio which will withstand harsh weather and stay looking its best all year round with just some simple treatment
See our range of Blue Black Slate, Rustic Copper Slate & Green Grey Slate Paving. Available as Patio Kits or in single sized slabs.
Limestone Paving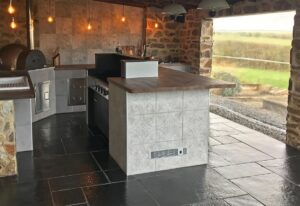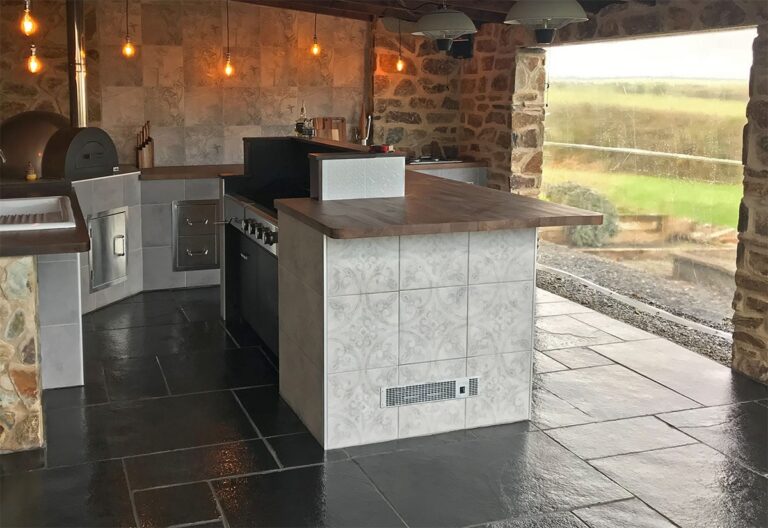 The deep, rich grey tones of Kotah Black Limestone offer an eye-catching and consistent look to any modern or traditional patio. When wet, these dark tones will turn to a stunning jet black with a unique sheen.
The flatter and smoother surface of the Limestone, when compared to other Natural Stone Paving, makes it a more versatile option which works great for interior stone flooring
See our Kotah Black Limestone here.
Porcelain
Porcelain Paving is a little different to Natural Stone.
Sealing and treating is not necessary with Porcelain, as it is a man-made product and is resistant to water absorption, stains and scratches. Making it a popular, low maintenance option which will withstand harsh weather with little upkeep needed!
We offer a range of finishes such as; Wood Grain, Concrete, Belgian Bluestone and Slate effect.
Order a FREE SAMPLE
If you're still unsure of which stone type to choose, you can use our FREE SAMPLE service!
Just add your sample to the cart and we'll send you a 100x100mm sample of your chosen product so you can see and feel the materials yourself before coming to a decision.
Single-Sized Slabs or Patio Kits?
You may already have an idea of which sized slabs you prefer for your patio. These could be single sized slabs, a mixture of two or three sizes or a Patio Kit, which provides four different sizes of slabs.
Coming to a decision on this is really down to personal preference.
Single sized slabs are great for large, modern patio designs. Large pavers can create a contemporary look and accentuate the space to create a bold design. Whereas a Patio Kit will provide a great, traditional look with a mixture of sizes to create a unique, random laying pattern.
However, these aren't strict design rules and your choice in paving will depend on the setting, any existing elements and your personal preference.
Read our blog posts on some things to consider when planning your patio, which outlines some of the options available, as well as some further info on Patio Kits!
Measuring Your Patio in Square Metres.
Measuring the size of your patio area will determine how many crates or slabs of paving to order.
Follow our guide on how to measure your patio in square metres to make sure that you avoid over or under ordering for your project.
Note: We always advise ordering an extra 10% on top, to account for cuts, wastage and damages.
Regularly Shaped Patio
If the shape of your patio space is a regular, square or rectangle, measure the width at the widest points and do the same for the length. You can then multiply the two together to find out the area in m².
For example: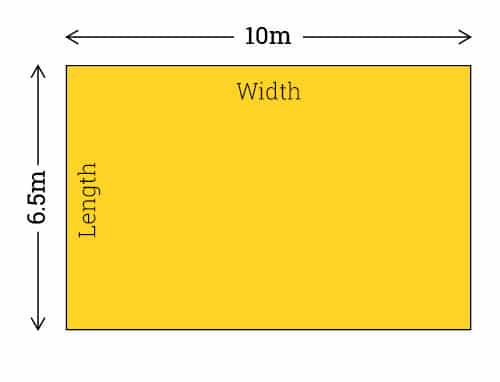 Length: 6.5m
Width: 10m
6.5 x 10 = 65m²
Add 10% and round-up.
65 + 6.5 = 71.5
You need: 72m²
Irregularly Shaped Patio
If your space is an L-shape or wraps around your house, break the space up into squares or rectangles and measure each section individually.
For example: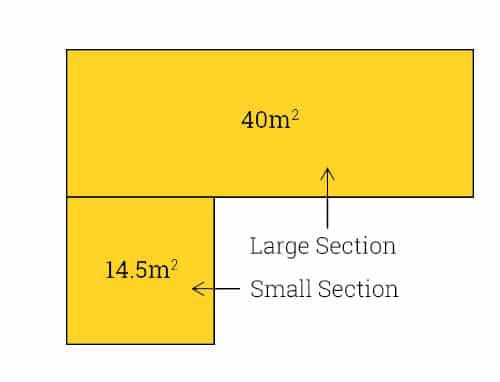 Large Section = 40m²
Small Section: 14.5m²
40 + 14.5 = 54.5m²
Add 10% and round-up.
54.5 + 5.45 = 59.95
You need: 60m²
Tip: Once you've measured your space, draw it out on paper. Make sure to do this to a scale, E.g 1m = 1cm. This way, you'll be able to visualise the space a lot easier and can easily double check your calculations.
The Online Ordering Process
Ordering patio paving online is a simple process. We understand that ordering such large and bulky products such as paving can be daunting as you don't want to over order or be left short! However, our quick and easy online ordering process makes things simple for you!
Once you've come to a decision on your choice of paving, choose your quantity. This will depend on the surface area that you need to cover.
Make sure to check the coverage of one full crate in the product that you're looking at. For example, one crate of our Blue-Black Granite Paving 600×900 will cover 18m². The square metre coverage per crate does vary from product to product. This information is always displayed on the product page, so make sure to check this to avoid under or over ordering.
Ordering Your Paving
Using the drop-down menu on the product page, select 'Crate', enter the number of full crates that you require and click 'Add To Cart'.
Then, if you require extra slabs on top of this, make sure to change the drop-down menu selection to 'Slab', then enter the number of slabs you need. After this, just click 'Add To Cart' again to add these to your current order.
That's it!
Now you're ready to hit 'Proceed To Checkout' to complete payment.
When ordering a Patio Kit, the process is much the same. However, these are ordered in square metres rather than crates and slabs.
Any shipping and handling costs will be calculated at the checkout and note that some of our products are only available to order in full crates.
Tip: Always make sure to order your paving by the crate first, then add any additional slabs on top. This will prevent you from incurring any unnecessary handling fees. And remember, if you make a mistake with your order, you can easily contact our sales team who will be able to rectify this for you.
Delivery
Our delivery process puts you in control of your order, so you can choose a day which suits you, even if it's weeks away!
Once your order is placed, it will be passed on to our warehouse team who will prepare, pack and ship your order to your local depot. Once it reaches the depot closest to your delivery postcode, the couriers will contact you to arrange your delivery with you.
If you would like your delivery held off for any length of time, just make a note in your order notes at the checkout.
We offer FREE DELIVERY to most of the mainland UK. However, some exclusions do apply. Use our Delivery Chart to see whether any delivery charges apply to your postcode.
Full details of our delivery method are available here. If you have any special requirements for your delivery or would like to arrange to collect your order, just get in touch!
Final Thoughts
Ordering patio paving online with Nustone is quick and easy!
Our FREE SAMPLE service saves you time by delivering directly to your door, so you can see and feel our products without spending time travelling around to various showrooms in your spare time.
You can browse our various blog posts on patios, paving, design advice, aftercare and more on our blog here, for some great tips, tricks and advice!
Once your final decisions are made, ordering your paving online is as simple as choosing the quantity you need and adding your items to the cart!
If you require any further assistance, don't hesitate to get in touch with us at [email protected] or give us a call on 01206 700 599. Our team would be happy to answer any questions you may have.