How To Clean & Restore Your Limestone Paving
Nobody wants unsightly paving when trying to enjoy their garden throughout the summer months, but staining and fading can occur through everyday use, so we've put together a quick and easy guide on how to seal, clean and restore your Limestone so you can keep your patio looking its best for years to come!
Sealing Your Limestone Paving
It's generally advised to seal Limestone Paving to help prevent any staining, as well as preventing the growth of moss or algae.
You may want to consider sealing your limestone to help to maintain the dark tones, however, sealing is not compulsory and there is a wide range of sealing products available which will provide various results. Some sealants will simply seal and protect, whereas others can be used to enhance the colour of your slabs.
Sealing your black limestone will also help to protect against other general wear and fading.
As for when to apply a sealer, there are no specific guidelines and most landscapers and tradespersons will have their own tried and tested methods. Some people choose to seal their paving slabs before laying to prevent any staining during the laying process and others prefer to leave their stone unsealed for up to a year, allowing the stone to weather naturally before applying a sealant. We always advise speaking to a local tradesperson who will be able to assess the many variables within your environment and offer specific advice for your project.
We recommend re-sealing limestone at least every few years to help prevent stains and to restore the bold colours.
LTP Mattstone Sealer is a fantastic product to help prevent staining while allowing your Limestone paving to breathe. We also stock LTP Blackstone Sealer & Restorer which is designed specifically for dark stones, such as our Kotah Black Limestone, and will restore the stone to its original colour as well as sealing and protecting the slabs.

Restoring Faded Limestone Paving
If your black limestone has begun to fade there are plenty of products available that will help to restore the original, dark tones.
It is widely acknowledged that black limestone paving will gradually fade to grey over time and this is due to a chemical reaction with the slightly acidic rain that we have here in the UK. Natural UV light will also play a part in causing black limestone to lose its colour and gradually turn more of a steel grey.
The rate at which any fading can occur is really down to the amount of rain and sunlight that the stone will see. Other factors such as the use and level of footfall will have an impact on the stone fading.
Compared to other types of Limestone, Kotah Black is a more low-maintenance option than the similar Kadapa Black Limestone which is a softer, chalkier stone and susceptible to excessive fading.
Kotah Black Limestone slabs will always arrive on-site with their traditional, deep black colour which is always how the stone should appear when fresh from the quarry and there is a level of maintenance involved in keeping the dark, bold tones present within the stone.
We recommend the following products and tutorial videos for restoring black limestone paving back to its original colour.
Azpects EasySeal Back To Black Limestone
LTP Blackstone Sealer & Restorer
Simple Day-To-Day Cleaning
To keep your patio clean, you can use this simple method to ensure that any dirt is removed before becoming ingrained in the slabs and causing any lasting damage.
1. Using a soft brush or broom, sweep your Limestone to ensure any large debris is cleared from the surface of the stone. It's essential that your tiles are clean of anything that could be dragged across the stone which may lead to the slabs being marked. This includes small stones, leaves, twigs and other organic matter.
2. Dilute a small amount of non-acidic soap in a bucket of warm water and, using a sponge mop, wipe down the surface with plenty of water and leave for half an hour. It's during this time that the dirt will begin to be broken down.
3. When 30 minutes is up, rinse the tiles with clean warm water until any residue has disappeared.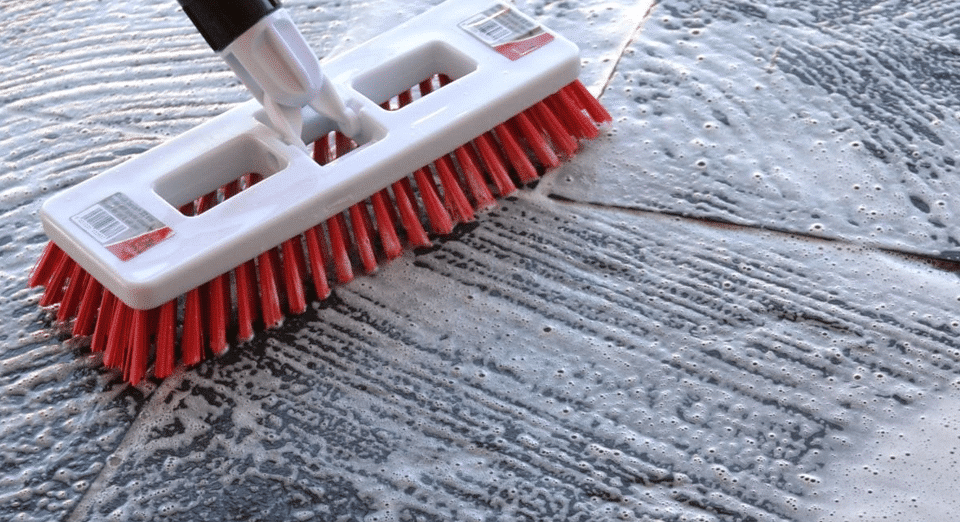 Removing Tough Stains
If your Limestone Paving is stained, you can use specialist stain removal products such as LTP's Grimex.
1. Always test the cleaner on an inconspicuous area first to be sure that it works for your project before treating the full area.
2. Dilute one part LTP Grimex in 10 parts warm water.
3. Apply the solution to the stone liberally with a cloth or mop. Be sure to cover the whole area equally.
4. Agitate with a scrubbing brush and leave to react for 5-10 minutes, keeping the surface wet with more of the solution if needs be.
5. Clean the solution off of the stone thoroughly with a mop and rinse thoroughly with clean water.
Efflorescence (Mineral Stains)
Occasionally, rainwater will seep into the sand and cement mortar beneath the slabs which, upon evaporation, can increase the alkalinity of the solution which travels to the surface of the Limestone, depositing mineral salts within the slabs. This is a very normal occurrence within natural stone paving and these white and grey marks can appear particularly noticeable in Limestone. To disperse mineral salt deposits in your Limestone, we recommend Azpects Efflorescence Remover+.
1. Test the product in an inconspicuous area or an offcut before use on your whole patio.
2. Remove loose dirt, moss & other debris from the surface of the slabs.
3. Ensure that the surface of the stone is cool to the touch. The ideal temperature is between 10-20 degrees Celsius. Do not apply during frost or when the temperature is below 5 degrees Celsius or in direct sunlight. When used in cooler temperatures, effectiveness may be reduced & longer cleaning time may be required.
4. Dilute 1 dose (100ml) in 1 litre of water and apply a saturated coat to the affected area using a spray bottle, watering can or brush. For heavy contamination add 2 doses (200ml) to 1 litre of water.
5. Leave for at least 1 hour to act then re-apply.
6. Leave for 24 hours to allow deep penetration and neutralisation of the salts.
7. After 24 hours wash the surface clean with a hose a stiff brush.
Conclusion
There is always a way to keep your black limestone looking fresh all throughout the year and any natural fading can be remedied with specialist products designed specifically for the stone.
When using any type of cleaning or sealing product, always follow the manufacturers' instructions closely and test on an inconspicuous area first to be sure that the product will get you the right results.
Following some of the simple steps above will have your limestone looking as good as new and ready for the summer!
If you have any further questions or queries about Limestone Paving and aftercare, we would be happy to help!
You'll find the answers to our most frequently asked questions here and if there is anything else we can help with, please don't hesitate to contact us on 01206 700 599 or [email protected].