When it comes to laying paving slabs, there are a few things you will need to consider to be sure that your project goes smoothly and to avoid any issues further down the line!
Most professional landscapers will have their own tried and tested methods that have worked for them for a number of years and as there are many variables to consider when laying your patio, the process may differ slightly depending on who you ask. However, there are some important points to consider which we've listed for you below to help you to avoid any issues and to ensure that you can get the best results!
Plan Thoroughly
Always be sure to get your goods on-site with plenty of time to check over your slabs before laying.
Avoid any last-minute rush by planning ahead and communicating with any tradespeople you'll have on-site to be sure that there is plenty of time to accept your delivery and check over the goods before work begins. You will need to accept delivery at least a few days before the work starts and allow some time to assess any natural variations within the stone and decide whether there are any that you'd rather not use.
Take some time to familiarise yourself with the product and always double-check that you are laying the slabs the right way up before you start!
Taking the time to get yourself organised with this is always best to avoid any delays to the work which could cost you time and money, especially if you are paying landscapers to be on-site.
If you're unsure of anything, your supplier will always be able to offer advice!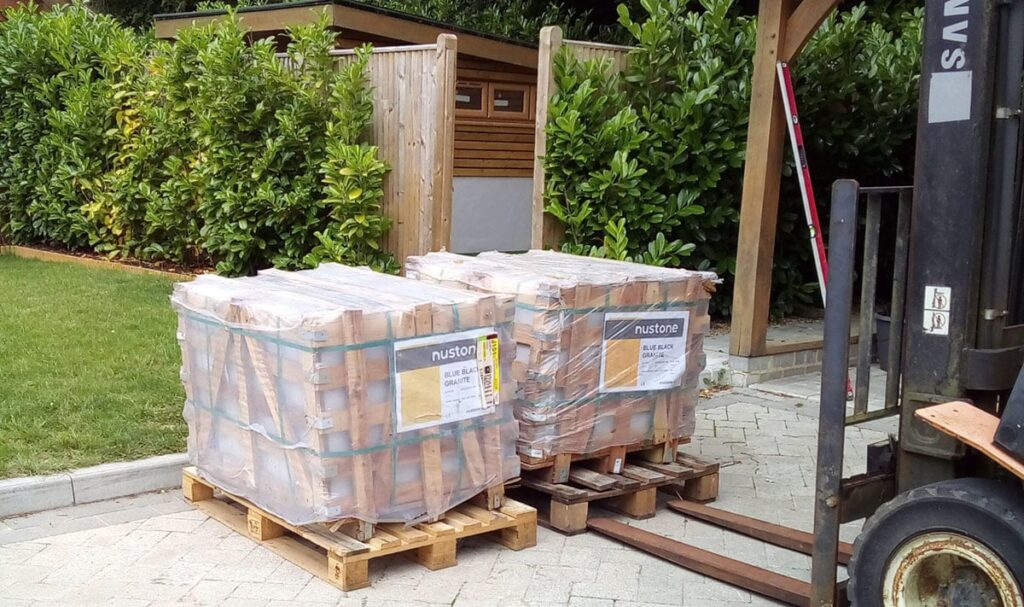 Account For Wastage
Due to the nature of the laying process, most of the time, cuts will need to be made to slabs resulting in some wastage where the off-cut part of the slab won't be used. Always ensure that you order an additional 10-15% to account for this, as this wastage will bring down the total m² coverage of your order.
Accounting for wastage within your order will also cover you for any breakages during installation and natural variations which you decide not to use. Due to most patio paving options being natural products, variations in tone and colour will always be present and being prepared for this will allow you to pick and choose which variations you'd rather not use.
The image below of our Raj Green Sandstone shows a great example of how many different tones can be present within one product. It's easy to see how you may decide not to use a few slabs here and there in order to keep the colours evenly spread throughout the project, depending on your design and personal preferences.
If you have more than one crate of paving. it's important to mix the slabs from each crate to account for any variations between the two crates.
Communication is key if you are not carrying out the work yourself and it's vital that you and your tradespeople are on the same page from start to finish by making sure that they are fully aware of any natural variations that you may prefer not to use. All good landscapers will be happy to help with identifying natural variations within the product before use, in order to avoid them laying any slabs which you would have preferred to either discard or use in an inconspicuous area.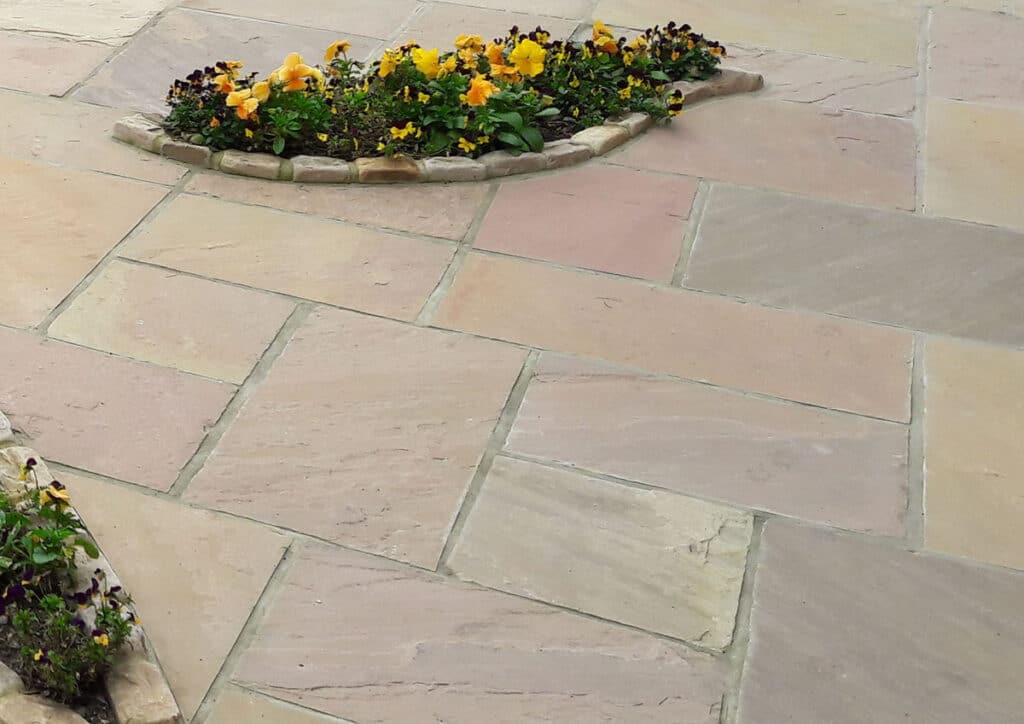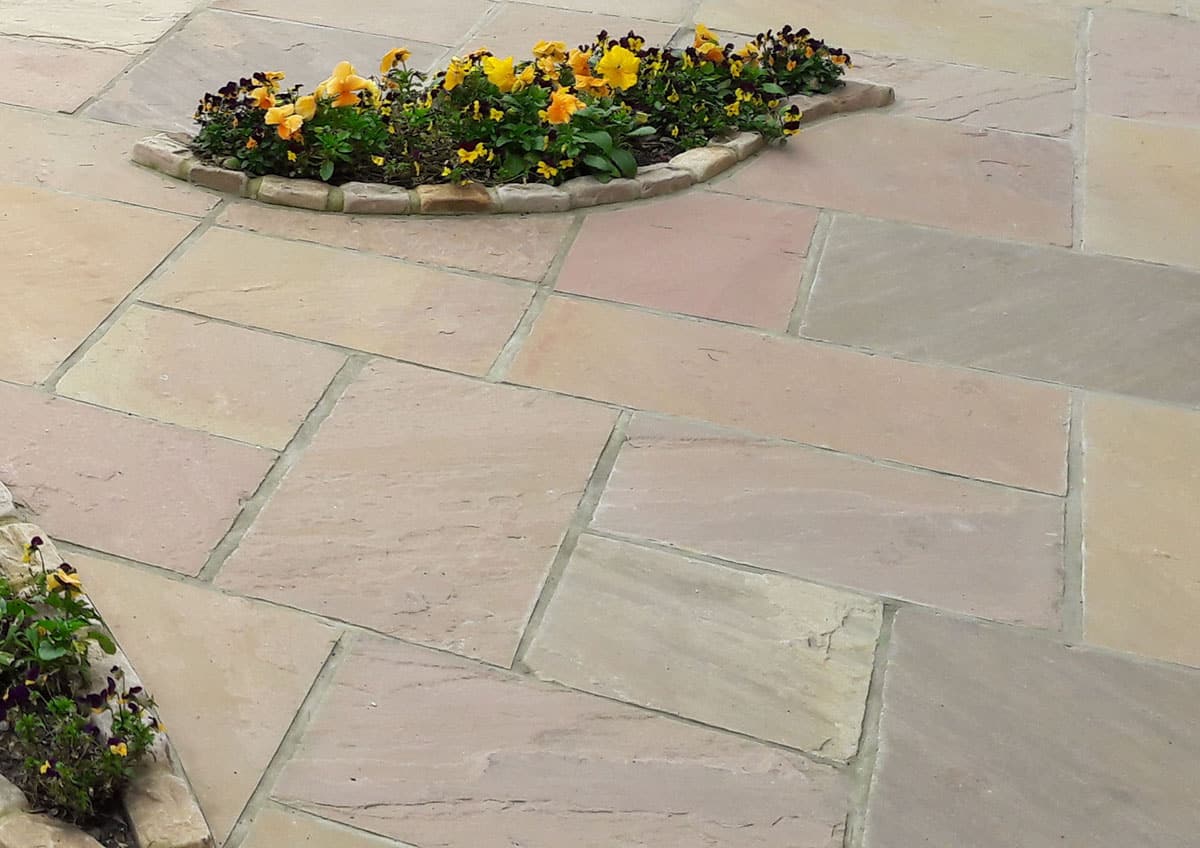 Avoid Spot Bedding, Ring Bedding or Dot & Dab Methods
When laying natural stone paving, ensure that the slabs are laid on a full bed of mortar so that the whole of the underside of the slab is in contact with the bed.
As you can see below, Spot Bedding, Ring Bedding or Dot & Dab Methods will bring out some unsightly Reflective Staining on the slabs where liquid and minerals are pulled through the surface unevenly. This can be very tricky to rectify. These laying methods can also cause some issues with the stability of the slabs and can cause them to become loose.
Using a priming slurry to help with adhesion will not only help the slabs to stick to the full bed of mortar but will also help to prevent excess salts and minerals from rising up through the stone. We always recommend Azpects EasyPrime for this which is a great option for both natural stone and porcelain paving.
You'll find some more in-depth information on ring or spot bedding issues here.
Keep It Clean
The laying process can get messy and it's important to take as much care as possible when laying the slabs to ensure that no staining occurs during installation.
If you do notice any residue on the slabs when installing, be sure to clean this off ASAP as things like cement will only get tougher to remove once dried and anything which remains on the surface of a slab is only more likely to leave a mark as times goes by.
You may want to consider sealing your slabs before laying as this will help to prevent any stains.
We stock a range of sealers suitable for natural stone and porcelain paving here.
Grouting
You'll need to fill the gaps between each paver with a jointing compound and there are various options for this, depending on your design preferences and stone type.
We recommend Azpects EasyJoint for natural stone paving, which is available in a range of colours to suit any design, with Azpects EasyGrout being a great option for porcelain paving. These brush in compounds are very easy to use, making them a popular choice! Use the tables on each product page or the EasyJoint Calculator to work out how much you'll need for your project.
The industry standard for joint widths in a patio is between 8mm and 12mm, however, you can adjust this to suit your design needs. We would recommend avoiding butt-jointing, where there is no gap left between the slabs, as this can cause spalling and damage to the pavers when pressure is applied.
When ordering a mixed-size Patio Kit, always be sure to check the exact sizes of the slabs that you will receive within the crate, as this will determine how you will need to go about the jointing process. For some products, you may need to work out how to balance your joints widths to account for this. Read more about this here.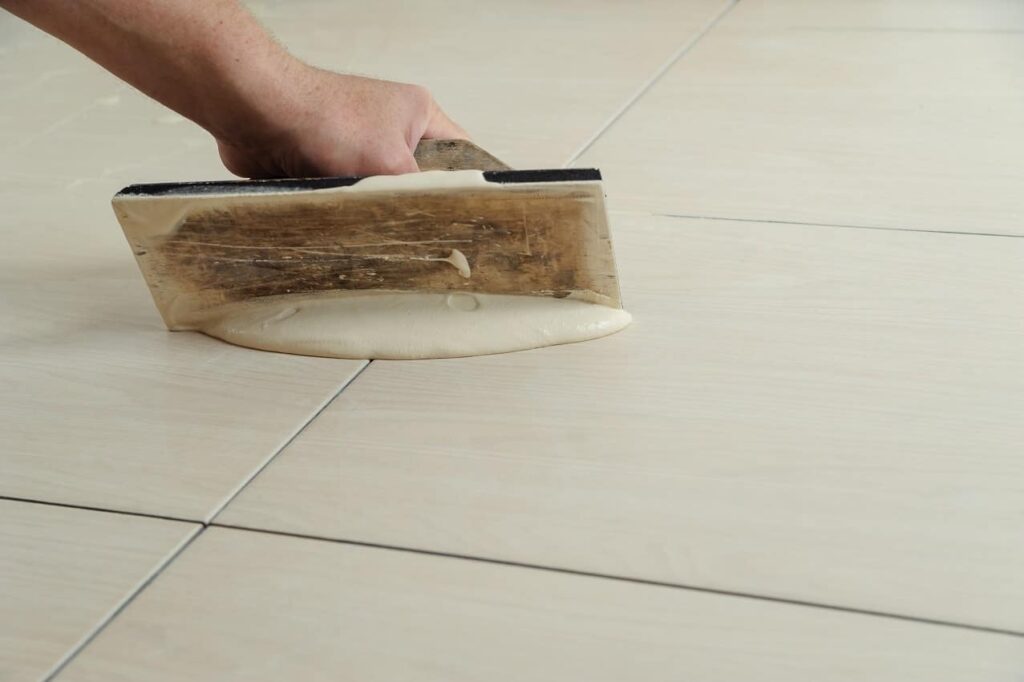 Consider Sealing Your Patio
We always advise sealing your stone to help prevent any staining, as well as helping to prevent the growth of any moss or algae.
You can read more in-depth about sealing your patio here.
You may want to consider sealing your paving, especially if your stone is light in colour, as any stains will be more visible. Whilst sealing is not compulsory, there is a wide range of sealing products on the market which will provide various results. Some sealants will simply seal and protect, whereas others can be used to enhance the colour of your slabs. Sealing your sandstone patio paving will also help to protect against other general wear such as fading which can sometimes occur over long periods in places where the stone is likely to see excessive use, such as public walkways.
For the best results, we'd always suggest giving your new outdoor space a good clean prior to sealing. LTP's Grimex is a great heavy-duty cleaner designed to tackle almost all muck that you could encounter during the laying process.
As for when to apply a sealer, there are no specific guidelines and most landscapers and tradespersons will have their own tried and tested methods. Some people choose to seal their paving slabs before laying to prevent any staining during the laying process and others prefer to leave their stone unsealed for up to a year, allowing the stone to weather naturally before applying a sealant. We always advise speaking to a local tradesperson who will be able to assess the many variables within your environment and offer specific advice for your project.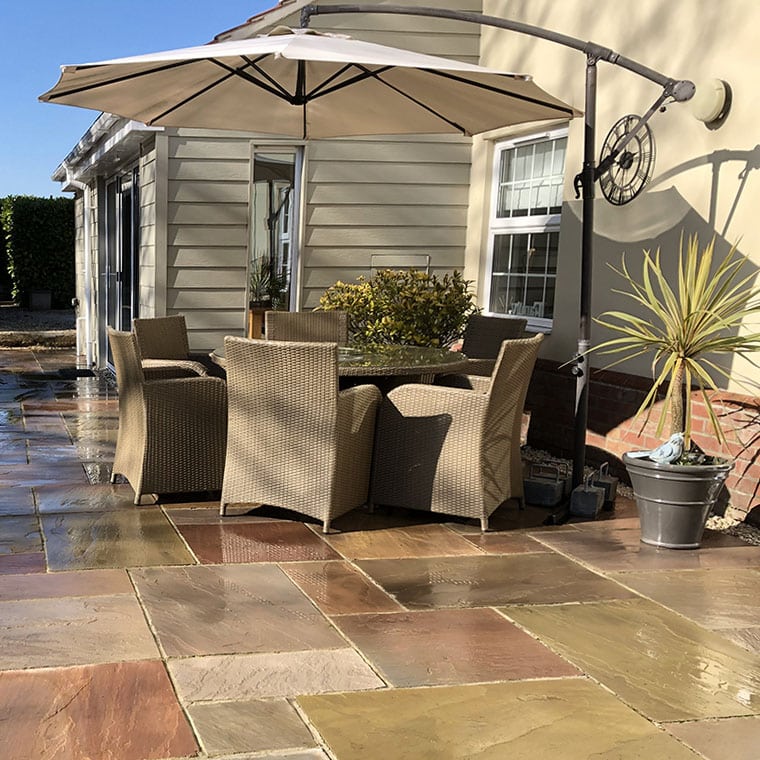 Conclusion
As long as you follow our tips, you will have all of your bases covered and be well on your way to the perfect patio!
Remember that preparation the key to success and familiarizing yourself with the goods before you start the laying process will always leave you in a much better position to be able to make the correct decisions on any natural colour variations before you start.
Accounting for waste and cuts will always save you time and money, as well as avoiding the possibility of being left short of paving to complete your project.
Cheap and cheerful laying methods, such as spot bedding or dot and dab methods will cause issues in the long run and should always be avoided. Likewise, keeping the slabs nice and clean as you go will always give you the best results and, once you're done, consider sealing your stone to protect against staining and weathering to keep your patio looking its best for longer!
If there is anything you are unsure about regarding the laying process, always be sure to contact an industry professional for some advice.
You can contact a member of our team on 01206 700 599 or via email at [email protected].