There are a huge range of options available when designing a patio! Below, we'll have a look at how you can use our patio paving to create the garden you've always dreamed of!
Patio Kits
Patio Kits, sometimes known as Project Packs, are a great way to create original and interesting, random patio designs using a range of different sized slabs. The four different sizes of pavers will allow you to create a random patio design which is a very popular option and beautifully displays the unique qualities of each slab, allowing the natural tones and variations in colour to play off of each other to add a unique finish to your space!
Have a look at our favourite designs below which have all been created using our Patio Kits!
Mixed-Size Slabs
Your third option is to create a custom design using a mixture of sizes! There is a range of design possibilities, size combinations and layout options available.
Smaller patio slabs are often popular for use as borders or edging and will always pair up well with larger slabs for this. You can even go for a different colour border as a part of your design or choose to pave one area of your garden in one size of slabs and use another size elsewhere!
Steps
Steps don't need to be a purely functional feature for your garden. If your garden is multi-level, you can create a beautiful feature using Bullnose Steps to connect your patio to the rest of your exterior space and add a touch of class to your space. The smooth surfaces offer a luxurious finish and are great for traditional or classic patio designs.
All of our Natural Stone & Porcelain Paving can be easily cut to size using traditional methods in order to create steps that will match the rest of your patio area!
Create A Centrepiece
Designing a patio around a centrepiece will offer a natural focal point to your garden, whether it's a seating or dining area, fire pit or sandstone circle, a focal point can be a great place to start!
You could even use your lawn as the centrepiece of your garden. An edging solution such as Granite Setts will always work well to create a design within an existing lawn and offers a truly contemporary finish.
Lighten Up
Light colours can give your patio that Summer feeling all year round and create an added sense of space to your garden by brightening up any dark and dingy corners which may not see much natural light.
Our Sawn Mint or Ivory Sandstone are perfect examples of light coloured paving options which will bring life to your garden. The blend of beige, ivory and cream tones work great in areas with a lot of plant life and flowers which looks especially great throughout the spring and summer!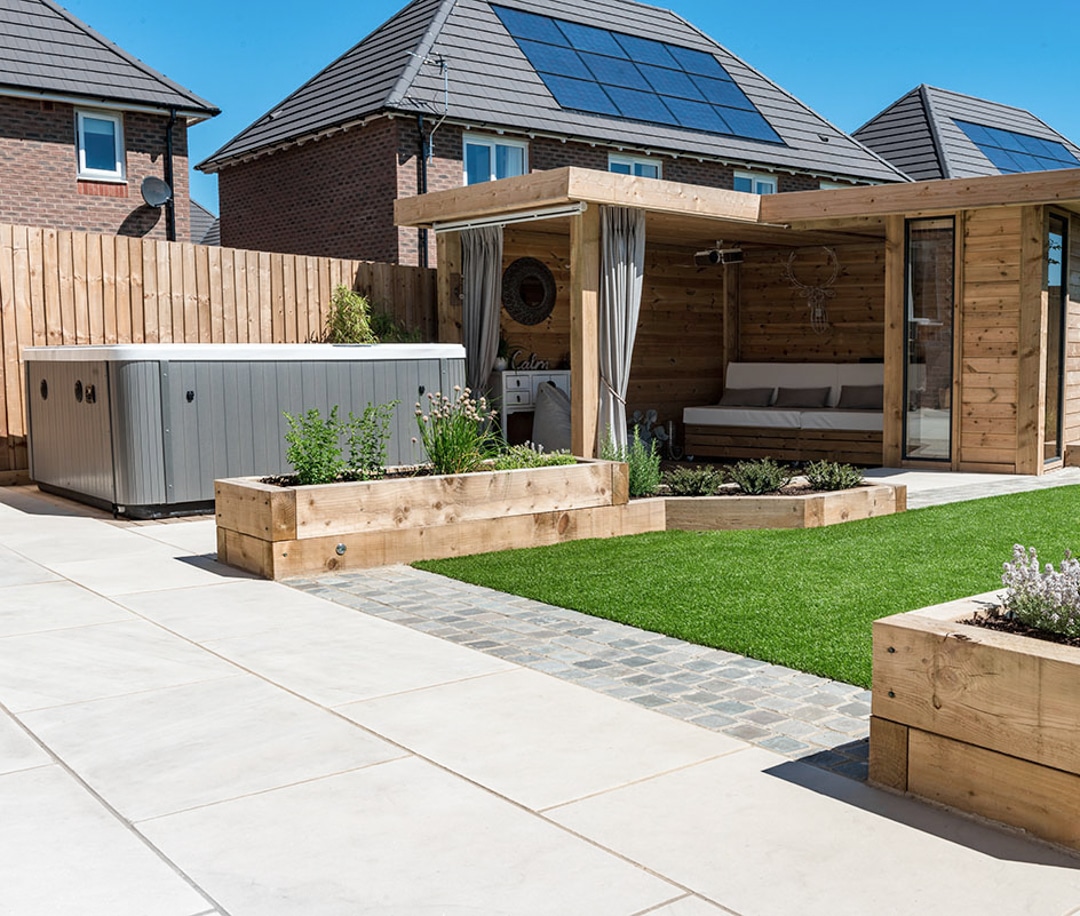 Consider Porcelain
Porcelain Paving is the perfect way to create a modern patio design with a luxury finish! The man-made stone is low-maintenance and scratch-resistant, as well as being incredibly durable. This means that it is suitable for driveways as a great alternative to natural stone and is also great for use around swimming pools and hot tubs due to its non-slip qualities.
We offer a range of finishes in our Porcelain Paving, all of which are designed to mimic natural stone paving offer their own unique visual qualities and a modern, designer look which is sure to impress!
Browse our full range of Porcelain Paving!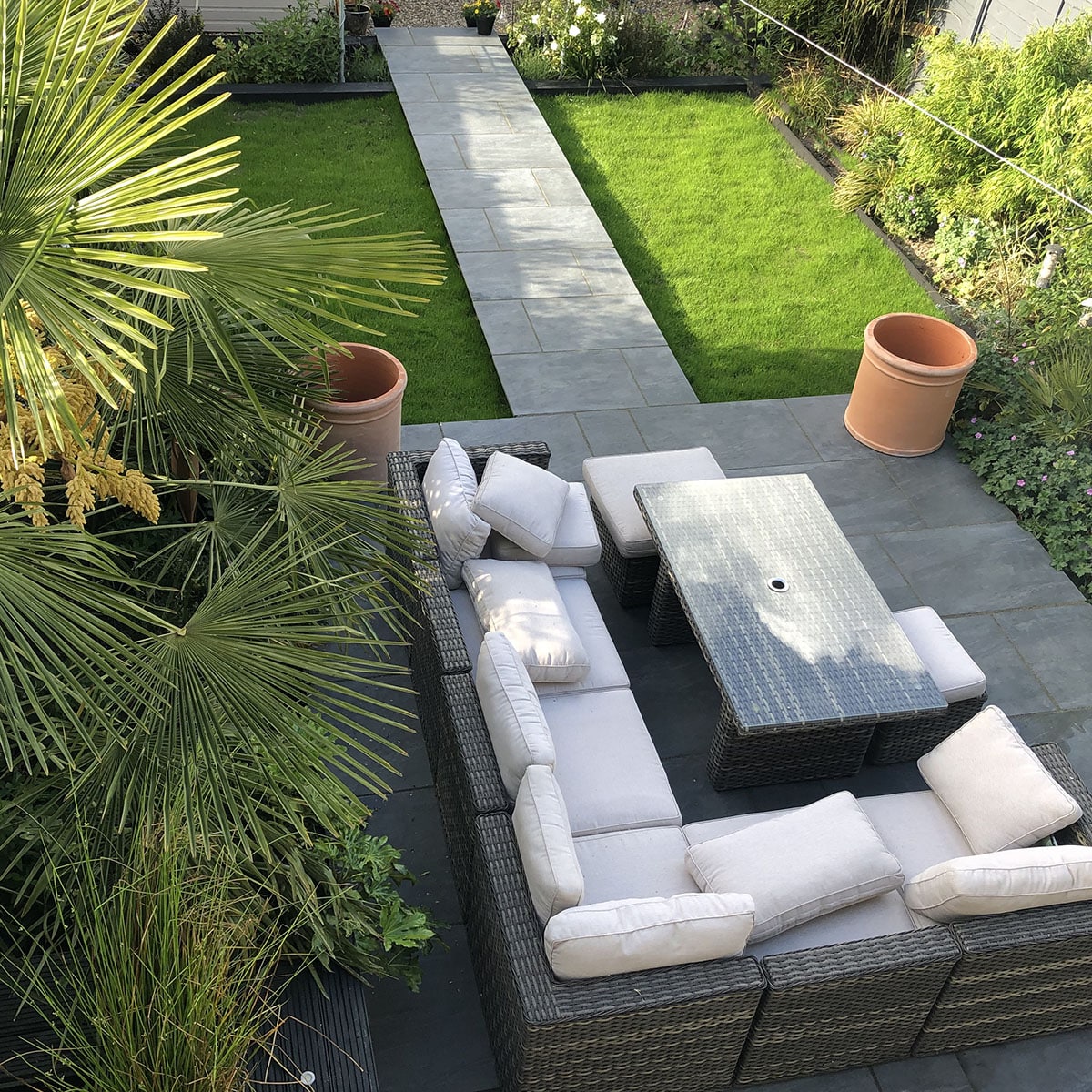 Go Modern
If you're considering a modern patio design, think monochrome and minimal.
Blacks, whites and greys are the perfect starting place for any modern patio. The minimalistic feel of these neutral colours will create a spacious feeling to your garden and will open up a wealth of design opportunities to make a statement and bring your home up to date, as well as adding value to your property.
The addition of patio furniture will allow you to utilise your patio space as an outdoor dining and living area, bringing the indoors out to extend your home and allow you to make the most of all of your available space. Patio heaters or a fire pit will contribute to the modern feel and allow you to get the most out of your exterior space well into the autumn months.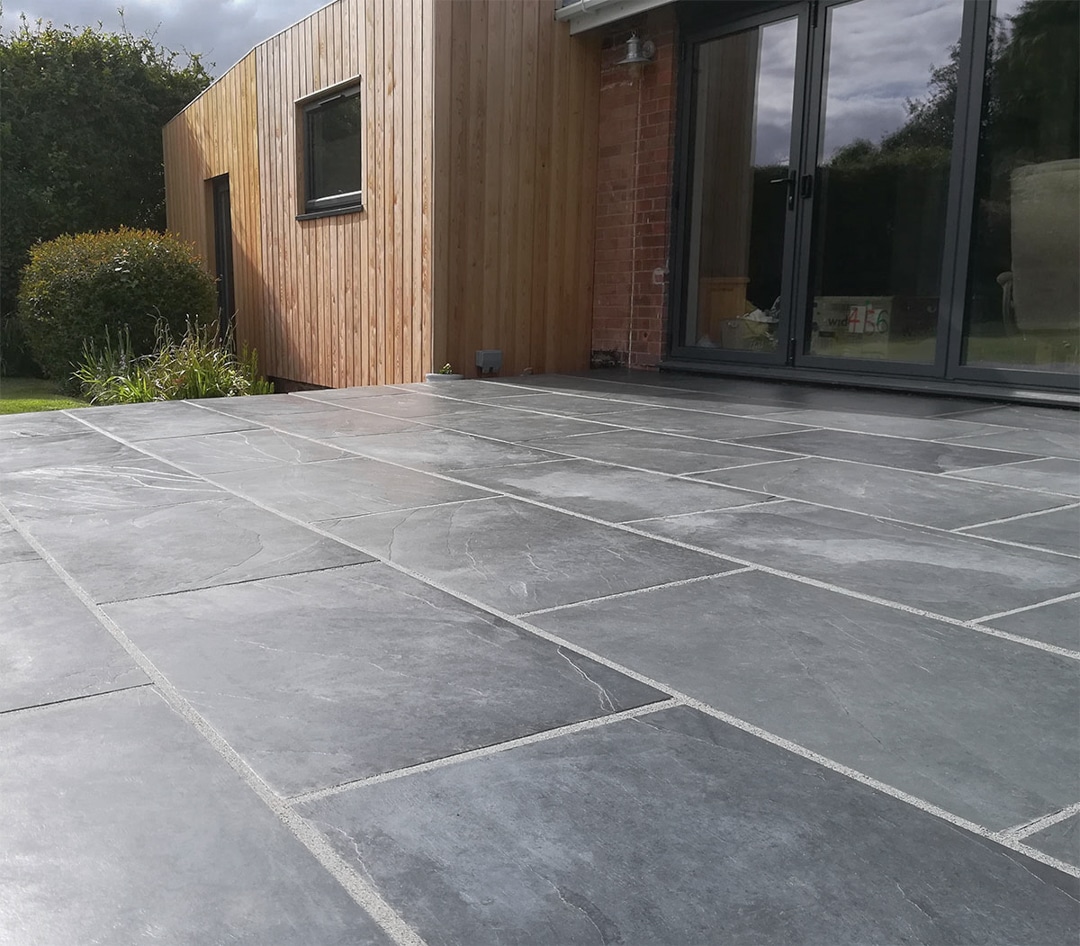 Think Traditional
Natural stone paving and traditional patio designs go hand-in-hand.
Worn textures like our Rustic Copper Slate or Riven Sandstone Paving are perfect for creating a traditional patio design that will never go out of style! The earthy tones within the paving offer a natural and organic feel to your patio space, which will be complemented by the natural elements. You can create a blend of modern and traditional styles with riven sandstone or slate which features a lightly textured surface for a weathered appeal!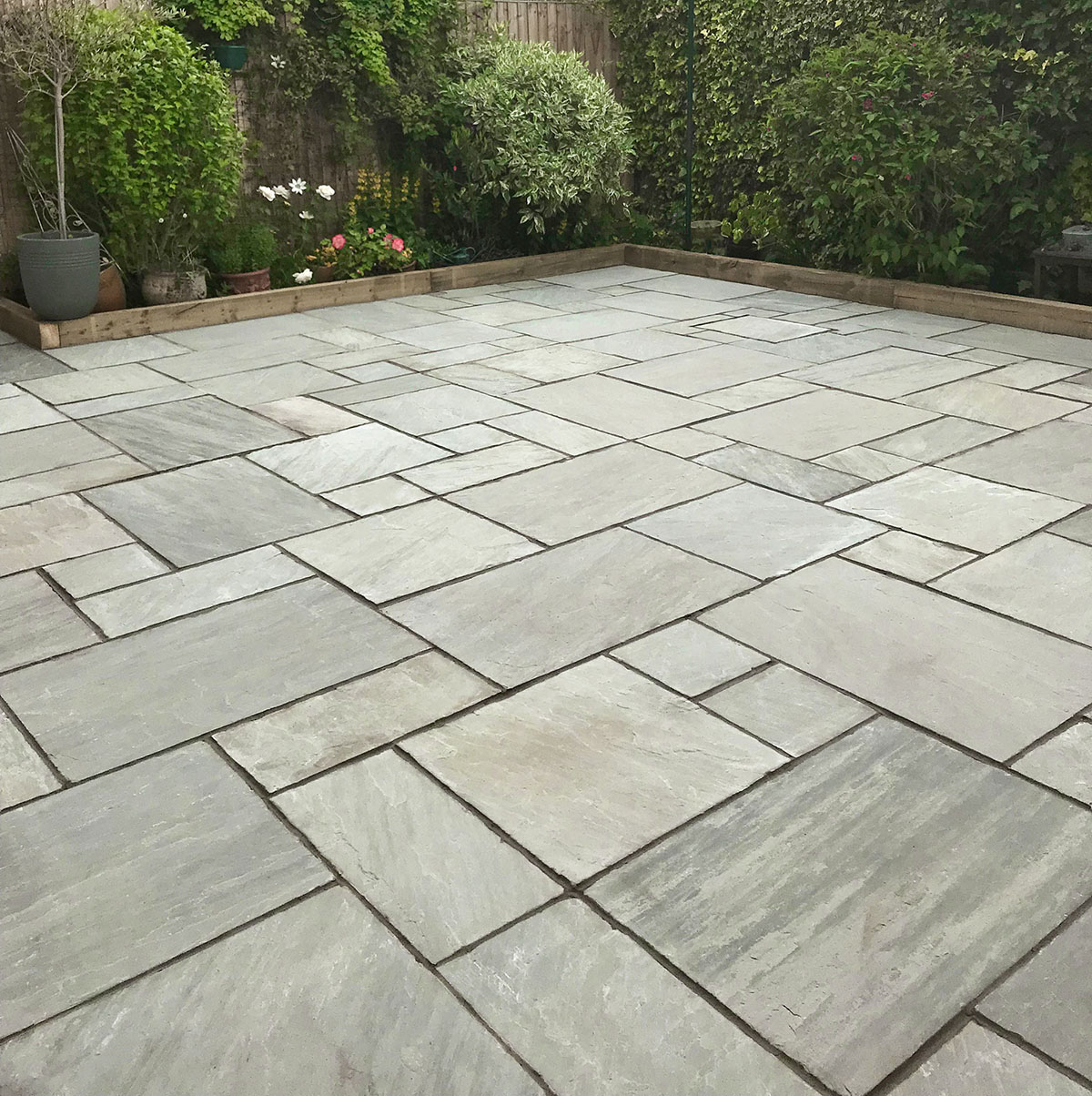 You'll find the answers to our most frequently asked questions here and if there is anything else we can help with, please don't hesitate to contact us on 01206 700 599 or [email protected].