When it comes to cheap paving, there is no need to compromise on quality. Some of our most popular options of patio stones are actually some of the cheapest paving slabs available!
Our cheap paving will transform your garden or patio within budget and a wide range of options are available to help you design your space however you like!
Most of our budget-friendly options have a naturally riven surface texture which is created when the slabs are split across the natural layers within the stone. This leaves a unique texture on the surface of the stone with variations across the face of each slab that make for an eye-catching finish! Further savings are made on the treatment of riven paving too, as the stone goes through fewer processes than a premium sawn product, but there are plenty of cheap ideas for gardens that will see your space transformed without breaking the bank!
FREE* Delivery Available!
Not only do we offer some of the best prices on the market for a wide range of cheap paving slabs, but we also offer FREE* Home Delivery and keep our lead times as low as possible so you can receive your cheap paving in good time!
You even save further when you collect your order from us at on our of depots or showrooms! Find out more about our collection service here.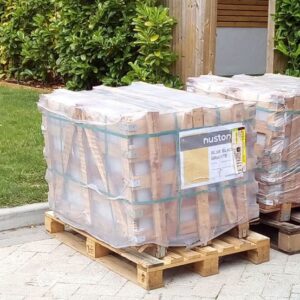 Raj Green Sandstone offers the charm and appeal that only a natural stone can offer. With beautiful variations in colour throughout, no slab is the same and each paver features its own unique range of tones and textures promising your garden or patio a finish filled with character!
A mixed-size patio kit is perfect for creating a unique design and allows you to fit the slabs into your space however you like, to suit all of your design needs!
As one of the most popular options of natural stone paving available, Kandla Grey Sandstone offers a stunning, neutral backdrop to any space with a variety of light and dark grey tones throughout.
The stone is often very high in demand and it's clear to see why, as the grey tones are perfect for pairing with any other colours to suit your patio or garden design and the light tones within the slabs will brighten up any dark areas of your patio to create an added sense of space!
As one of the cheapest paving options on the market, Limestone is a great choice if you are looking to create a bold finish to your patio without breaking the bank!
Black limestone slabs look stunning when wet, offering deep tones which are great at disguising most types of spills from a garden party or BBQ!
The stone will require some basic maintenance to maintain the deep black tones and this is done with a simple patio sealer or colour-enhancing product.
Autumn Brown Sandstone Paving is another great option when looking for cheap patio slabs. The earthy tones throughout are perfectly suited to any rural setting and are even more pronounced when wet to bring out stunning natural colours.
The tones of brown, buff and grey will blend seamlessly into any traditional design to add colour to your space and brighten up your patio ready for those summer months!
Featuring occasional natural plant fossil details, Fossil Mint Sandstone offers a premium finish to any space with a very reasonable price tag!
The fossil detailing which is formed naturally over thousands of years, adds character to the slabs and an eye-catching finish to any patio design which only this option of natural sandstone paving can provide.
Cheap Paving To Avoid
When you are looking to complete your garden paving for cheap, there are a few things to look out for to avoid having to fork out some extra further down the line!
Uncalibrated Paving
Uncalibrated slabs can be tricky to lay due to large variations in the thickness of each slab. Although any good landscaper will be able to navigate this little obstacle with ease, this can bump up the price of the work due to the additional laying and eat into the money that you have saved on this option of budget paving slabs.
We would always recommend choosing a calibrated stone if possible, as they are much easier to lay, especially if you are choosing to take on the job yourself. See an example below of the calibration lines that you will find on the underside of the slabs.
At Nustone, all of our paving is calibrated to help keep your project as simple as possible!
Thin Paving Slabs
Some natural stone is available in 10mm options and although the small price tag on these can look quite tempting, these cheap pavers are not ideally suited to exterior use.
Thin slabs are typically designed for indoor use where they are not exposed to the elements or excessive wear and tear. Using these outdoors will often result in some unsightly cracks which will end up being quite costly to repair, making it one of the cheap garden ideas that you should avoid.
Used Paving Slabs
When looking for cheap slabs, you may come across used paving, also known as 'seconds'.
Always keep in mind that as these have already been used once, they are likely to have some damage to them such as hairline cracks and chips to the edges from where they have been lifted from the ground. Used paving slabs will likely have some of the bedding from their previous use still attached to the underside of the slab, which can make the stone trickier to lay.
Used slabs can be a great way to save on any cheap and cheerful jobs such as a base for a shed or an area which is likely to see a lot of dirt and built-up grime. For example, a corner of your garden where you'll be storing a motorbike or working on your next DIY project!
It almost goes without saying that second-hand slabs won't give you the fresh finish that you would expect and there is usually no telling what sort of use these slabs have seen previously which could compromise the durability of the stone.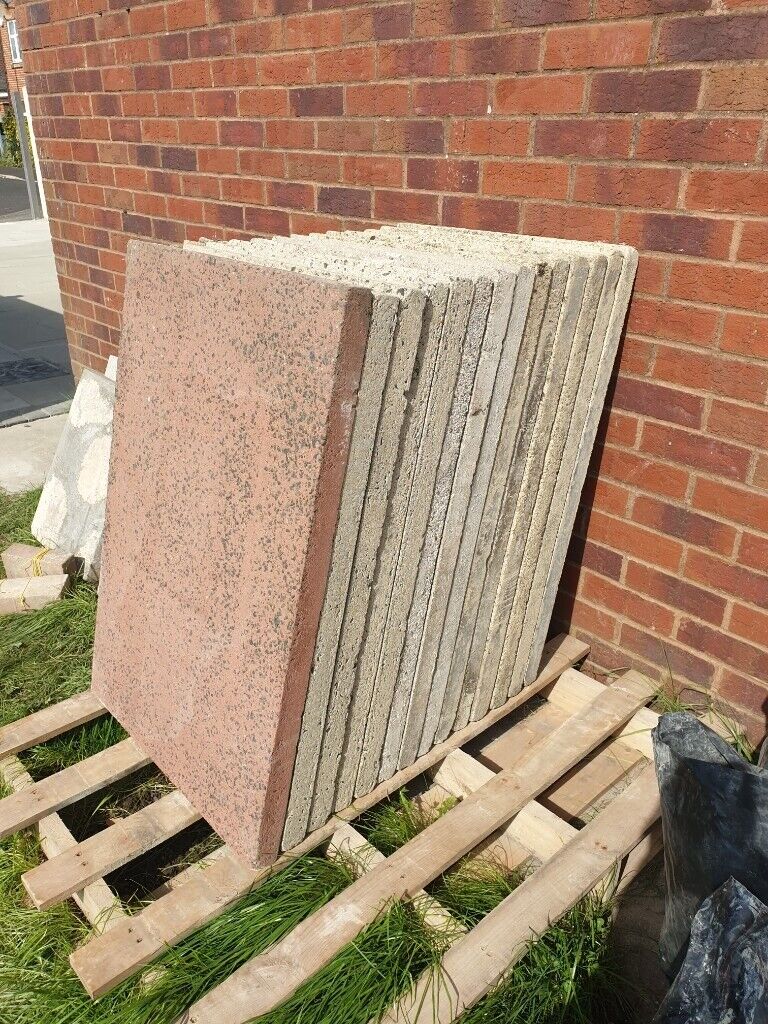 Conclusion
There are some stunning cheap paving options available and as some of the most popular choices of garden slabs around, there will be no need to compromise on the quality and finish of your new patio space to keep your project within budget!
Here at Nustone, we are always happy to find you the best price possible for the materials you need for your project and can offer some cheap ideas for gardens to help you get started! We pride ourselves on our very competitive prices and our team of experts is always on hand to give you the best advice for your project.
Our combination of some of the best prices on the market, Price Match Promise and FREE* Home Delivery ensures that you are getting the best for less, every time.
We also stock a range of grout, sealers and cleaners that we can supply alongside your paving for maximum convenience and save you time and money on sourcing these extras elsewhere!
You'll find the answers to our most frequently asked questions here and if there is anything else we can help with, please don't hesitate to contact us on 01206 700 599 or [email protected].