Porcelain Paving offers a range of features that you won't find within Natural Stone Paving. The man-made stone is designed to imitate the appearance of Natural Stone to create a beautiful and authentic finish to your space. Porcelain offers a range of modern conveniences that will keep your space looking its best with minimal upkeep!
Unlike Natural Stone, Porcelain Paving is a man-made material with a printed finish. This means that the consistency of the finish can be controlled, unlike Natural Stone Paving, where variations in pattern and tone are subject to the formation of the stone.
Our Porcelain Paving range comes in a variety of finishes which are designed to imitate the look of Sandstone, Slate & Granite Paving. So you can enjoy the appearance of a beautiful natural stone with all the modern conveniences of a low-maintenance paving.
Porcelain Paving features:
Non-Slip

Low Maintenance

Scratch Resistant

Durable & Hard-Wearing

Resistant To Water Absorption
Read on to see how our range of Porcelain will fit into your design…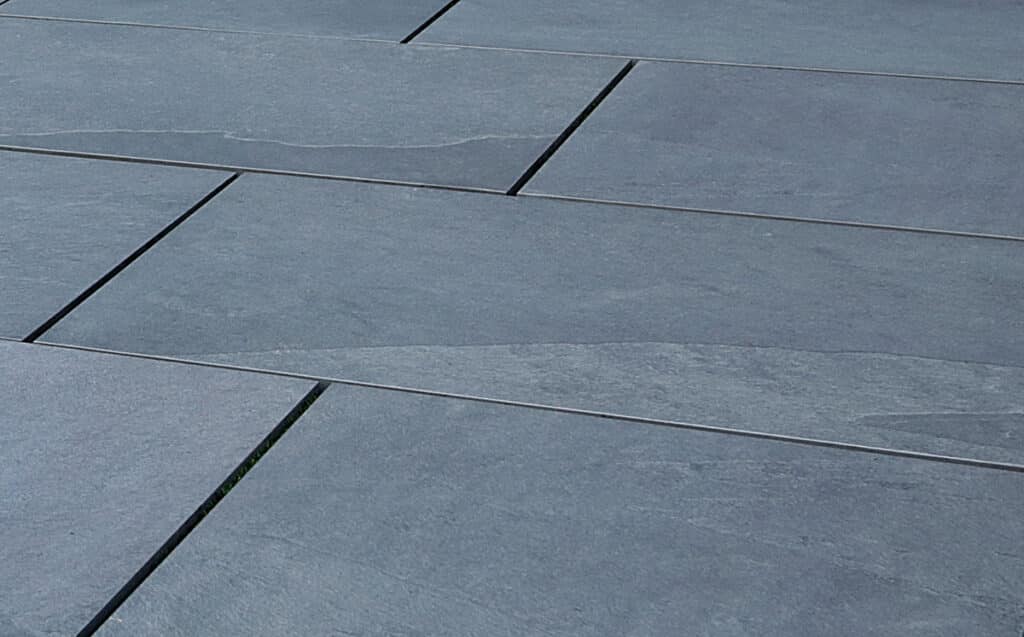 Our Black Porcelain features a range of black, charcoal & grey tones throughout each slab. The dark tones will create an exterior space with a bold feel and are available in large format pavers that create a stunning impact to any modern patio design.
The lightly riven surface of each slab beautifully imitates the look of Natural Slate Paving.
When Slate Paving is produced, the stone is split causing a natural riven which follows the line of the layers within the stone. This gives the stone 2 surfaces. The clean, smooth surface and the raised or indented riven variations, which are one of the characteristics of Slate and provide its natural, rugged appeal. Our Porcelain is designed with these natural variations in mind. Each slab features is own unique riven surface to imitate the natural variations that you would usually see in Slate.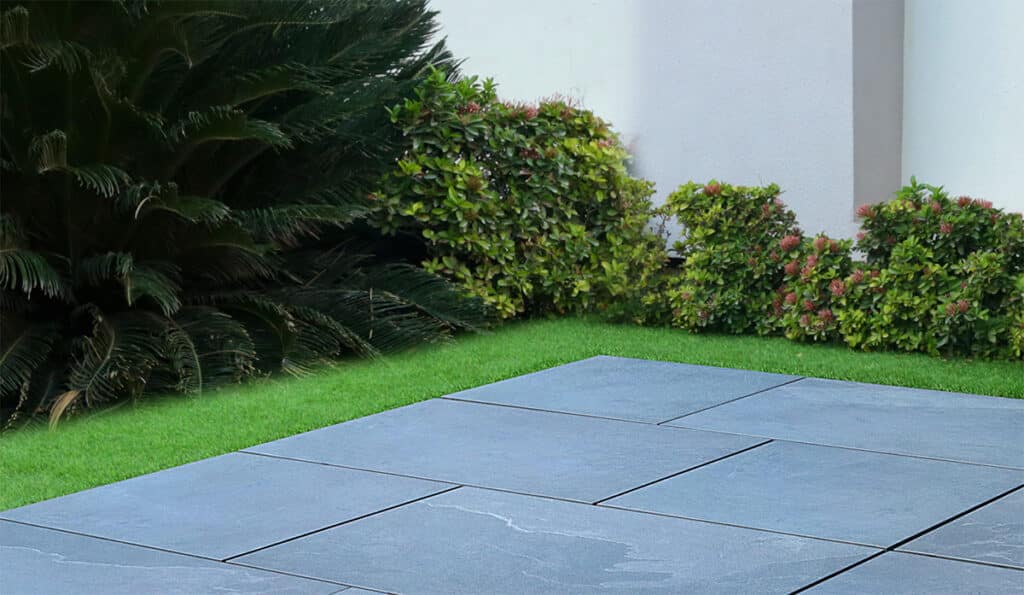 Our Black Porcelain is available in 600×900 and 600×600 pavers. Often used as an alternative to Brazilian Black Slate, due to the range of modern conveniences that Porcelain offers.
Our Black Porcelain Paving Range
We also stock Nero Porcelain. If you're looking for something a little darker to create a much bolder finish to your space.
Nero Porcelain Paving
This darker alternative to our Black Porcelain offers more black tones as well as deeper charcoals and greys throughout each slab. The striking finish that it creates is suited to modern and minimalistic patio designs and is a great alternative to Blue Black Slate or Kotah Black Limestone Paving.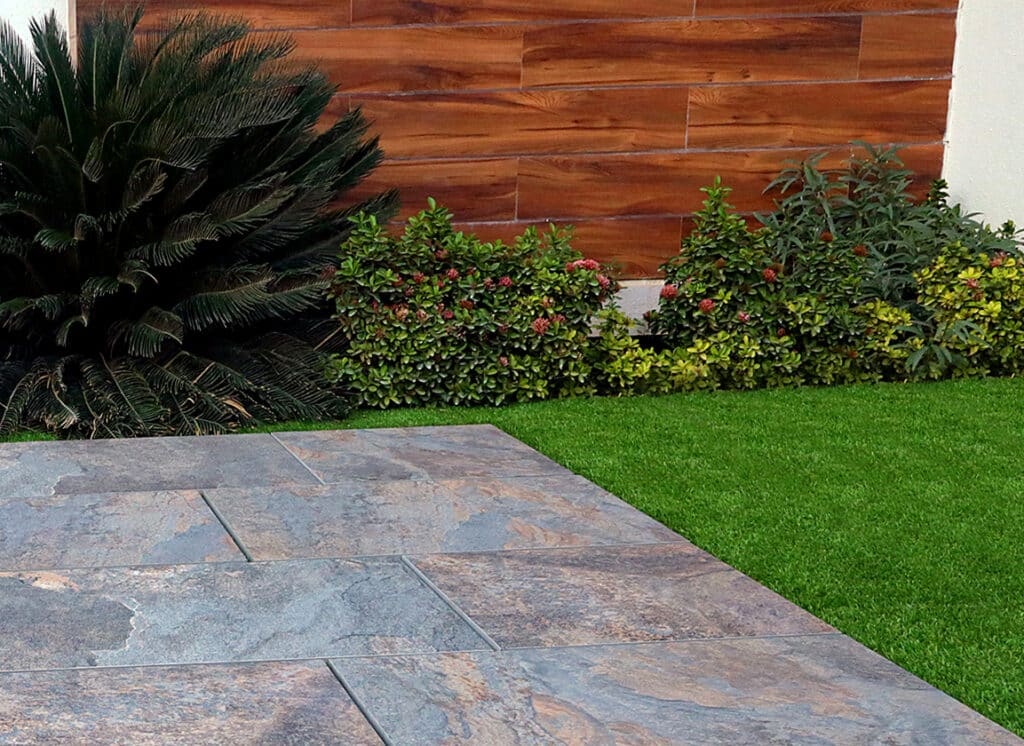 Our Rustic Porcelain features a range of black, gold, copper and blue tones and is typically suited to traditional patio designs. Designed to mimic the natural charm of Rustic Copper Slate, this durable and low-maintenance alternative features all of the visual appeal of Slate with the modern convenience of a man-made paving option.
Complete with natural riven variations for a truly authentic feel, our Rustic Porcelain is perfect for creating an exterior space with heaps of character!
The vibrant and multicolour slabs feature a non-slip and scratch-resistant surface which is also resistant to staining! Porcelain is non-porous, meaning that it will not absorb water like a Natural Stone Paving would. This will help to prevent the growth of mould and algae, as well as keeping the stone resistant to any water or frost damage. Which can be caused by a build-up of moisture within the stone.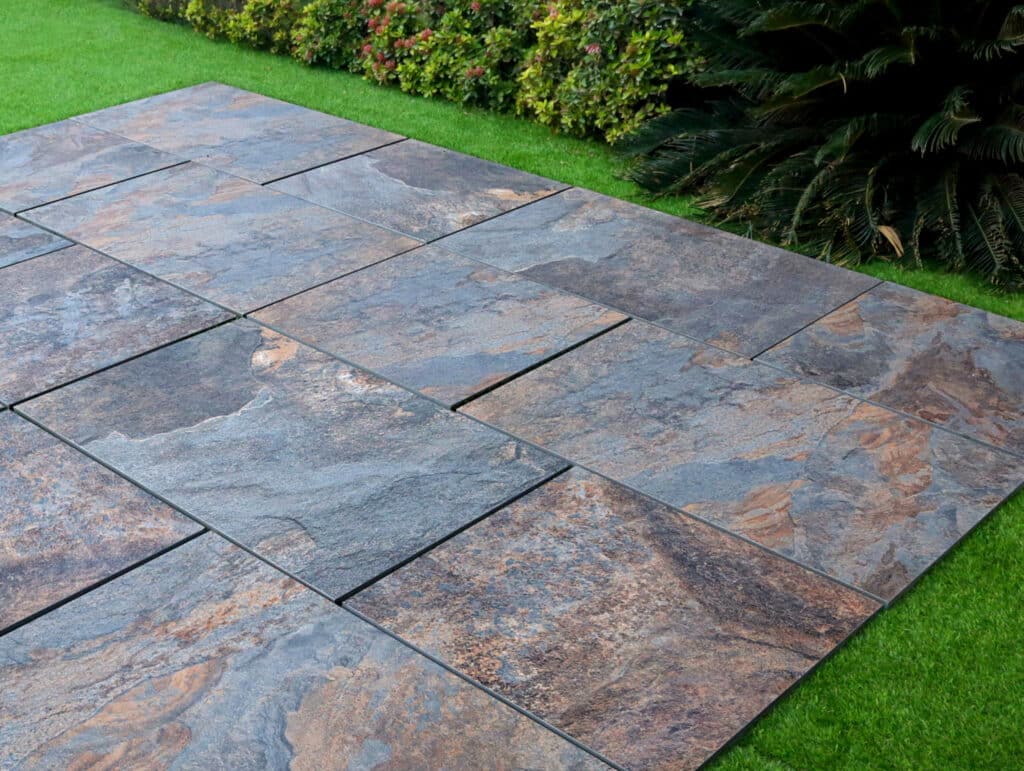 Our Rustic Porcelain is available in 600×900 and 600×600 slabs. A perfect, hard-wearing and robust alternative to Rustic Copper Slate Paving.
Our Rustic Porcelain Range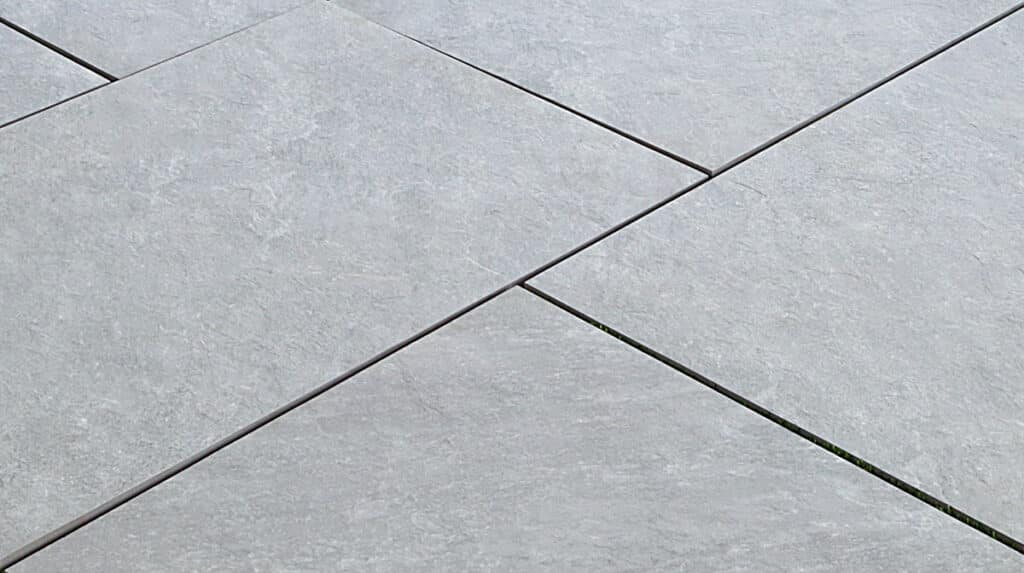 Silver Grey Porcelain is a popular choice for domestic and commercial projects alike, due to the neutral silver, white and grey tones that are displayed through each slab. As with any design, neutral colours open up a wealth of additional design opportunities to create an eye-catching space.
Alternatively, Silver Grey Porcelain can provide a subtle finish for any projects which don't require any additional design. The finish it creates is similar to that of our Silver Grey Granite or Kandla Grey Sawn Sandstone which is often used for commercial projects. Porcelain is well suited to these types of uses due to the hard-wearing, non-slip and low-maintenance properties that it offers. This makes it perfect for high-traffic areas and is becoming a popular choice for public spaces!
Our Silver Grey Porcelain Range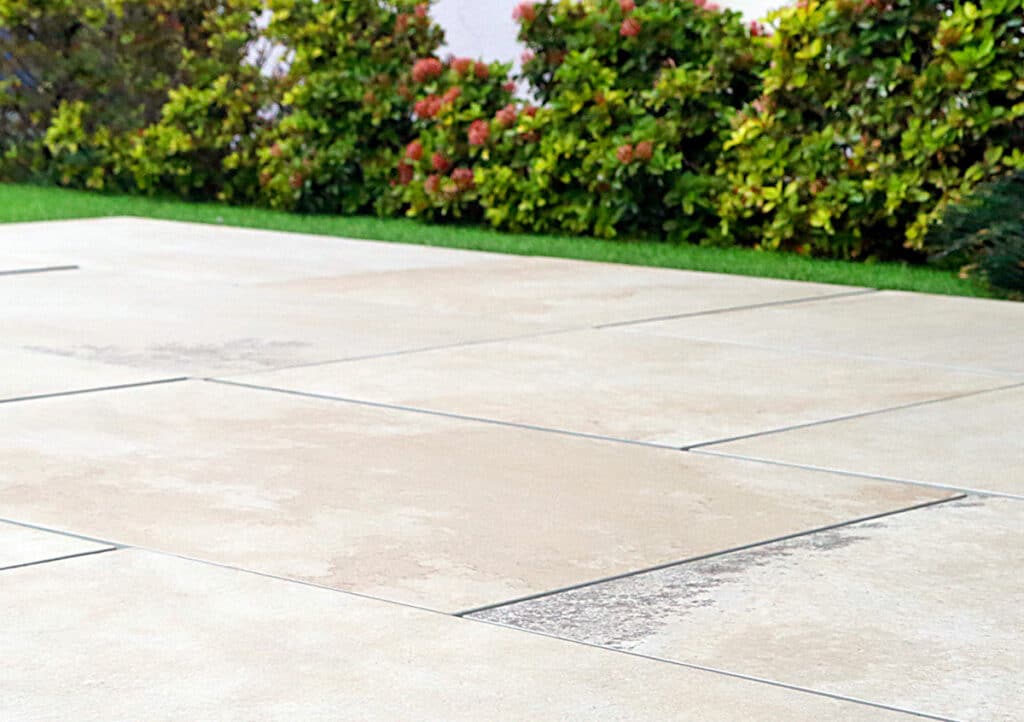 Buff Porcelain is another option of man-made stone which is designed to beautifully imitate Natural Stone Paving. The occasional fossil markings throughout mimic the effect of Mint Fossil Sandstone, which features a range of natural fossil markings, created over thousands of years.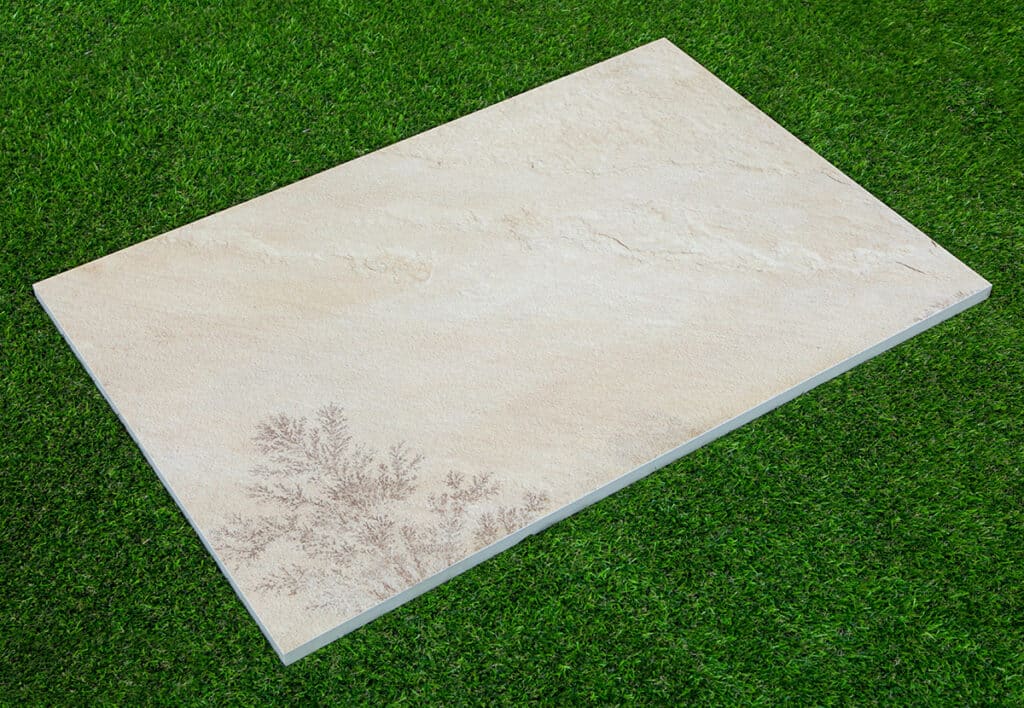 The surface of our Buff Porcelain also features a riven effect to mimic Natural Sandstone Paving. The lightly riven surface creates a very natural and organic feel to the stone, whilst also offering all the modern convenience of a man-made paving option. This is the perfect modern alternative to natural Sandstone Flags and makes a great alternative to Rippon Buff Sandstone.
Our Buff Porcelain Range
Ivory Porcelain is one of the newest additions to our Porcelain Paving range. The ivory, buff, and cream tones create a very similar finish to that of our Sawn Mint and Ivory Sandstone Paving. Due to the low-porosity of porcelain, it is extremely resistant to staining and won't require the sealing treatment that light coloured Sandstone would.
The slip-resistance makes this a safe paving option for use around swimming pools and hot tubs without having to compromise on colour as you may with a Natural Stone option, due to the build-up of moisture that the stone would be subjected to. Ivory Porcelain provides an elegant finish to any patio design and will maintain its appearance throughout the year!
Our Ivory Porcelain Range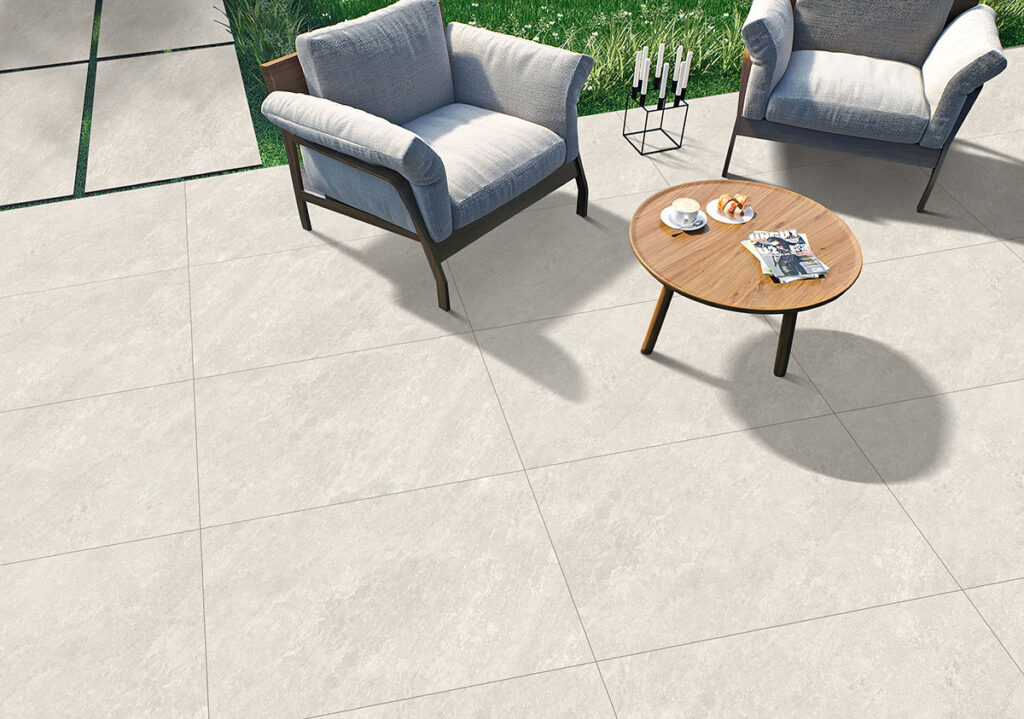 White Porcelain is another elegant stone which provides a high-end and designer feel to any patio. The beautiful light colours are sure to brighten up any dark areas within your project to create a sense of space throughout your design!
Our White Porcelain Range
In Conclusion
Porcelain Paving is the perfect option if you are looking for a non-slip and low-maintenance paving option that will stay looking its best throughout the year, without compromising on finish or price!
See our full range of Porcelain HERE!
Order A FREE sample!
If you have any further questions about Porcelain Paving or any other products, contact a member of our team!
You can reach us by phone on 01206 700 599 Monday – Friday, 9am – 6pm.
Or email us at [email protected].
You can also use our Live Chat feature during our regular business hours to chat with one of our representatives who would be happy to help!