Most natural Indian sandstone paving has a rough, textured surface; however, you can also choose sawn sandstone paving, which machine-cut and shaped to a smooth finish. This type of finishing is perfect if your garden design is more contemporary than traditional.
Like all Indian stone paving, sawn sandstone comes in a variety of colours and can be used anywhere in the garden. However, it's most popular for use on patios or pathways, especially covered areas where the slabs won't become wet and slippery.
Because of its manufacturing process, on average, sawn sandstone paving costs around 30% more than traditional Indian stone paving. However, its aesthetic appeal is entirely different – swirls of colour and pattern are considerably more pronounced, which adds premium appeal, and more than makes up for that little extra cost!
Designing your Patio or Pathway
When designing your garden, you should consider how choosing sawn Indian sandstone paving over a traditional finish will affect its aesthetic.
The hues of sawn sandstone are a little muted, which gives the natural stone an air of softness. While the patterns of rough-finished sandstone are tricky to make out, the curves and within sawn sandstone are more obvious. Consequently, sawn sandstone lends itself to spherical designs. So, instead of a straight path, you may want to create a trail that weaves through your lawn.
Without texture, sawn sandstone can add less interest to a patio or path, so you may want to consider accompaniments to your design. Interspersing your sawn slabs with raw slate, sandstone, or even brick blocks is an excellent way to define the areas of your garden and add texture. Similarly, you can border your sawn sandstone with contrasting pebbles, stones, or wild shrubbery.
When designing using natural stone with a smooth finish, it's vital you keep in mind who will be using the space. Sawn Indian sandstone paving can become slippery when wet and, therefore, if you have children running around, it may not be entirely suitable. However, if you're creating a covered dining area that you'd like to have a refined finish with straight lines, sawn sandstone paving is ideal.
Bring the outdoors, in!
If you want to bring a hint of the outdoors, inside, it is of course always best to use indoor tiles – typically, they will be much thinner and, therefore, weigh less. However, there are a few nifty design tricks you can take onboard if you'd like to use sawn Indian stone paving slabs in your home.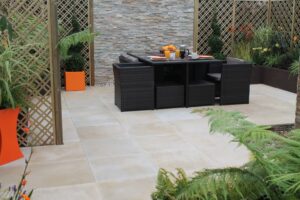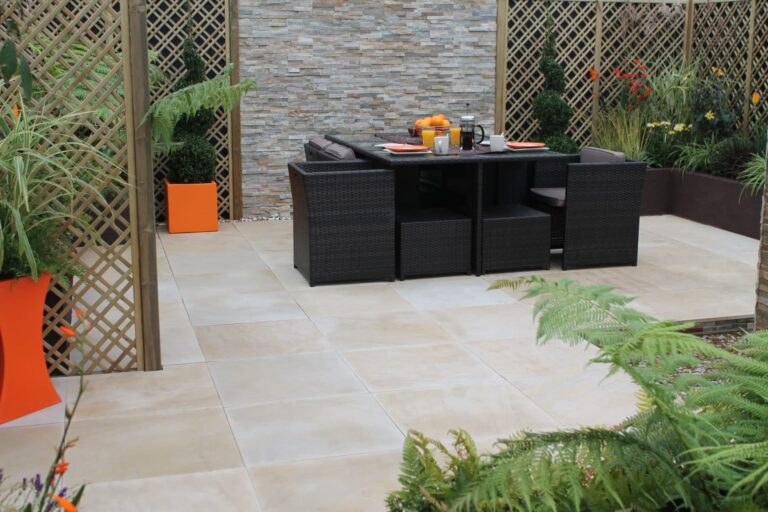 If your home has solid walls that can take a lot of weight – always seek professional advice – there's the possibility that you can use sawn sandstone in your bathroom, especially in wet rooms. Doing so will give the room the feel of a luxury hotel or resort.
Alternatively, you can accent your bathroom or kitchen with sawn sandstone by dappling your floor with the odd slab or using the stone for splashbacks. Our Rainbow sawn sandstone paving, for instance, is guaranteed to add drama to any room.
If you're using our sawn sandstone slabs anywhere they'll get wet, remember to seal the stone.
Types of Sawn Sandstone Paving
Our sawn-finished Indian stone paving comes in a variety of colours.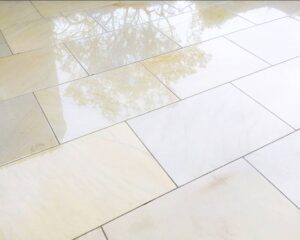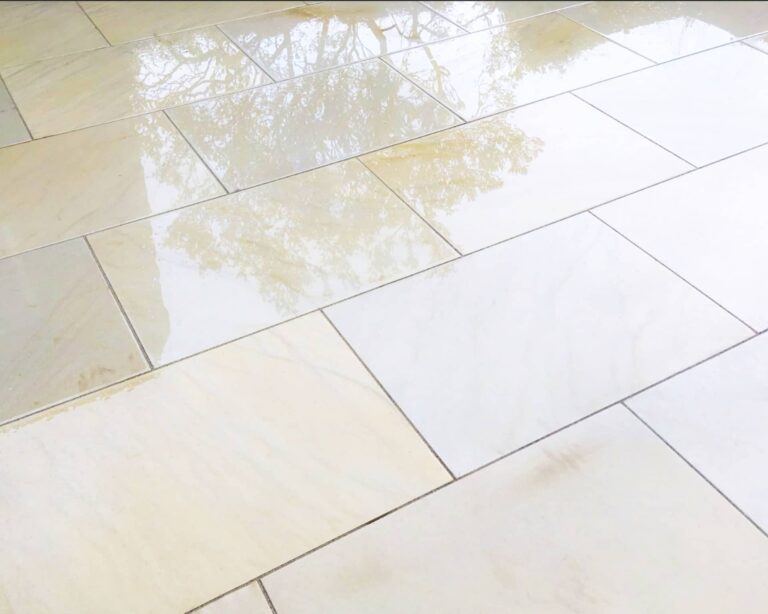 Sawn Mint is a type of Indian sandstone paving featuring a medley of buff and beige tones, ideal for rural gardens.
Kandla Grey is sharp and urban, which makes it ideal for small city spaces.
Raj Green Sandstone, a best-seller, is a medley of green, brown, plum and grey hues, and it looks beautiful when laid in a mosaic pattern, finished with sandy grout.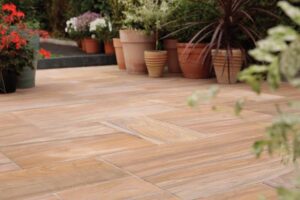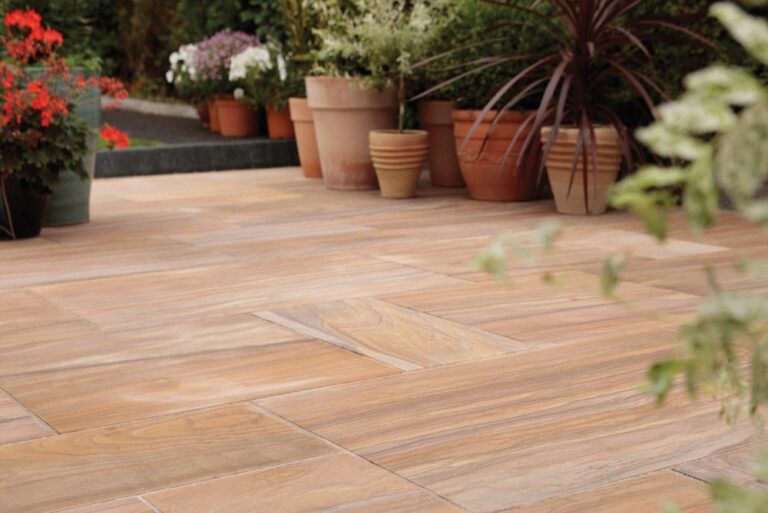 For a seriously eye-catching finish, consider our Rainbow sandstone paving, which boasts hundreds of distinctive, earthy veins and swirls.
All our sawn sandstone paving is honed and calibrated to 20mm for effortless laying. Some varieties are available in a range of sizes, too, including 600×600, 600×900, and our best-selling Indian sandstone paving patio kits that come with enough slabs to cover an area of 18m².