Porcelain is rapidly becoming the go-to choice for garden paving due to the wide range of benefits that the tiles offer in durability and low-maintenance.
Whether you're laying porcelain paving yourself, or you have a professional landscaper doing the job for you, it's always a good idea to have a basic understanding of the process so that you know what to expect, as well as being able to prepare accordingly and avoid any hiccups so that your project goes smoothly.
Things To Consider Before You Start
This rough guide will talk you through the best practices for laying porcelain slabs on a mortar bed.
Keep in mind that every project will have different needs which may need to be accounted for and it's always a good idea to speak to a local expert for some advice on the specifics for your space before you get started.
Protecting Your Tiles
Laying porcelain paving can be a messy process. With sand cement, grouting compounds and muddy boots around, it's important to be sure that you're taking some precautions and preventing the slabs from getting dirty.
Any dried-on residue can be tough to remove, so before you begin laying your porcelain slabs, consider treating them with a tile protector. This will help with lifting off anything that dries onto the slabs avoiding any unsightly stains.
We recommend LTP's Porcelain Tile Protector for this which we can supply alongside your paving.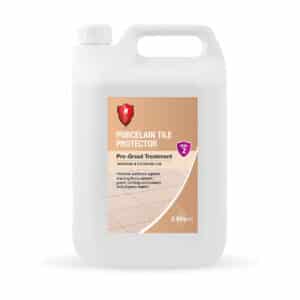 Priming The Slabs
We always advise using a priming slurry on the underside of the slabs just before laying which will help with the adhesion of the tiles to the mortar bed.
This ensures that each slab has a sturdy fix to the base and helps to prevent any from coming loose further down the line, keeping your patio safe.
Most tradesmen will have their own preference in priming slurries or can even make their own, but Aspects EASYPrime is a great option which comes almost ready to use, you'll just need to add water.
1 – Once any initial groundwork and planning are done and you're ready to start you'll need to be sure that you use a suitable sub-base to give your patio the stable support that it will need. Typically, a Type 1 or MOT sub-base will do the trick and this is available from any regular builders merchants. Compact your sub-base into a layer of around 25-30mm.
2 – On top of this, a full wet bed of mortar is next. This is usually a mix of sharp sand to cement at a ratio of 4:1. The mortar should bind together and should not have a runny consistency. If you don't have a mechanical mixer, ready-made mortar mixes are available to buy which will simplify the process. Spread enough mortar for one slab at a time at roughly 5-8mm thick, spreading the mix a little wider than the size of the tile. Find out more about mortars here.
3 – To prime your slabs, use a brush to apply a 1-2mm thick layer of priming slurry to the underside of the porcelain right before you lay it. Take care not to allow any of the primer to spill over onto the top side of the slab.
4 – Gently lay the slab onto the mortar bed, then tap the surface using a rubber mallet to ensure that there are no hollow spaces left beneath. This will also help to make sure that the whole of the underside of the slab is making contact with the mortar base. Use a spirit level to check that the slab is level.
5 – Give the surface of the slab a wipe down if necessary and keep a keen eye out for any spillages onto neighbouring slabs when laying the porcelain. If you notice any spills or mess on the surface of any of the slabs, be sure to wipe them away before they dry.
6 – Place spacers in between the slabs to ensure that your joint widths are consistent. Typically, the recommended joint width is between 8-15mm, however, this can vary due to your design preferences. Butt-jointing the slabs is not recommended as this can cause damage to the edges of the pavers and won't allow you any room for movement.
7 – Repeat the process until all of your slabs are laid. Then, the final step is to grout or joint the patio. If you haven't already used a tile protector, now is the time to consider protecting your porcelain before applying the jointing compound.
8 – To grout the slabs, we recommend using Aspects EASYGrout. Just like the EASYPrime, all you'll need to do is add water and mix the solution together before use. Check that all joints are cleared of any build-up of debris or water so that an even and consistent depth of grout can be applied across the whole area. Dampen the slabs first, then pour the mixture over the patio before spreading the grout into the open joints with a rubber squeegee. Move any excess grout across the surface of the slabs and into the next joint to get as much grout in between the slabs as possible. Ideally, this should be done within 4 hours of the paving being laid and while the joints still have fresh mortar in them.
9 – Once finished, avoid stepping onto the patio for at least 24 hours to allow the grout to properly set and you're done!
You can achieve some stunning results with Porcelain Paving and as a hard-wearing, low-maintenance option, your brand new patio will stay looking its best for even longer!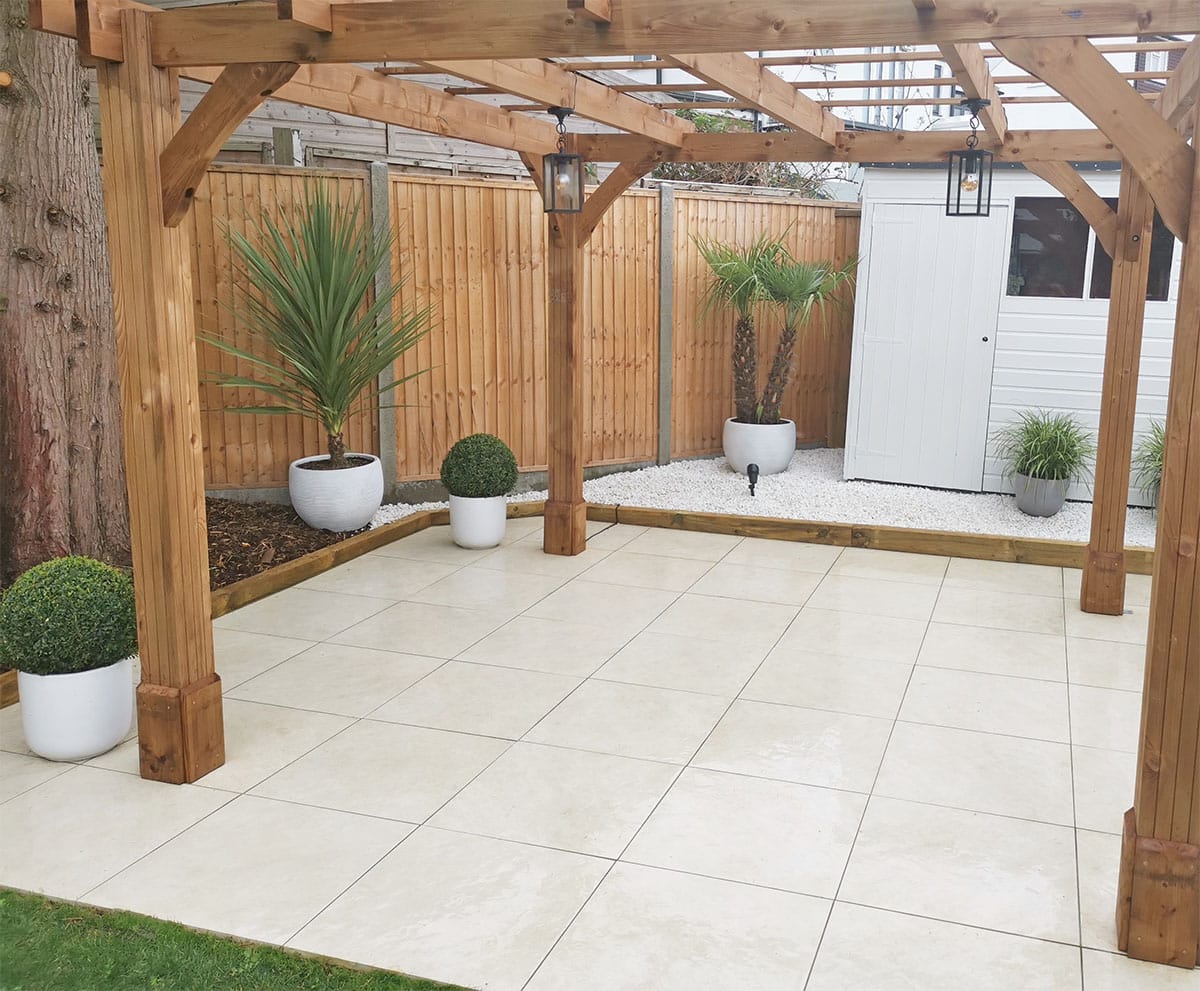 As long as you follow our rough guide, keep your tiles clean and ensure that you use a priming slurry to help with the adhesion, you'll be on the path to success!
Remember that most landscapers will have their own tried and tested methods for laying porcelain paving and these methods will differ depending on who you speak to.
When using a tile protector, priming slurry or grout, always follow the manufacturers instructions for the best results and if you are unsure of anything, be sure to ask a professional for some advice.
You can also read our guide on Things To Consider When Laying Paving Slabs for some more tips!
Take A Look At Our Porcelain Range
Now that you're familiar with the laying process, why not explore all the options available from our Porcelain Paving range?
We offer a wide range of colours to suit any design and if you have any questions, a member of our team would be happy to help!
Speak to us on 01206 700 599 or by email at [email protected].