(5 min. read)
Indian sandstone paving is a widely-used exterior stone for gardens, patios and pathways. When it comes to paving, Indian sandstone is the most robust there is. Not only this, but it looks great!
Better still, it's not just the quality and durability of Indian sandstone paving that sets it apart from the crowd. This popular paving also comes in a variety of colours, which makes it incredibly versatile, too!
Read our guide to the different types of Indian sandstone paving to choose the right one for you!
Raj Green Sandstone
Raj Green Sandstone is one of the most popular choices of Indian sandstone paving for patio areas. It boasts a natural surface and a medley of supple, earthy hues, including green and brown, dappled with occasional plum and grey tones.
Like all natural stone paving, no slab is the same.
The ethically sourced Raj Green Indian sandstone promises an outdoor area filled with character and charm and is a household favourite providing a wealth of design opportunities.
Raj Green paving is a popular choice and one of the most affordable natural paving options. In other words, it is an ideal choice whatever your budget!
Rainbow Sandstone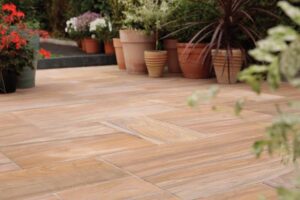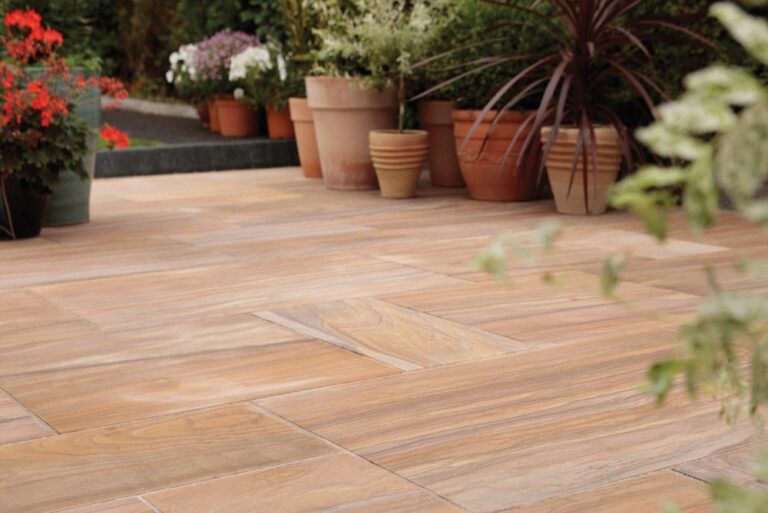 Eye-catching and durable, our Sawn & Calibrated Indian Rainbow Sandstone is one of the best suited natural stones for use on patios and pathways.
Rainbow Sandstone can make a statement with its distinctive, bold colouring. It has a smooth sawn finish on all six sides for a clean aesthetic, while still being firm and retaining its grip underfoot.
Rainbow Sawn Sandstone is one of, if not the boldest, of all our paving types.
Each slab has its own unique qualities of intense swirls and veins, and bright purple and orange colouring to help your home to stand out!
Kandla Grey Sandstone
This grey tone is a great choice for creating a modern patio when complimented by contrasting tones but also works really well in traditional settings. Even Better still, if you're seeking cheap sandstone paving! Kandla grey slabs are an affordable yet hard-wearing option.
These slabs feature a palette of light and dark grey tones, often with patches resembling puddles, and are complete with light veins that run across the natural surface, with the occasional splash of blue.
Sawn & Honed Option
Our Kandla Grey Paving is also available in a sawn and honed slab.
This is accurately calibrated to 20mm with a sawn surface, creating an extremely hard wearing and durable natural paving stone, ideal for use on patios, paths and driveways.
Suited to the British climate, natural sandstone paving slabs are frost resistant. Therefore they will weather to give a natural appearance enhancing your patio, path or driveway.
Autumn Brown Sandstone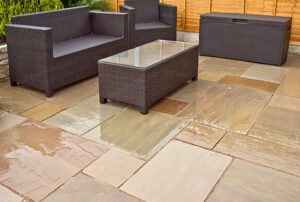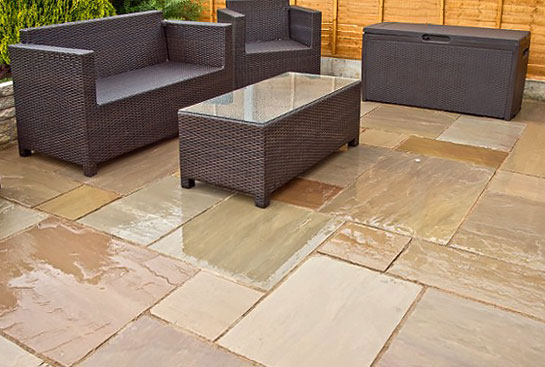 Like Raj Green sandstone, Autumn Brown sandstone is a household favourite.
Again, if you're looking for a cheap sandstone paving option, this type is reasonably priced. The slabs feature a blend of earthy brown and grey tones that are further enriched when wet. Lay the slabs with buff-coloured grout for a patio with traditional appeal.
Sawn Mint Sandstone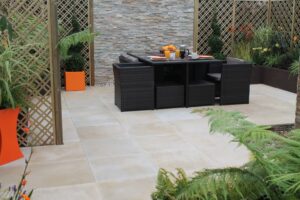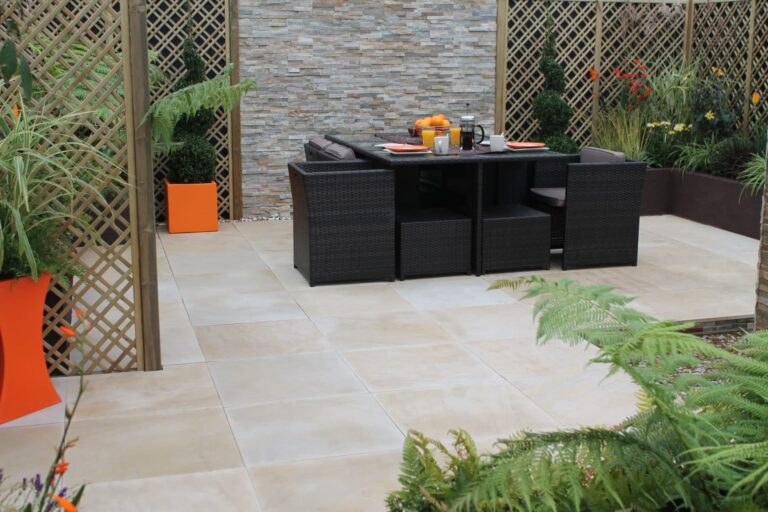 For a more refined finish to your pathway design, you could consider calibrated Sawn Mint slabs.
This paving is a machine-cut variation of natural sandstone paving with a smooth surface. The slabs are sawn and honed with a bevelled edge and feature a medley of buff, yellow and beige tones which are ideally suited to contemporary gardens. They also make a fantastic addition to planting areas!
Ripon Buff Sandstone Paving
Rippon Buff paving is a popular choice and one of the most affordable natural paving options. In other words, it is an ideal choice whatever your budget and features a blend of buff and cream tones.
Sizes and Laying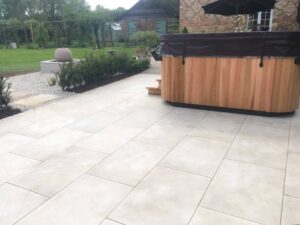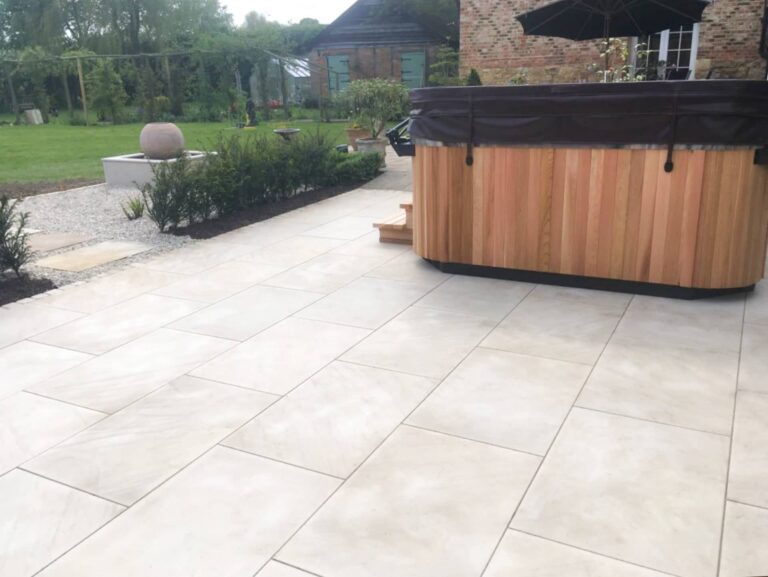 As well as their abundance of colour variations, Indian sandstone slabs come in a variety of sizes and are of varying thickness. The easiest way to lay natural stone paving, whether it's Indian sandstone or otherwise, is to purchase a patio kit.
In a sandstone patio kit, typically, you will receive 18m² of natural stone paving, which means you can work out the dimensions of the space you're covering and then purchase accordingly. It's good practice, as your tradesperson should know, to add 10% to your total amount to account for breakages, off-cuts, and waste that accumulates during the laying process.
Most of our natural stone paving patio kits come with at least four sizes ranging from small to large, which is ideal for random laying to create an interesting and unique design.
If you want slabs that are all the same size (e.g. 600×600), you should purchase machine-cut paving.
When purchasing Indian sandstone paving, you can select calibrated or uncalibrated. Calibrated slabs are cut to the same thickness (e.g. 22mm), which can make laying considerably easier. However, calibration comes at a slightly higher cost.
Uncalibrated slabs come with a thickness between 20-30mm.
Maintaining Indian Stone Paving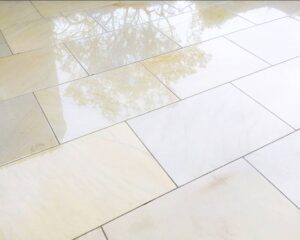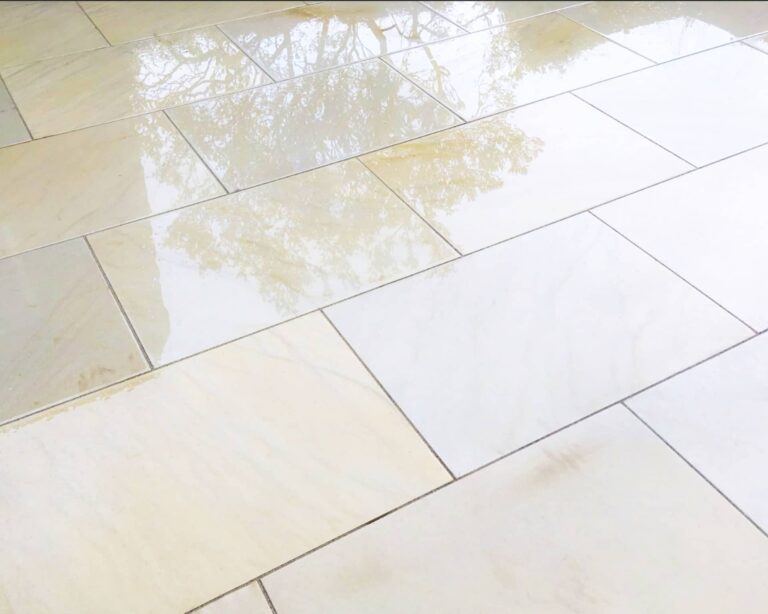 Indian sandstone is a porous rock. Therefore, prior to laying your stone, you may want to apply a natural stone sealer, which will seal the stone's surface.
By using a natural stone sealer, you reduce the likelihood of algae and lichens being attracted to your patio, and you also protect it from the effects of UV.
It's crucial to know that when sealing Indian sandstone, you may see changes in the colour of the stone. Often, the tone is enhanced. To enrich the colour further, use a specially formulated natural stone colour intensifier.
To prepare your sandstone patio for summer, we recommend using a natural stone cleaner to remove dirt and grime that accumulates during autumn and winter. If your stone has attracted algae or is suffering from efflorescence, rather than an all-around stone cleaner, you can clean Indian sandstone using specialist cleaning products from Azpects.
When selecting the natural stone paving for your garden, pathway or patio, rest assured that Indian stone paving is one of the highest quality options out there. Choose from multiple colour and size options, and find the perfect Indian sandstone paving for your garden makeover.
If you have any questions about Indian stone paving, please do not hesitate to get in touch. Our passionate and personable customer team are always on hand to offer their advice and expertise.