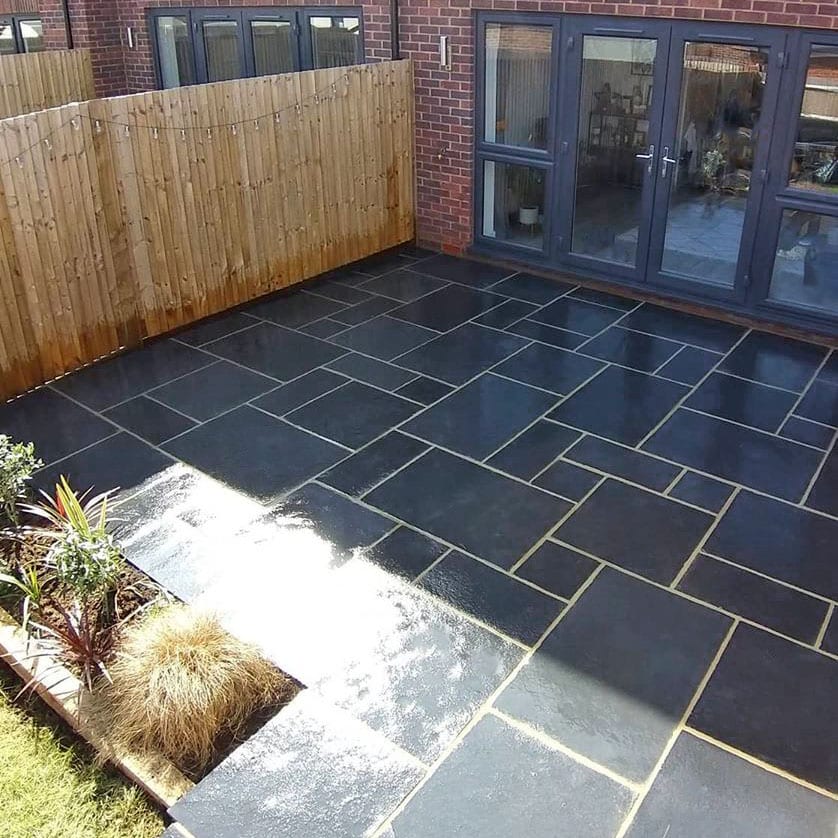 Whether you use Limestone Paving slabs inside or out, it can dramatically change the ambience of your space, helping you to achieve the desired look and finish for your project. Limestone Paving is a natural and affordable paving option for patios and gardens, it can enhance any area at a low cost!
We offer prices from just £16.38/m² Incl. VAT, with Free* Delivery available on full crates, within 2-3 working days!
Contact a member of our team today for a quote or some expert advice! We also offer FREE Samples!
Better Paving. Better Prices.
"I want to say a big thank you to Kieran and the Nustone team for their fantastic customer service.
You have a great selection of products at an excellent price point. The fact that you are one of the only suppliers who offer made to measure orders is a massive plus – I love that you do this! My project came in on budget, and there was minimal material wastage because I could order the quantity I needed. This feature is important for people who are trying to do their bit for the environment and who are conscious about sustainability.
I would highly recommend Nustone."
Jacques
Colours & Sizes of Limestone Paving
As one of the most affordable Natural Stone Paving materials available, Limestone Paving features a wealth of design opportunities!
Our Limestone is available in a striking Kotah Black colour. The bold tones give a dramatic look to any patio space and can be either the focal point or blend into the background of your space, depending on the hues and features you pair it with.
Black Limestone offers a bold and eye-catching finish with striking, dark tones. You can choose from large format pavers or a mixed size Patio Kit, which is perfect for random laying to create a unique finish! There will always be a style of paving to suit your project!
We offer our customers FREE Samples, allowing you to see and feel the stone prior to ordering, so you can be sure you are making the right choice first time around!
Is Limestone Durable?
Limestone Paving Slabs are perfect for a wide variety of outdoor areas, including high traffic locations such as paths. You can use the paving for almost any outdoor space.
Black Limestone will last for many years and as they are highly durable, can withstand high traffic and adverse weather conditions. Limestone Paving is a heavy natural stone and as a result, it is a material that has been used in the building and construction industry for many years.
Being naturally frost resistant, Limestone is not susceptible to damage from harsh weather, making it an ideal choice for a low-maintenance finish that maintains its look for longer.
Indian Limestone Paving is a hard-wearing and durable Natural Stone Paving, designed for outdoor use and will stand the test of time even in harsh weather, retaining its grip underfoot. The pavers are suited to the British climate offer a robust and long-lasting paving option which will last for decades when properly cared for.
Sealing Your Paving
As a natural stone, Limestone Paving is permeable and will allow moisture to penetrate its surface. As a result, it is sometimes advised to seal your stone to help prevent a build-up of moisture within the slabs.
Sealing is not compulsory and there is a wide range of sealing products on the market which will provide various different results. For example, some sealants will simply seal and protect, whereas others can be used to enhance the colour of your slabs.
We offer a wide range of sealing and cleaning products which can be used for maintaining Black Limestone Paving. See our full range here. If in doubt, speak to one of our experts who would be happy to answer your questions and provide any advice you may need!
Sealing your Limestone Paving will also help to protect against other general wear such as fading which can sometimes occur over long periods in places where the stone is likely to see excessive use, such as public walkways.
As for when to apply a sealer your slabs, there are no specific guidelines. Some people choose to seal their slabs before laying in order to prevent against any staining during the laying process, whereas others prefer to leave their stone unsealed for a full year to allow the stone to weather naturally before applying a sealant.
We always advise speaking to a local tradesperson who will be able to assess the many variables within your environment and offer some professional advice.
Order your FREE Limestone Paving Sample today!
With so many options, it can be hard to come to a decision on which is the right choice for your project. This is why we offer our customers FREE Samples, allowing you to see and feel the stone prior to ordering, so you can be sure you are making the right choice!
Lightly Riven Limestone
The term 'riven' refers to the natural surface of Limestone, achieved when the slabs are split across the natural layers within the stone. This process leaves beautiful natural variations throughout the surface of each slab, meaning that no paver is exactly the same, one of the main appeals of Natural Stone Paving!
If you're worried about your Limestone becoming slippery when wet, there are ways to provide additional grip underfoot to make sure that your project is safe and suitable for all to use!
You can read more about how to add grip to your Smooth Limestone Paving here.
Calibrated Limestone
Calibrated Limestone simply refers to slabs that have been cut to a consistent thickness. Calibrated Paving is easier to lay as it eliminates any large variations in thickness between each slab, removing the need to take this into consideration when laying!
The calibrating process involves running the flags through closely-spaced saw blades, cutting grooves into the underside of each slab leaving it at a consistent thickness.
Even calibrated Limestone has an allowance for minor variations in thickness. This is especially important in stone with a naturally riven surface, as the face of each paver features the variations which give the stone its natural charm and appeal.
Laying Limestone Paving
Most professional landscapers will have their own methods of laying Limestone Paving and it is always recommended to seek advice from a professional before laying in order to take all the variables into consideration. There are various things within your environment that can affect how you will need to lay the stones such as the ground conditions, drainage and any underground pipes or cabling.
You can find some great professional advice here.
Limestone Paving can be cut to size for any tricky corners or to fit around and drain covers. Here you can find some detailed information on the best method to cut Limestone to avoid damaging the slabs.
Some Limestone Paving is also suitable for use on driveways. It is always recommended to use slabs with a suitable thickness in order to be able to take the weight of vehicles. Read more about using Limestone for your driveway here.
Limestone is an affordable yet high-quality option for any project, with prices starting £16.38/m² Incl. VAT.
18m² crates start from just £295 Incl. VAT.
We also offer FREE* Delivery to most UK postcodes!
If you have any questions or would like a free quote, one of our experts would be happy to help!
You can speak to a member of our team on 01206 700 599, via email at [email protected] or through our Live Chat feature!
Our regular business hours are 9 am – 6 pm, Monday – Friday.