There is nothing worse than dirty or stained paving or tiles when you're hosting friends and family during the summer months, especially if the stains are particularly noticeable such as efflorescence on black limestone paving.
We've put together a quick and easy quick to cleaning your limestone paving and tiles that's sure to get your tiles looking like new.
What you will need: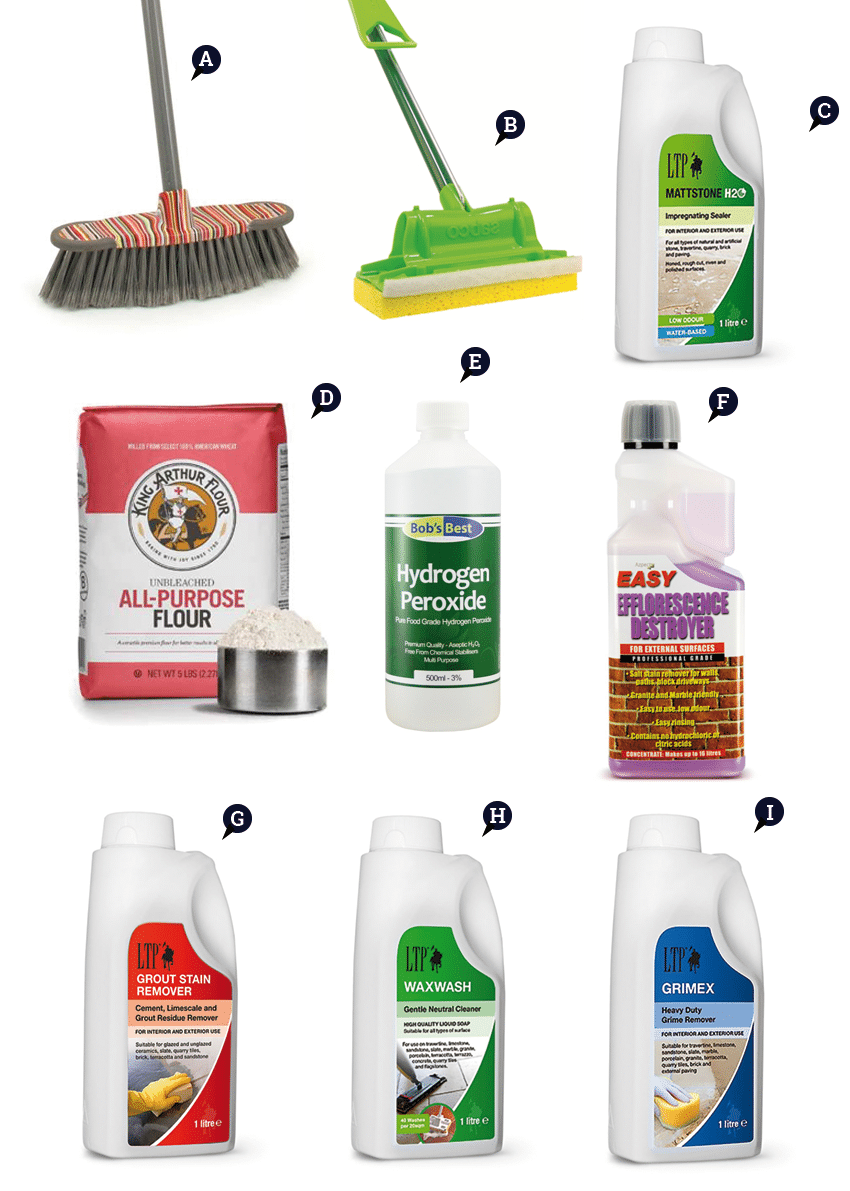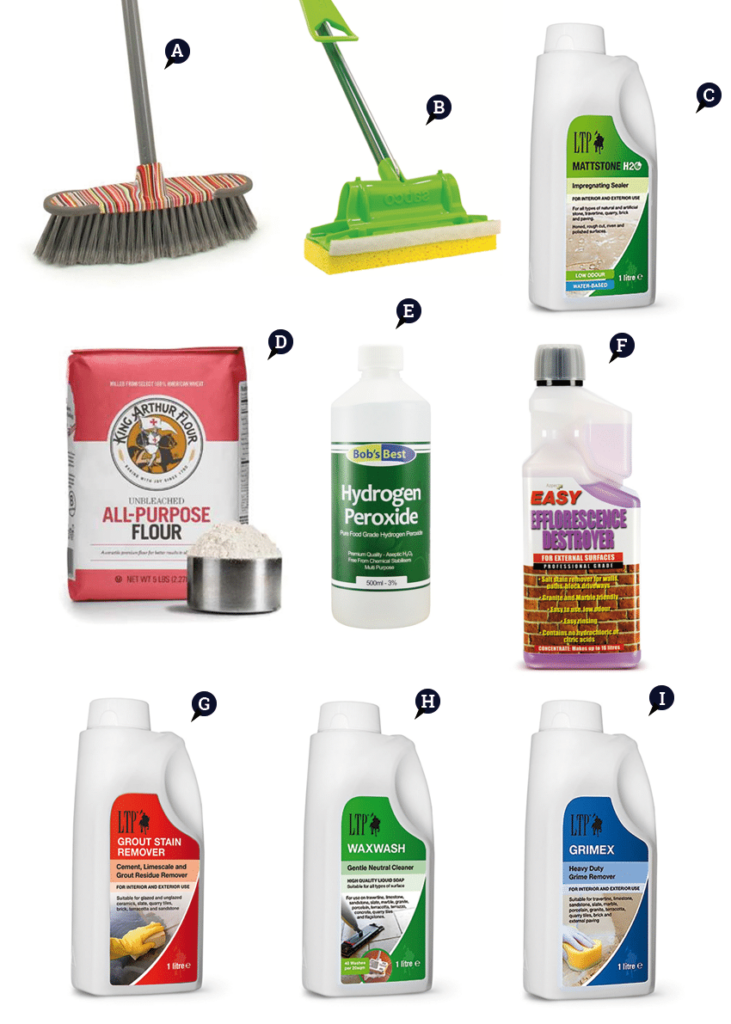 Soft-brush Household Broom
Sponge mop
Sealant
White flour
Hydrogen peroxide
Azpects Efflorescence Destroyer (optional)
For general, day-to-day cleaning
1. Sweep any debris and dust away
Using a soft-brush household broom, sweep your limestone floor to ensure that little to no debris or dust remains. It's essential that your tiles are a clean of debris as they can be as, during the cleaning process, these pieces may otherwise be dragged across the stone which may lead to the stone being marked.
2. Washing your floor
Dilute a small amount of non-acidic soap in a bucket of warm water and, using a sponge mop, wipe down the surface with plenty of water and leave for half an hour. It's during this time that the dirt will begin to be broken down.
When 30 minutes is up, rinse the tiles with clean warm water until all the residue has disappeared.
3. Removing tough stains
If your limestone tiles are stained, you can use specialist stain removal products (see below) or create your own solution using white flour (3/4 mug) and a small amount of hydrogen peroxide until it turns into a paste. You can then apply the paste to the affected area and leave it for a couple of days before rinsing the tiles with warm water.
4. For extra-clean, try steam
Often, limestone will collect grime in small pockets in the stone which may not disappear using standard cleaning methods. To remove every inch of grime from your limestone paving, use a steamer with interchangeable heads.
5. Re-seal your stone (optional)
It's not essential, however, we recommend re-sealing your stone every few years to help prevent acid damage and stains. To find out whether your stone needs re-sealing, drop a little water onto a tile and wait for a few minutes to see if the water absorbs into the stone. If the tile absorbs the water, you should re-seal your limestone.
LTP Mattstone H20 is a fantastic product to help prevent staining while allowing your limestone paving to breath.
Types of stains and how to tackle them
Efflorescence (Mineral Stains)
Occasionally, rainwater can seep into sand-cement mortar which, upon evaporation, can increase the alkalinity of the solution which travels to the surface of the limestone, depositing mineral salts. These white and grey marks can appear particularly noticeable on black limestone paving.
To disperse mineral salt deposits in your limestone, we recommend Azpects' Efflorescence Destroyer, a concentrate that can be diluted, applied and then left for two hours for the best results. Alternatively, use LTP's Grout Stain Remover, which you can dilute one part formulae and four parts warm water before applying to the surface of the stone. Brush the solution in and then rinse with clean water. You may need to repeat the process a couple of times.
Warning:

Do not use LTP Grout Stain Remover on honed or polished limestone as it may etch the surface of the stone and alter the colour.
Grout & Adhesive Stains
If grout or adhesive stains appear on the surface of your limestone, use LTP Grout Stain Remover. However, please note that this product is acid-based and will etch acid-sensitive stone such as limestone, marble, sandstone, and so on. Always test on a small area before applying to the full surface.
General Dirt
After a couple of years, your limestone paving may begin looking a little mucky and worn. To clean-up your stone, use LTP Grimex which you can dilute in a bucket of water, apply, and leave for ten minutes. When you brush away the solution and rinse with clean water, your stone will be ready to re-seal after 24 hours or when completely dry.
If you've tried the above methods and are not seeing the results you would like, please contact our sales advisors directly at [email protected].